French Ambassador Visits Pitt
Issue Date:
February 6, 2012
French Ambassador Francois Delattre (right) visited the University of Pittsburgh campus on Jan. 18 and spoke to an invited audience of 150 gathered in the second-floor ballroom of the University Club.
Delattre said that France is inspired by the ability of American cities like Pittsburgh to reinvent themselves. The breakfast briefing, titled "New Opportunities for the Franco-American Partnership and for the Transatlantic Relationship," was sponsored by Pitt and the World Affairs Council of Pittsburgh.
Pitt Chancellor Mark A. Nordenberg (left) welcomed the ambassador and delivered opening remarks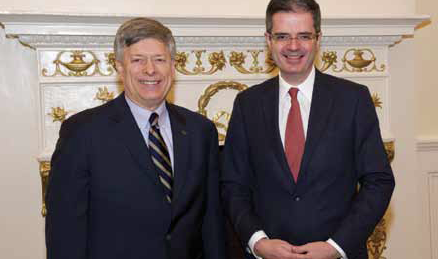 Other Stories From This Issue