Senior Profile: Jasmine Turner Thrives on Pitt's Urban Campus
By Sharon Blake
Issue Date:
April 28, 2013
Jasmine Turner stumbled upon a ticket to the city of Pittsburgh—and a pass to many parts of the world—when she began her education four years ago at the University of Pittsburgh. Her tenure at Pitt, in fact, ended up with all the makings of a page-turner.
A native of Bealeton, Va., Turner had just begun her college search when, by chance, one of her friends toured the University's Pittsburgh campus. The friend described to Turner the aura of the urban campus—its mix of old and new buildings in the heart of a major metropolitan area, its proximity to art galleries and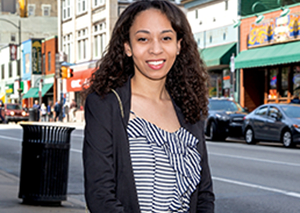 museums, and its soaring Cathedral of Learning.
Intrigued, Turner traveled to Pitt to take her own tour. She liked what she saw, applied, and was accepted on a full four-year Helen S. Faison Scholarship. She moved into the Forbes Hall residence hall, chose to major in English writing with a focus on nonfiction, and today, she graduates summa cum laude with a Bachelor of Arts degree.
Turner describes her Pitt experience as a rich one, full of memorable courses, exciting internships, a semester in Paris, and a number of inspirational instructors. She developed her nonfiction writing skills working as a journalist for several publications. Turner's nonfiction work earned her Pitt's Al McDowell Memorial Scholarship—a prize for excellence in nonfiction that is awarded annually to one student selected by members of Pitt's nonfiction writing faculty.
As a 20-year-old who grew up 40 miles outside of Washington, D.C., is fluent in French, and—with a U.S. Navy radioman as her father—lived as a toddler in Yokosuka, Japan, Turner has as some of her happiest Pitt memories exploring the University's urban environment.
"I would definitely recommend to incoming freshmen that they take advantage of the city's culture," she says. "Their Pitt IDs can get them discounts at restaurants and cultural events and free admission to museums, and it's so easy to hop on a bus and get around for free."
Whether she was watching a baseball game at PNC Park, sampling Caribbean cuisine at a trendy Strip District restaurant, or buying funky jewelry on the South Side's East Carson Street, Turner immersed herself in all that Pittsburgh has to offer. Bloomfield and Shadyside became favorite neighborhoods. She saw her first professional hockey game at the Consol Energy Center. Out-of-town high-school chums were always taken to the North Side's Mattress Factory, where Turner had grown to appreciate installation art.
Turner tackled her studies with the same curiosity and enthusiasm. One course she particularly enjoyed was a digital nonfiction class, where the instructor did most of the teaching from her Boston home and the students gathered in a campus computer lab.
"It is so necessary now to know how to work in a digital medium," said Turner, adding that any path an English major might take—publishing, journalism, or marketing—requires that skill.
Turner thoroughly enjoyed her part-time job at The Pitt News, where, as a copy editor and later as assistant copy chief, she scrutinized every story that crossed her desk for spelling, accuracy, and style—and engaged with writers and editors on a daily basis.
Pitt News managing editor Cathy Butchy says Turner "viewed copy editing as a joy rather than a task."
"What makes a good copy editor is someone who truly enjoys improving language and who develops a humble confidence in his or her ability to do so expertly," says Butchy, adding that Turner "caught on to the spirit of the job very quickly." She says the young editor was a calm and reassuring presence in a busy newsroom of harried reporters and editors.
The summer after her sophomore year, Turner found herself chatting on a train with the executive editor of the D.C.-based Aviation Week, who is also a friend of Turner's father. Their commuter connection landed Turner an internship at the publication, where she not only edited copy, but also was given assignments on the Pentagon and Capitol Hill beats.
"It wasn't easy making contacts at the Pentagon," recalls Turner, who wrote about commercial aviation as well as aircraft in Iraq. "But I did my best, and it was a great experience. It thrust me right into the world of journalism."
The following summer, Turner remained in Pittsburgh, writing and reporting for Mt. Lebanon Magazine. And a publishing internship during her senior year at the Pittsburgh-based national Creative Nonfiction magazine solidified her interest in writing creative nonfiction.
Fall semester of her senior year found Turner in Paris, studying French language and civilization at the Catholic Institute of Paris through a Pitt-related study abroad program. The cosmopolitan student felt right at home eating lunches in Paris' Luxembourg Gardens and befriending fellow international students from England, Sweden, Korea, and Japan.
"All my classes were in French, and it was very intense. By the end of the day, I was surprised—but happy—to find myself thinking in French," she says.
While Turner isn't sure how she will weave her minors of political science and French into her writing career, she's not ruling anything out. She keeps her French sharp by watching French TV and communicating often with good friends she met in Paris.
But she is certain that she is happiest reading or writing nonfiction.
"That's what I'm passionate about—people's stories," she said. "The idea of encountering people's lives, telling people's stories, reading people's stories . . . it's fascinating."
Other Stories From This Issue
There are no stories for the issue at this time.
On the Freedom Road

Follow a group of Pitt students on the Returning to the Roots of Civil Rights bus tour, a nine-day, 2,300-mile journey crisscrossing five states.
Day 1: The Awakening
Day 2: Deep Impressions
Day 3: Music, Montgomery, and More
Day 4: Looking Back, Looking Forward
Day 5: Learning to Remember
Day 6: The Mountaintop
Day 7: Slavery and Beyond
Day 8: Lessons to Bring Home
Day 9: Final Lessons