History's Journey: On the Road to the Civil Rights Past, Day 3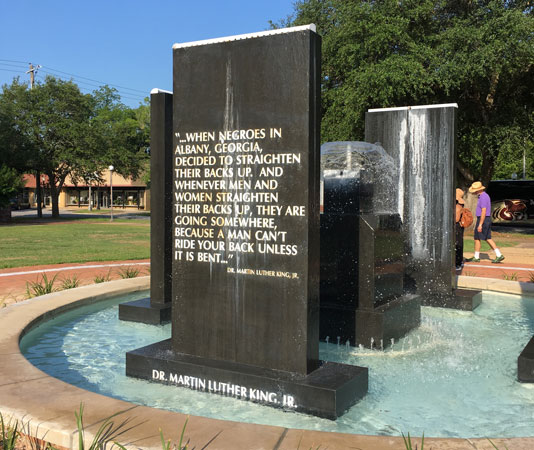 On June 11, nine Pitt students set off on the 15th annual Returning to the Roots of Civil Rights bus tour, a nine-day, 2,300-mile journey crisscrossing five states. In addition to visiting sites associated with the fight for racial justice, students are hearing from men and women who participated in the movement.
The first stop on Day 3 was Charles Sherrod Civil Rights Park (pictured above), commemorating Charles Sherrod, a member of the Student Nonviolent Coordinating Committee and organizer of the 1961 Albany Civil Rights sit-in protest at Albany's train station.
Monday, June 13
Day 3—Music, Montgomery, and More
If I have learned one thing so far on this trip, it's that I will continue to have my mind blown every single day.
Today, we traveled through Albany, Ga., and into Montgomery, Ala. At the Albany Civil Rights Institute, we were lucky to see original artifacts from the era as well as original photographs by Danny Lyon, the first photographer for the Student Non-Violent Coordinating Committee (SNCC). After the Civil Rights Institute tour, we met Rutha Harris, one of the original Freedom Singers, which was a group that traveled more than 50,000 miles to spread SNCC's message through song.
Ms. Rutha lit up the room with her powerful voice and natural leadership qualities. She first sang a few songs, and then asked for a leader from our group to help lead us all in song. Many of the songs we sang expressed themes of resilience and determination. It was clear that throughout the Albany Movement and beyond, the Freedom Singers were not fazed by being thrown in jail. Ms. Rutha even said she enjoyed the time she spent in jail because she got to sing and pray—two of her biggest passions.
—Claire Dempsey, Pitt senior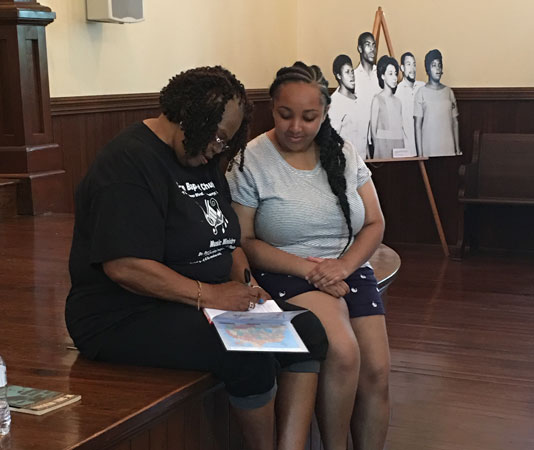 The song session had everyone involved, and spirits were high. Ms. Rutha taught us a few freedom songs that were derived from gospel songs, Negro spirituals, and R&B with the words changed to fit the situation.
Ms. Rutha and her group of Freedom Singers traveled across the United States, singing at churches, universities, and Carnegie Hall to raise money for SNCC. To this day, she remains unsure of how much the group actually raised, even though she was the treasurer.
At the end of our song session, Ms. Rutha led us around the corner to Carter's, a soul food restaurant, which offered one of the best meals of the trip. Not only did she share a great place with us, we got to have lunch with this wonderful Civil Rights activist.
—Shatae' DeVaughn, Pitt junior
Photo above: Rutha Harris (left), an Albany, Ga., native who became a Freedom Singer at the age of 21, and Pitt junior Shatae' DeVaughn. Video below: Ms. Rutha leads Pitt students in a call-and-response song in the restored Mount Zion Baptist Church, which is attached to the Albany Civil Rights Institute that commemorates the struggle in Albany, Ga.
On the Freedom Road

Follow a group of Pitt students on the Returning to the Roots of Civil Rights bus tour, a nine-day, 2,300-mile journey crisscrossing five states.
Day 1: The Awakening
Day 2: Deep Impressions
Day 3: Music, Montgomery, and More
Day 4: Looking Back, Looking Forward
Day 5: Learning to Remember
Day 6: The Mountaintop
Day 7: Slavery and Beyond
Day 8: Lessons to Bring Home
Day 9: Final Lessons