History's Journey: On the Road to the Civil Rights Past, Day 4
On June 11, nine Pitt students set off on the 15th annual Returning to the Roots of Civil Rights bus tour, a nine-day, 2,300-mile journey crisscrossing five states. In addition to visiting sites associated with the fight for racial justice, students are hearing from men and women who participated in the movement.
Tueday, June 14
Day 4—Looking Back, Looking Forward
In Selma stands a mansion, with beautiful white columns, a vestige of the antebellum South that somehow made it through, when—in an effort to reveal its hushed past—so many things and people did not. Joanne Bland, freedom fighter, local Selman, and marcher from Selma to Birmingham (twice), feisty in her sixth decade, recounts a story of touring the mansion.
The tour guide, said Bland, told grand tales of the mansion's past; one could imagine entering the splendid Southern palace, being welcomed by those columns and red clay steps, and entering to find the place decked in marble and wood decadence, covered in plush, imported rugs from Asia. Lemonade would be served as a relief from that Alabamian sun around lunchtime, dinner served on blue china and silver.
A German gentleman on the tour, Bland told us, could not help asking the tour guide, "Why haven't you mentioned slavery once?" She smiled. "I assumed you had known that slaves built this place," she said, and looked at Bland. "We wouldn't want anyone to be offended." Ms. Bland spilled her tea.
"There is pride in being a slave," Ms. Bland replied, "for slaves built mansions from Selma to Montgomery to Monticello to the White House."
There is and should be, I have concluded, great shame in the ideas that were fostered behind those columns, in the spreading of those ideas, in the lack of desire to kill them, and, worst of all, to preserve their hushed past.
—Andrew Muse (A&S '16)
Below: A shadow embedded into an exhibit helps to illuminate the voices of those who peacefully marched 54 miles from Selma to Montgomery, the state capitol, to gain the right to vote in 1965. The exhibit is part of the Lowndes County Interpretive Center, a National Park Service site, in White Hall, Ala., 21 miles east of Selma.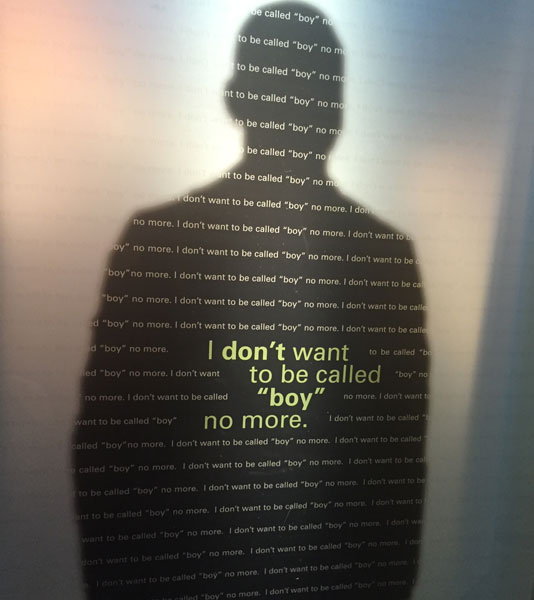 • • • •
I've felt uneasy during these past few days. I worry that with each plaque, video clip, and black-and-white photo, people begin to shuffle their understanding of the Civil Rights Movement into a neat box. Instead of considering the Movement as a living, breathing, relatively fresh occurrence in our nation's history, people begin to think in the past tense about the plight of African Americans and other minorities. But our visits today have helped to ease my worry.
Our first stop was the Equal Justice Initiative (EJI) in Montgomery, Ala. EJI provides legal assistance to incarcerated men and women or juveniles who may have been wrongly convicted, charged, or misrepresented—or denied a fair trial.
EJI's presentation room contained the images of America's narrative of systematic political and social oppression. Hundreds of jars, filled with varying shades of brown soil, line the shelves along a back wall. Some are marked with names, dates, and locations in the South, while others just read "Unknown." Each jar represents the lynching of an American—several hundred African Americans were lynched in Alabama between 1870 and 1940. In May, volunteers collected soil from many of those lynching sites as part of EJI's Community Remembrance Project. As I listened and observed during EJI's presentation, social justice once again felt painfully relevant. My worry about forgotten history began to ebb.
Today we also visited Selma, Ala., where the main street matched every picture I've ever seen. Many homes remain unchanged. Paint from pre-1960s advertisements cling onto the very same bricks. Where are the thriving communities? Not in 1960s Selma, and not in 2016's Selma.
America likes to applaud itself with its progress. In our nation's eyes, we have done it. The marches worked. The speeches inspired. If you don't believe them, look at these pictures. See Mrs. Rosa Parks. Listen to MLK's speeches. Visit our museums.
Yet, while the "Colored Only" signs may be gone, the struggle continues. Communities are steeped in poverty. Police brutality makes headlines. Innocent people are dying in jail. Do justice for the martyred activists. Do justice for the slaves. The lynched. The innocent. The museums remind us that people did march. Just remember to take that march back outside the front door with you.
—Caitlin McMaster, Pitt senior
Below: Jars of soil line a wall in the Equal Justice Initiative (EJI) headquarters in Montgomery, Ala. Volunteers collected the soil from sites of lynchings that occurred in Alabama between 1870 and 1940. Known as the Community Remembrance Project, EJI hopes the project will bring recognition to lynching victims and spur a public conversation aimed at reconciliation.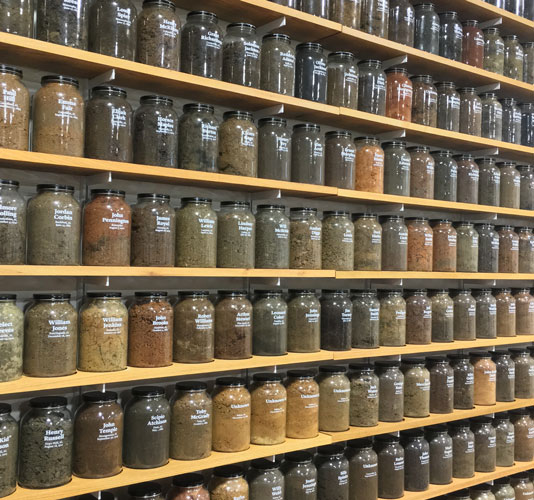 On the Freedom Road

Follow a group of Pitt students on the Returning to the Roots of Civil Rights bus tour, a nine-day, 2,300-mile journey crisscrossing five states.
Day 1: The Awakening
Day 2: Deep Impressions
Day 3: Music, Montgomery, and More
Day 4: Looking Back, Looking Forward
Day 5: Learning to Remember
Day 6: The Mountaintop
Day 7: Slavery and Beyond
Day 8: Lessons to Bring Home
Day 9: Final Lessons