History's Journey: On the Road to the Civil Rights Past, Day 5
On June 11, nine Pitt students set off on the 15th annual Returning to the Roots of Civil Rights bus tour, a nine-day, 2,300-mile journey crisscrossing five states. In addition to visiting sites associated with the fight for racial justice, students are hearing from men and women who participated in the movement.
Wednesday, June 15
Day 5—Learning to Remember
Today, before leaving Montgomery, Ala., we visited the Civil Rights Memorial & Visitors Center and the Southern Poverty Law Center, which helps fight for Americans whom the law has forsaken. This was an amazing experience.
What struck me at the Law Center was all of the pictures of people who have been killed because of their race. Particularly disturbing was how recent some of the murders were—within the past 16 years. Visiting the Law Center and reflecting, I found hope but also grief: all the innocent people whose lives have been cut short and all those who are willing to fight for them.
Our next stop was the Rosa Parks Museum. I was pleasantly surprised to learn she was a part of the NAACP and was director of its local youth corps; and more importantly, that she jumpstarted the Montgomery bus boycott, a pivotal point in the Civil Rights Movement. After her arrest, African Americans mobilized and used their power to boycott buses, which caused a huge drop in revenues and lead to the desegregation of Alabama buses. It's amazing to think that someone who was disadvantaged because of her skin tone and her gender could make such a change.
Our last stop was the Birmingham Civil Rights Institute and I will never forget this museum. It is highly ranked and I can clearly see why. In every exhibit, I found something interesting and new. It covered so many facets of Black life— the lucrative business of beauty parlors and barbershops, how minstrel shows contributed to cruel stereotypes that exist today, and the timeline of the Movement. It is powerful information that I will carry for a lifetime.
—Krista Lee, Pitt sophomore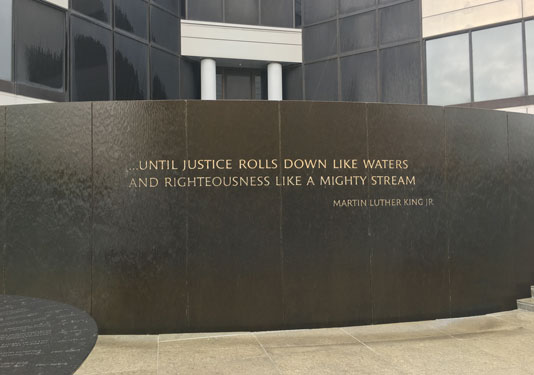 Photo: Visitors to the Southern Poverty Law Center in Montgomery, Ala., are greeted by a curved black granite wall that is engraved with Martin Luther King Jr.'s well-known paraphrasing of Amos 5:24: We will not be satisfied until justice rolls down like waters and righteousness like a mighty stream.
• • • • •

This has been one of the most impactful and humbling experiences I've ever been blessed to have. Social justice and activism are what I hope to pursue in the future, following the footsteps of the great men and women who led the Civil Rights Movement.
In Birmingham, the most powerful event to me occurred at the 16th Street Baptist Church. This was the site where four young girls attending Sunday school lost their lives on Sept. 15, 1963, due to a bomb planted by the Ku Klux Klan. The loss was felt so deeply by their families and their community. Martin Luther King, Jr. described it as "one of the most vicious and tragic crimes ever perpetrated against humanity." How could such hate have been harbored in these men's hearts to carry out such a senseless act of violence? And how had I never heard of this tragedy prior to this trip?
Carolyn McKinstry, a survivor of the same bombing, spoke to us about her experience of dealing emotionally with the bombing and growing up in a segregated South. She said no one reached out to her or her family until 25 years after this atrocity. It was as if it had never happened. We also listened to Lisa McNair, the sister of Denise McNair, who died in Sunday School that day. One thing really stuck with me: We cannot let this history be forgotten.
Edmund Burke said, "Those who do not know history are doomed to repeat it."
This is unthinkable. Educating those who do not know about this past is crucial to keeping this movement alive and thriving. Countless battles have been won, but the march continues.
—Kristen Sadler, Pitt sophomore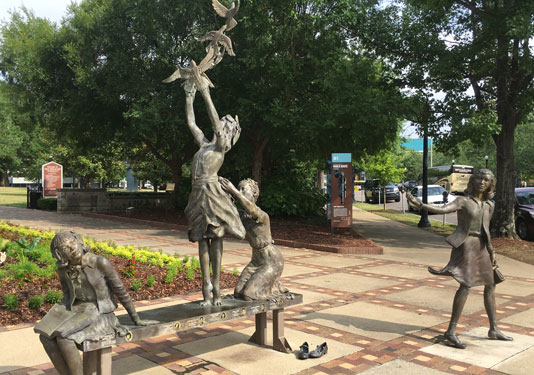 Photo: This West Park sculpture in Birmingham, Ala., commemorates the four little girls killed in the Sixteenth Street Baptist Church bombing on Sept. 15, 1963. Denise McNair, 11; Carolyn Robertson, 14; Addie Mae Collins, 14; and Cynthia Wesley, 14, were leaving Sunday school when the bomb went off.
On the Freedom Road

Follow a group of Pitt students on the Returning to the Roots of Civil Rights bus tour, a nine-day, 2,300-mile journey crisscrossing five states.
Day 1: The Awakening
Day 2: Deep Impressions
Day 3: Music, Montgomery, and More
Day 4: Looking Back, Looking Forward
Day 5: Learning to Remember
Day 6: The Mountaintop
Day 7: Slavery and Beyond
Day 8: Lessons to Bring Home
Day 9: Final Lessons