History's Journey: On the Road to the Civil Rights Past, Day 6

On June 11, nine Pitt students set off on the 15th annual Returning to the Roots of Civil Rights bus tour, a nine-day, 2,300-mile journey crisscrossing five states. In addition to visiting sites associated with the fight for racial justice, students are hearing from men and women who participated in the movement.
Photo above: Enjoying a dinner on Beale Street in Memphis are Pitt students, clockwise from left, Krista Lee, Claire Dempsey, Kristen Sadler, Ava Mosbacher, Andrew Muse, and Caitlin McMaster.
Thursday, June 16
Day 6—The Mountaintop

We explored the festivities of Beale Street in Memphis tonight. I checked out the famed Wet Willies bar and also ate amazing fried catfish and southern potatoes at B.B. King's Blues Club, where we enjoyed live music.
Earlier in the day, we visited the Stax Records Museum of American Soul Music. We journeyed through Stax's role in African American history and learned about its musical influence, which continues today. It was fun reliving the gracious stage presence of musical icons, including Isaac Hayes, Sam Cooke, and Soror Aretha Franklin! These artists paved the way for music that moves your soul today.
It has been humbling to realize that I have the opportunity to explore these streets and experience these places because of the struggles of my people who sacrificed their lives in the fight for freedom.
I have so much respect and pride for my people for what they have done—and so much hope. We're a long way from where we were, but an even longer way from where we need to go. This trip has taught me that it takes the collective to make change.
I am accountable for making you aware. And we are accountable for taking the stand and demanding freedom.
—Darlyn Reaves, Pitt senior
• • • •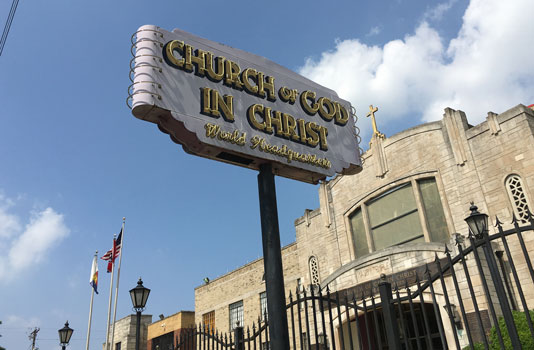 Above: Mason Temple, where King delivered his famous "Mountaintop" speech in 1968, was an important venue for civil rights events during the 1950s and 1960s.
This tour has been amazing! My eyes have been opened.
Today was a heavy travel day as we trekked from Birmingham, Ala., to Memphis, Tenn., passing through Mississippi. We are half way through the trip, and I think that everyone is starting to feel physically and emotionally drained. But there is still plenty of excitement and energy for what's to come.
My favorite sermon by Martin Luther King, Jr., is "I've Been to the Mountaintop." Today in Memphis I saw the historic Mason Temple Church of God in Christ where that prophetic sermon was given—on April 3, 1968, the eve of King's assassination. This speech is so moving as I think about how he was willing to die for a vision and principles that he knew would not be realized during his lifetime.
And so I'm happy, tonight.
I'm not worried about anything.
I'm not fearing any man!
Mine eyes have seen the glory of the coming of the Lord!
—Cayla Turner, Pitt resident director
On the Freedom Road

Follow a group of Pitt students on the Returning to the Roots of Civil Rights bus tour, a nine-day, 2,300-mile journey crisscrossing five states.
Day 1: The Awakening
Day 2: Deep Impressions
Day 3: Music, Montgomery, and More
Day 4: Looking Back, Looking Forward
Day 5: Learning to Remember
Day 6: The Mountaintop
Day 7: Slavery and Beyond
Day 8: Lessons to Bring Home
Day 9: Final Lessons