History's Journey: On the Road to the Civil Rights Past, Day 9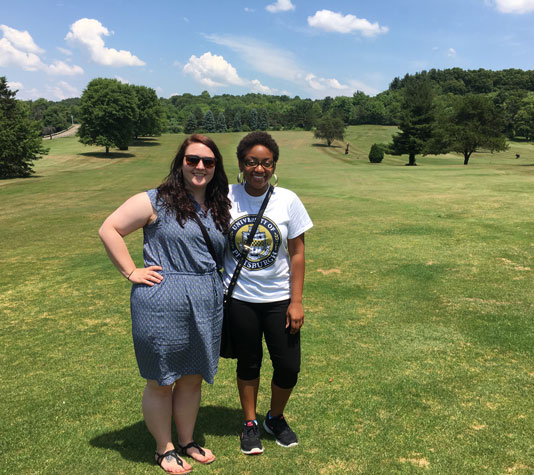 On June 11, nine Pitt students set off on the 15th annual Returning to the Roots of Civil Rights bus tour, a nine-day, 2,300-mile journey crisscrossing five states. In addition to visiting sites associated with the fight for racial justice, students are hearing from men and women who participated in the movement.
Photo above: Kayla Shawley (left) and Cayla Turner, two Pitt resident directors who accompanied students on the tour, stand on Clearview Gold Club's grounds in East Canton, Ohio. It is the only golf course to be designed, built, owned, and operated by an African American.
Sunday, June 19
Day 9—Final Lessons
This trip was priceless. It's one thing to read books and watch documentaries about historical events, but it's another to actually walk in the same footsteps as the Civil Rights movers and shakers, hearing their personal testimonies.
The hours spent on the bus, at the hotels and sites, and over meals wouldn't have been the same without the others enjoying the trip. The oldest adventurer was in her 70's and the youngest, just shy of 10 years old. Pitt students shared the experience with students from Messiah College and Carlow University. We cried together, processed together, relived Civil Rights events together. The bond we formed will be unbreakable. We were able to connect on a personal and professional level with most of these individuals.
Rip Patton, a Freedom Rider in Nashville, encouraged us to sit in a different sit on the bus every day to connect with a different individual every day. Our students connected with students, staff, and faculty from the other institutions.
—Cayla Turner, Pitt resident director
••••

We arrived in Ohio on Saturday evening—and traveled three-and-a-half hours this morning to Clearview Golf Club in East Canton. This is the only golf course in the world to be designed, constructed, owned, and operated by an African American.
William Powell created the course after returning from World War II. He had a passion for golf, but was not welcome on any U.S. courses. Mr. Powell decided to build a course where everyone would be welcome and, in, 1946, he opened the Clearview Golf Club. His daughter, Renee Powell, is a professional golfer who has played in the Ladies Professional Golf Association (LPGA) Tour. She spoke with us about her father's legacy and her experience being a black woman in golf. The landscape was beautiful and the story inspirational.
Unforgettable, impactful, raw, emotional, phenomenal. These are some of the words I would use to describe this journey. Being able to provide this experience to our students—and to travel this path myself—means more than I can express. I have experienced our history in ways others have not. I will think of Ms. [Rutha] Harris every time I hear a freedom song. I will remember Ms. [Joanne] Bland at the mention of Selma. I will think of Mrs. [Juanita] Abernathy at the mention of Martin Luther King Jr.
I wholeheartedly believe that one cannot understand today's racial climate without understanding our history. From past to present, the struggle has not ended, only transformed.
—Kayla Shawley, Pitt senior resident director
On the Freedom Road

Follow a group of Pitt students on the Returning to the Roots of Civil Rights bus tour, a nine-day, 2,300-mile journey crisscrossing five states.
Day 1: The Awakening
Day 2: Deep Impressions
Day 3: Music, Montgomery, and More
Day 4: Looking Back, Looking Forward
Day 5: Learning to Remember
Day 6: The Mountaintop
Day 7: Slavery and Beyond
Day 8: Lessons to Bring Home
Day 9: Final Lessons