"How One Small Seed Can Change the World"
Issue Date:
October 7, 2013
These are remarks delivered by Chancellor Mark A. Nordenberg at the Sept. 25 dedication of the Wangari Maathai Trees and Garden on the Cathedral of Learning Lawn.
It is my privilege to welcome you to a very special ceremony on this beautiful autumn afternoon. It is a ceremony celebrating the life of Wangari Muta Maathai—who came to this campus as a young student and who won international acclaim, including the Nobel Peace Prize, for the work that she did after returning to her home country of Kenya.
Obviously, there is a somber side to the dedication of any memorial. And today, on the second anniversary of her death, we join with people around the world who still mourn the passing of Professor Maathai.
What we could not have anticipated, of course, is that our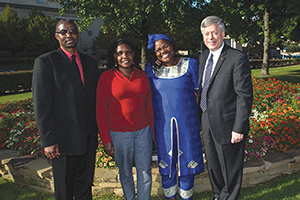 celebratory spirit also would be tempered by the tragic loss of life in this past weekend's terrorist attacks in Nairobi. It seems appropriate that we begin, then, with a moment of silence, out of respect both for the woman whose life we have gathered to honor and for those innocent victims who were killed or wounded in her native land in the attacks of recent days.
Relatively few universities can claim a Nobel Peace Laureate as a graduate. And as I prepared for this presentation, I came to better understand the direct impact of Wangari Maathai's stays at Pitt and the efforts that she later would lead in her native Kenya. As an educator, one of my favorite quotes comes from Henry Adams—who, more than a century ago, stated: "A teacher affects eternity; he can never tell where his influence stops." As Wangari Muta Maathai's wonderful life makes clear, that same statement might be made more broadly about both a university and its hometown.
Wangari Muta was born in the central highlands of Kenya on April 1, 1940. She was a member of the Anjiru clan, which was known for producing warriors, healers, and leaders, all roles with which she became familiar. She was educated in Catholic schools, through high school, in Kenya, and then came to the United States as part of the "Africa Airlift" program.
That program was championed by the African American Students Foundation, by then-Senator John F. Kennedy and his family foundation, by Jackie Robinson, by the U.S. State Department, and by others. The program provided scholarships to hundreds of East Africans to study in the United States and created a generation of new leaders, many of whom would have real impact in their home countries as colonialism in Africa began to end.
In the early fall of 1960, then, a young Wangari Muta and others in the program flew from Nairobi to New York City—with stops in Libya, Luxembourg, Iceland, and Canada. After spending several days in New York, which included a tour of the United Nations, her group boarded a bus that headed west, dropping students on the campuses of the colleges or universities to which they had been assigned. Her own destination was Mt. St. Scholastica College in Atchison, Kansas, where she spent four years and earned her undergraduate degree.
Her first trip to Pittsburgh came in the summer of 1963, when she still was an undergraduate in Kansas but received a scholarship to attend a six-week course on leadership here. The experience must have agreed with her, because she returned the following year to begin graduate studies in the biological sciences. Her faculty advisor, Professor Charles Ralph, first suggested that she do research on the life cycle of cockroaches. When she resisted, he relented and permitted her to study the pineal gland.
She completed the work for her master's degree and returned to Kenya in 1965. But it is clear that her experiences in Pittsburgh helped shape her life in key ways.
During that six-week summer leadership course here at Pitt, she wrote a paper on "helping women in rural areas work together and promote development efforts." As she said in her memoir, "Little did I know that I would be putting that theory into practice only a decade later, when I would be inspired by rural women to initiate the Green Belt Movement."
Pittsburgh also gave her new perspectives on the environmental issues that became so central to her life. Again, quoting from her memoir, she said, "In the mid-1960s, Pittsburgh, like other manufacturing towns in the United States, was coming to terms with the legacy of pollution from a hundred years of the industrial revolution. This turned out to be my first experience of environmental restoration, because the city was already working to clean up the air. ... Today, Pittsburgh is no longer shrouded in smoke, but is one of the most beautiful metropolises in the land."
She further reported that the lab skills that she developed here at Pitt, "in embryology, microanatomy, processing tissues, and microscopy … proved pivotal less than two years later in Kenya." In fact, she told me, when she was here, that her tissue processing skills were critical to securing her first job in Kenya—as a research assistant in a university lab.
Speaking more broadly about her experiences in this country, she said: "It is fair to say that America transformed me: It made me into the person I am today. It taught me not to waste any opportunity and to do what can be done—and that there is a lot to do. The spirit of freedom and possibility that America nurtured in me made me want to foster the same in Kenya, and it was in this spirit that I returned home."
Once home, she did work in a lab but it was not the lab in which she initially had been offered a position. Instead, when she presented herself to begin work, that professor told her that the job in his lab had been given to someone else—which she attributed to tribalism and sexism. Her appeals were to no avail. She was told that because her offer letter was handwritten and sent on letterhead from the department, and not from the office of the chancellor, it was not official.
After several months of searching, she secured another research assistant's position, working in the lab of a German professor in the University College of Nairobi's Department of Veterinary Anatomy. She later earned her PhD, was appointed an associate professor in that department and rather quickly was made its chair. Each was a first. She was the first woman to earn a doctorate, to be appointed an associate professor, or to chair a department in that region.
As I move quickly across the years to describe her achievements and impact, I do not want to leave the impression that things came easily. Instead, she continued to battle discriminatory practices within the university, she had to mask the person she was to avoid an anticipated electoral backlash against educated women when her husband ran for office, and over the course of her career, she was jailed and beaten and even faced threats of assassination.
While still serving as a faculty member, she became actively involved with the National Council of Women of Kenya, ultimately serving as its chair for five years. In preparing for an international conference in Mexico City, she participated in a number of seminars involving women from rural regions. Their concerns were basic: "They didn't have enough wood for fuel or fencing, fodder for their livestock, water to cook with or to drink, or enough for themselves or their families to eat."
In describing her reaction to those concerns, she said, "[I]t is one thing to understand the issues. It is quite another to do something about them. But I always have been interested in finding solutions. This is, I believe, a result of my education, as well as my time in America: to think of what can be done rather than worrying about what cannot."
Then, she says, "It just came to me: 'Why not plant trees?' The trees would provide a supply of wood that would enable women to cook nutritious foods. They would also have wood for fencing and fodder for cattle and goats. The trees would offer shade for humans and animals, protect watersheds and bind the soil, and, if they were fruit trees, provide food. They also would heal the land by bringing back birds and small animals and regenerate the vitality of the earth."
"This," she said, "is how the Green Belt Movement began. The rest of it perhaps was sheer luck: If I'd picked something other than trees my efforts might have failed, and I may have remained at the University of Nairobi as a professor and now be retired and enjoying my pension. But that wouldn't have been half as interesting."
The Green Belt Movement did plant a lot of trees—millions of them, in fact, and the movement spread to other countries. And beyond its environmental benefits, the movement nurtured higher levels of self-esteem in the participating women, who were paid for their work. It also sparked hope and change in communities as women and the rural poor began to connect the solutions to their hunger and poverty locally to larger issues of sustainable development, peace, and democracy. These larger connections were reflected in Professor Maathai's inspiring example as a tireless leader of Kenya's pro-democracy movement.
In 2002, she won election to Kenya's Parliament, capturing 98 percent of the vote. A year later, she was appointed Deputy Minister of Environment, Natural Resources, and Wildlife. And in 2005, she was elected presiding officer of the Economic, Social, and Cultural Council of the African Union and chosen as the Goodwill Ambassador for the Congo Basin Forest Ecosystem.
For this work and as founder of the Green Belt Movement, she quickly attained international recognition for her leadership on issues of women's rights and environmental conservation. And in 2004, Professor Maathai was awarded the Nobel Peace Prize in recognition of "her contribution to sustainable development, democracy, and peace." As you would expect, she also has received many other honors, among them being named a United Nations Messenger of Peace and being inducted into the Earth Hall of Fame. Professor Maathai also authored five books, including Unbowed, her memoir.
In 2006, Professor Maathai returned to the University of Pittsburgh to speak to a standing-room-only audience in the Connolly Ballroom of Alumni Hall, where we will have our reception this afternoon. At that time, she was awarded an honorary doctorate of public service, giving her a second Pitt degree. And even now, as I walk through the Cathedral of Learning, I often recall the long lines that snaked through the Commons Room as hundreds of admirers waited to have their copies of Unbowed signed.
Two years ago today, on September 25, 2011, the world mourned upon learning of Professor Maathai's death. And today, at Pitt, we dedicate a lasting tribute to her lifelong advocacy for women, the poor and the oppressed, for environmental sustainability, and for the cause of democracy.
Thinking about her life's work inspired the creation of a living monument. Working with the professionals in Pitt's Facilities Management division, we have planted two red maple trees that symbolize Professor Maathai's commitment to the environment as reflected in her founding of the Green Belt Movement, as well as her "twin roots" in Kenya and in Pittsburgh. The circular garden between the trees represents her global vision and dedication to the women and children of the world. In the center of the garden sits a small tree, which signifies how one small seed can change the world.
When Professor Maathai returned to Pitt in 2006, it was one week after homecoming, and it was in that spirit that she said to the assembled audience, "I feel as though I am back home. I am deeply grateful for the gift that this institution gave me. I felt I was prepared to go forth, ready to serve the world." Those words are engraved on the plaque that we are about to unveil, where they will serve to inspire our community of students, faculty, staff, alumni, and friends for generations to come.
Other Stories From This Issue
There are no stories for the issue at this time.
On the Freedom Road

Follow a group of Pitt students on the Returning to the Roots of Civil Rights bus tour, a nine-day, 2,300-mile journey crisscrossing five states.
Day 1: The Awakening
Day 2: Deep Impressions
Day 3: Music, Montgomery, and More
Day 4: Looking Back, Looking Forward
Day 5: Learning to Remember
Day 6: The Mountaintop
Day 7: Slavery and Beyond
Day 8: Lessons to Bring Home
Day 9: Final Lessons