120,000 Meals before Midnight: Pitt Students Volunteer to Fight Hunger
By Micaela Fox Corn
Issue Date:
March 22, 2017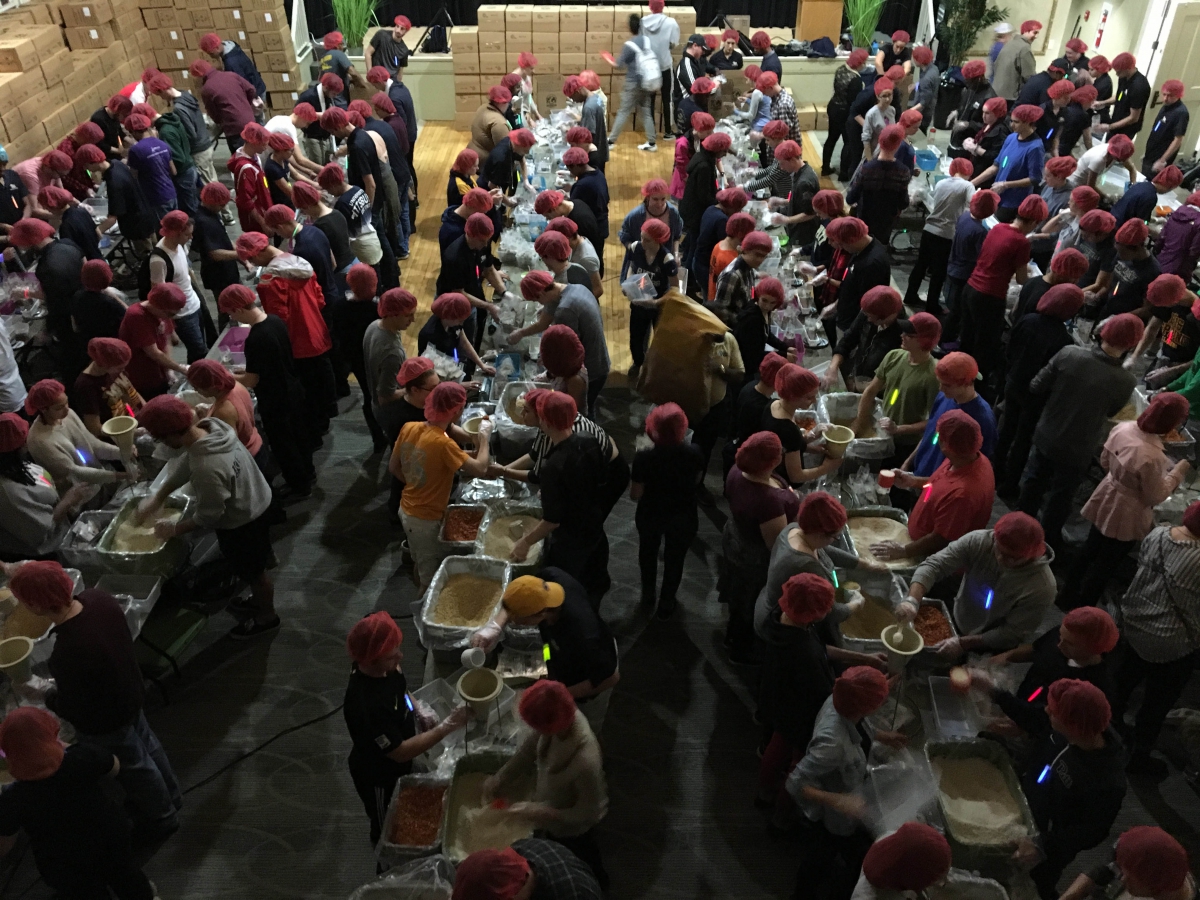 A gong sounds in the O'Hara Student Center ballroom. It's just after 10 p.m. and a roomful of Pitt students has just packaged 10,000 meals for disadvantaged communities in only 10 minutes. With help from nonprofit organization Rise Against Hunger, they're racing this Thursday evening in March to package 120,000 meals for hunger relief around the globe and in local communities before midnight.
The ballroom's balcony provides the best view of the scene: As a DJ spins tracks from his booth on the stage, almost 400 students in red hairnets stand at long buffet-style tables, working with assembly line efficiency. They funnel rice, dehydrated vegetables, soy protein, and 23 essential vitamins and minerals into packages that feed six to eight people (just add water). The bags move down the line to be weighed, air sealed, and packed into boxes.
When all the meals are packed, Rise Against Hunger will triage from its regional warehouse in Greensburg, Pa., — one of 20 locations nationally, in addition to sites in India, Italy, Malaysia, South Africa, and the Philippines — to ship the boxes wherever food is needed most.
Gwen Gorski, area coordinator in the Office of Residence Life for Forbes Hall and Litchfield Towers, had volunteered at a Rise Against Hunger meal packaging event with her colleagues over the summer through the Office of Pitt Serves. She knew the nonprofit was looking to partner more with students and student organizations.
"We were thinking about something that would be fun and engaging for our students," Gorski says. "Something fairly easy for them to do, but that had a huge scope and could make a big impact," in terms of helping people.
"They were excited to work with Pitt again," she says.
And at the late night event, the excitement was mutual.
"It's almost like a race or competition in a way, where we're just trying to get as much done as we can," says Jack Hurley, a junior studying biology and urban studies.
Sophomore Claire Jefferson, communications and sociology major, added, "We're lucky enough to get to eat breakfast, lunch, dinner, snacks, junk food — any and everything we want, when we want it. So, how could we not give that back, in hopes of other people being able to eat?"
Earlier this year, United Nations humanitarian chief Stephen O'Brien called the world's attention to the famine and starvation of some 20 million people in Somalia, Yemen, South Sudan, and northeast Nigeria, calling the situation "the largest humanitarian crisis" since 1945. According to the Food and Agriculture Organization of the United Nations, 792.5 million people worldwide don't get the food they need to live a healthy life, as of 2016.
At Pitt, there's an understanding on campus of the critical importance of hunger relief efforts, and an eagerness among students to help.
"Any opportunity to be able to reach out to other communities and help other people is a chance that we usually don't like to give up here," says freshman Dominique Ellison.
Back on the ballroom balcony, a sea of red hairnets bobbed to the beat of the DJ's tracks, keeping time to their work pace. The gong rang out again — there's another 10,000 meals, boxed and readied for shipment! At 11:42, they were 10,000 meals shy — adding fuel to the flurry of busy hands.
Just in time, they met their goal.
See footage from the event here.
Other Stories From This Issue
There are no stories for the issue at this time.
On the Freedom Road

Follow a group of Pitt students on the Returning to the Roots of Civil Rights bus tour, a nine-day, 2,300-mile journey crisscrossing five states.
Day 1: The Awakening
Day 2: Deep Impressions
Day 3: Music, Montgomery, and More
Day 4: Looking Back, Looking Forward
Day 5: Learning to Remember
Day 6: The Mountaintop
Day 7: Slavery and Beyond
Day 8: Lessons to Bring Home
Day 9: Final Lessons