20 Donors to Be Inducted Into Pitt's Cathedral of Learning Society June 29
Issue Date:
June 25, 2007
Inductees each have given lifetime gifts to the University totaling $1 million or more
The University of Pittsburgh will celebrate the philanthropic spirit of 20 donors as they are inducted into the Cathedral of Learning Society at 6 p.m. June 29 in the Cathedral's Commons Room.
Established in 1999, the Cathedral of Learning Society recognizes individuals who have given lifetime gifts to the University totaling $1 million or more. The society currently has 53 members; 20 new members will be added Friday. A complete list of the current membership appears on Page 7.
"The Cathedral of Learning was built, in part, by the more than 97,000 schoolchildren who, more than 80 years ago, each contributed a dime in exchange for a 'Builder of the Cathedral' certificate," said Pitt Chancellor Mark A. Nordenberg. "Much like the giving spirit of those school-age philanthropists, the extraordinary generosity of the members of the Cathedral of Learning Society is a genuine source of inspiration to the entire University community. It also represents a wise investment in the future of Pitt and the many generations of Pitt students yet to come. To our most benevolent supporters, then, we extend our deepest gratitude."
This year's Cathedral of Learning Society inductees and their biographical sketches follow.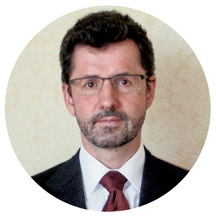 William F. Benter
William F. Benter is the chair and international chief executive officer of the Pittsburgh-based Acusis, which he cofounded in 2001. Benter developed the proprietary transcription software that has allowed Acusis to become a trailblazer in its field, providing today's most advanced medical transcription technology services for hospitals, clinics, and physician practices nationwide. In its six years of existence, Acusis has experienced dramatic growth with a rapidly expanding client base, offering health care solutions designed to improve the productivity and effectiveness of medical practitioners.
During the past year alone, Acusis has been honored as a finalist in the Pittsburgh chapter of the Society of Financial Service Professionals' Annual Pittsburgh Business Ethics Awards, as a Medical Transcription Industry Association Beacon Award finalist for excellence in billing practices, and in the Pittsburgh Business Times 2006 Pittsburgh 100, which honors the fastest-growing privately held companies in the region.
Benter, a native of Pittsburgh with a profound interest in international affairs, is board vice chair of the World Affairs Council of Pittsburgh and is active with Pittsburgh Social Ventures Partners and Rotary International, which promotes world understanding and peace. He made an exceptional contribution earlier this year to establish at Pitt the University Center for International Studies Endowed Visiting Professorship in Contemporary International Issues, which will bring to campus renowned scholars with expertise in international issues affecting key regions of the world. His gift will provide opportunities to both the visiting professors as well as the many students who will enjoy the benefit of distinguished scholarship and fresh international perspectives.
A graduate of Pitt's College of General Studies in 1977, Benter also studied at Case Western Reserve University and the University of Bristol (England).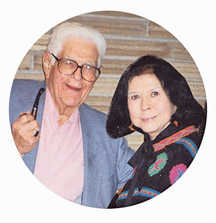 Fred C. and E. Maxine Bruhns
After graduating from Ohio State University (OSU) in 1946, E. Maxine Bruhns married fellow OSU graduate Fred C. Bruhns, and thus began a 15-year joint odyssey traveling and living in Austria, Jordan, Lebanon, Vietnam, Cambodia, Iran, Germany, Greece, and Gabon. In 1965, the couple made their way to Pitt, where the late Fred Bruhns earned a PhD and spent the rest of his career as a Graduate School of Public and International Affairs professor and Maxine Bruhns began the task of overseeing Pitt's storied Nationality Rooms. Wanting others to have the opportunity for similar international adventure, the Bruhnses have donated generously to create and sustain international programs at Pitt.
Mr. Bruhns' journey began when he fled Nazi Germany for Switzerland and France after spending two years in a Berlin prison as an anti-Nazi activist. He spent another two years in internment camps in France before getting a U.S. visa in 1941. He not only attended OSU, but also joined the U.S. Army, making the Anzio Beach landing and earning a battlefield commission in military intelligence. After the war, with Mrs. Bruhns accompanying him, Mr. Bruhns conducted refugee resettlement work for the United Nations and, later, for numerous U.S. refugee agencies.
A native of Grafton, W.Va., and the third cousin of the founder of Mother's Day, Mrs. Bruhns took advantage of her time abroad and earned a master's degree from American University of Beirut in 1954. At Pitt, she shepherded the design and construction of seven Nationality Rooms in the Cathedral of Learning between 1987 and 2000, bringing the room total to 26. She is now overseeing the development of eight new rooms. In addition, Mrs. Bruhns directs Pitt's Intercultural Exchange Programs, which have awarded 932 study abroad scholarships.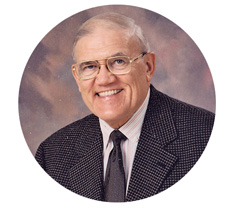 Thomas E. Cadman
The late Thomas E. Cadman received his Bachelor of Science degree in 1952 and his MD degree in 1956 from Pitt, launching a distinguished medical career that included 30 years of service to Geisinger Medical Center in Danville, Pa.
After graduating from Pitt, Cadman was a captain in the U.S. Air Force Medical Corps from 1957 to 1959. He also was on staff at McKeesport Hospital and Children's Hospital of Pittsburgh. He began his career at Geisinger in 1968 as the first subspecialist in the pediatric department and retired in 1998 as the director of pediatric neurology. A leading advocate for those with Tourette syndrome, he was a charter member of the Board of Directors of the Pennsylvania Tourette Syndrome Association. He also was a clinical professor of pediatrics at the Jefferson Medical College at Thomas Jefferson University in Philadelphia.
A lifetime member of the Pitt Alumni Association, Cadman gave generously to the University band, of which he was a member from 1950 to 1952, and the School of Medicine. He also established the Dr. Thomas E. Cadman Endowed Scholarship Fund, which provides four-year scholarship support to medical students at Pitt. Geisinger Medical Center honored him in 2004 for his significant contributions to the Janet Weis Children's Hospital at Geisinger.
A native of Homestead, Pa., and a graduate of McKeesport Area High School, Cadman was an active member of numerous professional organizations, including the American Medical Association, the American Board of Pediatrics, and the Pennsylvania Medical Society. At the time of his death in March 2006, he was serving as vice president of the Columbia-Montour Torch Club, an organization that promotes the sharing of knowledge among professionals.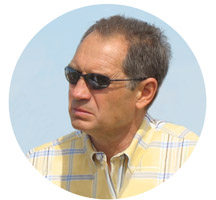 Allen L. Cook
Wyoming rancher Allen L. Cook has forged a unique connection to Pitt. Both he and the University share an intense respect for the eons-old natural treasures embedded in his 120,000-acre ranch and are committed to maintaining the integrity of such land, believing fervently that national heritages like this should be preserved for educational purposes. In December 2005, Cook donated to Pitt the Spring Creek portion of his property, comprising nearly 4,700 acres rich in dinosaur bones and fossils—a veritable Jurassic Park that now will be a living laboratory.
Having grown up on a small ranch, Cook thought the last thing he wanted to do was to raise cattle. He attended Northwestern State University in Natchitoches, La., earning a BA in education and a master's degree in management and counseling. In 1975, Cook escaped the heat and humidity of the South for the wide-open spaces of Wyoming. After spending a year as a high school guidance counselor, he became personnel manager for a Wheatland power cooperative, where he continues to work.
During his early years in Wyoming, Cook ran an outfitting business, taking visitors on hunting trips. He developed a great appreciation for the area and calls himself a "steward of the land." Over the years, he bought and sold pieces of property, amassing the acreage on which he annually raises about 5,000 cattle for market.
Cook's gift of Allen L. Cook Spring Creek Preserve is the result of Pitt's commitment to use the property as an educational laboratory. He also liked Pitt's plan to team with the Carnegie Museum of Natural History and the University of Wyoming in exploring the land.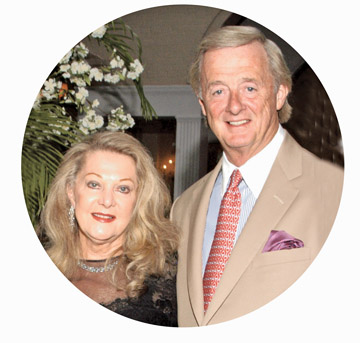 Kathleen DuRoss and L. Frank Chopin
Kathleen DuRoss and L. Frank Chopin have established what is currently known as the Kathleen DuRoss Ford Chair in Cardiothoracic Transplantation. This chair is intended to honor the first holder of the chair, Brack G. Hattler, professor of surgery in the Pitt medical school and executive director of the Medical Devices Laboratory at the McGowan Institute for Regenerative Medicine. The chair will support Hattler's groundbreaking work designed to bring artificial lung devices into clinical use. Upon Hattler's retirement, the chair will become known as the Brack G. Hattler Chair in Cardiothoracic Transplantation.
Anthony E. Gill
Throughout his life, Anthony E. Gill demonstrated his support for his alma mater through gifts to Pitt's School of Engineering.
A 1949 graduate of the school with a degree in civil engineering, Gill enrolled at Pitt following service in the U.S. Army during World War II. He spent 42 years working as a civil engineer for Dravo Corp., a Pittsburgh-based company that once built barges and steel mills, conducted engineering work, and developed energy plants. Later, the company supplied lime used to reduce sulfur dioxide emissions in coal-burning power plants.
A Pittsburgh native, Gill made lifetime gifts to the Engineering Development Fund and the School of Engineering Merit Scholarship Fund. He was a member of both the Pitt Alumni Association and the 1787 Society.
In September 2000, Gill met with U.S. Steel Dean of Engineering Gerald Holder and Rafael Gimpo, chair of Pitt's Department of Civil and Environmental Engineering, to discuss supporting the school's work and the career goals of its students. The result of that meeting was perhaps Gill's greatest legacy to the school: A $1.5 million endowment to establish the Anthony E. Gill Chair in Civil and Environmental Engineering to support outstanding faculty members.
Gill died on Dec. 11, 2003, but his dedication to excellence in his field continues through a gift that ensures the recruitment and retention of high-caliber engineering faculty.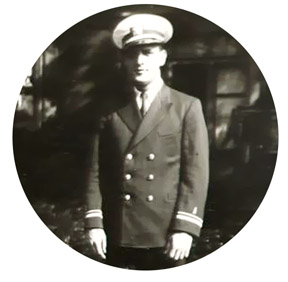 Frank E. and Dorothy T. Jeffreys
Frank E. Jeffreys came to the University of Pittsburgh School of Dental Medicine after graduating from Wilkinsburg High School. Upon earning his DDS degree in 1933, he became a commissioned officer in the U.S. Navy and served for 30 years.
While stationed at the Newport, R.I., Training Center, he married the late Dorothy Thurston Jeffreys. The couple was assigned to various military stations throughout the country, including the Marine Corps Base Quantico in Virginia, where he was a commanding officer of the dental department. Jeffreys served in World War II on the U.S.S. Brooklyn and in the Korean War on the U.S.S. Consolation. He also practiced reconstructive facial surgery at Bellevue Hospital in New York City in the 1950s.
While on staff at the National Naval Medical Center in Bethesda, Md., Jeffreys developed a groundbreaking method of recording information on dental plates as a means of identifying those in service to their country. He also was recognized for writing a dental instructional manual, which was used by the Navy in its dental treatment.
Jeffreys was a lifelong member of the American Dental Association and a fellow of the American Board of Prosthodontics.
Upon the death of Jeffreys in 1989, Dorothy Jeffreys established a trust to honor her late husband. Today, the Frank E. Jeffreys Scholarship Fund in Dental Medicine helps support students in Pitt's School of Dental Medicine who demonstrate financial need.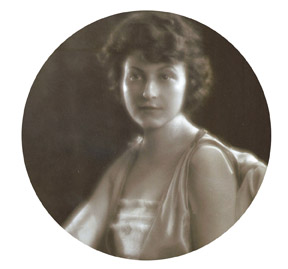 Katherine Mabis McKenna
Education was just one interest the late Katherine Mabis McKenna supported throughout her lifetime. A 1918 graduate of the University of Wisconsin, McKenna championed the arts, conservation, economic and community development, environmental projects, historic preservation, and other causes in Southwestern Pennsylvania.
She was the wife of late entrepreneurial industrialist and metallurgist-inventor Philip McKenna, who founded Kennametal Inc., then called McKenna Metals Co., in Latrobe, Pa., in 1938. She studied horticulture in the Netherlands, flower arranging in Japan, and landscape design at the Pennsylvania School of Horticulture for Women in Ambler, Pa. She was past president of the Pittsburgh Guild of Flower Arrangers and past vice president and member of Phipps Conservatory.
In 1969, McKenna founded the Katherine Mabis McKenna Foundation and devoted her later years toward enhancing the quality of life in the region. The foundation continues to support the rehabilitation of landmark buildings, development of youth programs, protection of waters and land, development of community and recreational facilities, and education. The foundation's gift to the University of Pittsburgh at Greensburg was used to build McKenna Hall and subsequently to expand the building, adding an updated computer center, fine arts classrooms, music practice rooms, and a slide library. The expansion preserved campus green space by building up with a second story.
Other McKenna Foundation gifts—all of which will help future generations of Pitt students—have funded improved technology in Smith Hall and the residence halls and have generously supported the Pitt-Greensburg student center, the President's Discretionary Fund, the K. M. McKenna Foundation Fund, the Campus Building Fund, and the Pitt-Greensburg Library.
The McKenna Foundation is led by chair Linda McKenna Boxx, cousin of Philip McKenna and daughter of late Kennametal Inc. founding general partner Alex G. McKenna; her mother, Wilma McKenna, who serves as vice chair; and her sister, Zan McKenna Rich, who serves as both secretary and treasurer.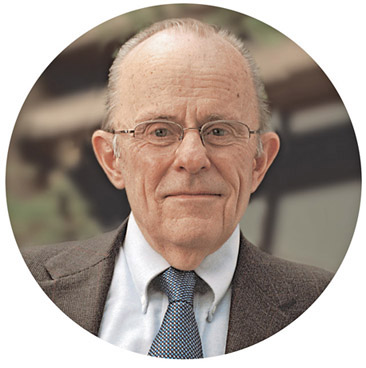 Marlin H. Mickle
Pitt alumnus and professor Marlin H. Mickle has pioneered the application of radio frequency (RF) energy waves during his decades-long career in the University's engineering school. His ongoing research has yielded a variety of wireless devices, including communication networks, battery chargers, and radio frequency identification (RFID) tags heralded as the most significant innovation in retail technology since the bar code. Mickle also has marked his long affiliation with Pitt by contributing numerous gifts to further engineering education.
As the Nickolas A. DeCecco Professor and professor of telecommunications and computer, electrical, and industrial engineering, Mickle oversees several laboratories for developing practical RF technology and directs Pitt's RFID Center of Excellence. The center's groundbreaking device is the Product Emitting Numbering Identification (PENI) smart tag, touted as a method for retailers to track inventory, help prevent theft, and streamline checkout lines. The PENI tag stores information about a product and then communicates it to a central computer via a small RF antenna. The system would reduce the need for bar codes and laser scanners.
Mickle has honored his parents— Ruth E. Mickle and Howard T. Mickle—by creating two endowed faculty chairs in their names in the School of Engineering's Department of Electrical Engineering. He has been honored himself by being recognized by the Institute of Electrical and Electronics Engineers and the Carnegie Science Center Awards for Excellence, and was named a Pitt Innovator in 2005. He also is a Pitt Alumni Association Golden Life Member.
Mickle's connection to Pitt started nearly 50 years ago when he enrolled at Pitt's Johnstown campus in 1958 before transferring to the Pittsburgh campus and earning his bachelor's degree in 1961. He joined the Pitt faculty in 1962, then earned his master's and PhD degrees at Pitt in 1963 and 1967, respectively.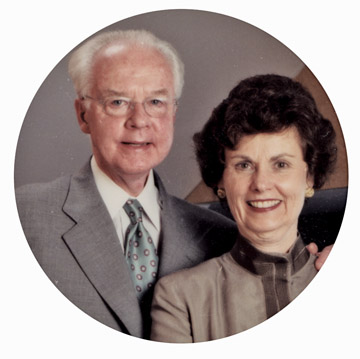 Tom W. and Jeanne H. Olofson
Tom W. Olofson's dedication to Pitt began when he was a business administration student; it flourished upon his receiving a bachelor's degree in 1963. As a student, Olofson was president of Student Government, the Omicron Delta Kappa "Man of the Year," and a member of the Society for the Advancement of Management.
Upon graduation from Pitt, Olofson began a rapidly accelerating career as a business executive, working for several Fortune 500 companies.
In 1988, he acquired the predecessor of his current venture, EPIQ Systems Inc., and has served as chair and CEO ever since. Based in Kansas City, Kan., EPIQ produces software programs to streamline the administration of complex legal proceedings and was recognized by Forbes magazine as one of the nation's top 25 fastest-growing technology companies of 2005.
The University recognized Olofson's success and named him a Distinguished Alumnus in 1997 and a Legacy Laureate in 2000.
He has demonstrated his continued devotion to the University's mission by serving on the Joseph M. Katz Graduate School of Business' Board of Visitors, presenting lectures for the Executive-in-Residence program, and delivering the keynote address at the Katz School's MBA commencement ceremony in 2003.
Jeanne H. Olofson received both her Bachelor of Arts and Master of Business Administration degrees from Avila University in Kansas City, Mo. Jeanne Olofson serves as a member of the Avila University Board of Trustees and is president of the Tom W. and Jeanne H. Olofson Foundation, a philanthropic organization jointly established by the Olofsons in 2001.
The Olofsons' strong commitment to the education of students at Pitt is evidenced by their establishment of the Tom W. Olofson Chair in Entrepreneurial Studies in the Katz School.
The Olofsons have also generously supported the Department of Athletics, the University Library System, and the H.J. Zoffer Chair in Business Administration.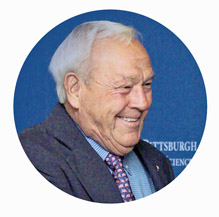 Arnold D. Palmer
Arnold D. Palmer took his first golf swing at age 4, using a set of clubs cut to size by his father, a course superintendent at Latrobe Country Club in Latrobe, Pa. Soon, Palmer would become one of the leading collegiate players at Wake Forest University and be winning national championships.
In a career that spans six decades, Palmer has amassed 92 golf victories—including four Masters Tournaments, two British Opens, a U.S. Open, 62 on the PGA Tour, and two PGA Seniors Championships. His many honors include membership in the PGA Hall of Fame, the American Golf Hall of Fame, and the World Golf Hall of Fame. He was twice named a PGA Player of the Year and received the PGA Tour Lifetime Achievement Award.
Palmer's highly successful business enterprises range from the Bay Hill Club & Lodge, in Orlando, Fla., which hosts the Arnold Palmer Invitational, to the Palmer Course Design Co., which has put its stamp on more than 300 golf courses in more than 20 countries.
Palmer's gifts to Pitt have supported the University of Pittsburgh at Greensburg, established the Arnold Palmer Endowed Chair in Cancer Prevention at the University of Pittsburgh Cancer Institute (UPCI), and helped fund the Arnold Palmer Pavilion, a UPMC Cancer Center in Greensburg, Pa. Palmer is a member of the UPCI Council and a recipient of the 1998 UPCI Spirit of Hope Award.
A 20-year honorary national chair of the March of Dimes Birth Defects Foundation, Palmer has provided philanthropic support for the Arnold Palmer Hospital for Children, the Winnie Palmer Hospital for Women and Babies, the Arnold Palmer Prostate Center, and the Arnie's Army Battles Prostate Cancer campaign.
In 2004, he received the Presidential Medal of Freedom award from George W. Bush at a White House ceremony.
Henry and Helen Posner
In the midst of a distinguished career in science as a research chemist and instructor at Pitt, Henry Posner Jr. launched another successful career in business, eventually becoming president of Pittsburgh Outdoor Advertising Corp., a position he held for 23 years. In 1987, he became chair of The Hawthorne Group, an investment and management company.
Posner and his wife, Helen, have contributed to a myriad of charities to improve and enrich the lives of people in Pittsburgh and around the world. Mr. Posner is chair of the Posner Foundation of Pittsburgh and the Posner Fine Arts Foundation. Internationally, the Posners' contributions include the Posner Family FSU Project, which establishes centers in the former Soviet Union to help rebuild Jewish communities.
The premium care that Mr. Posner recently received at UPMC Shadyside for a spine condition prompted the Posners to create a faculty chair in orthopedic surgery in the University's School of Medicine. The gift will support the research of Posner's doctor, a Pitt professor of both orthopaedic and neurological surgery, James D. Kang, who studies degenerative disc disease and directs Pitt's Ferguson Laboratory for Orthopaedic and Spine Research. The Posners also have been outstanding supporters of other Pitt programs, including the Cancer Institute, the Center for Clinical Pharmacology, and the School of Arts and Sciences.
Mr. Posner, who was born in Plum Borough, Pa., graduated from Shady Side Academy and earned his bachelor's degree at Princeton in 1941. He then served as a chemistry instructor at Pitt before earning his master's degree in chemistry at the University in 1948.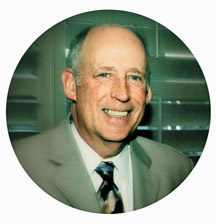 J. Faye and Myles D. Sampson Family
A third-generation builder and developer, Pittsburgh native the late Myles D. Sampson and his family have impacted countless lives through their establishment of the Sampson Family Endowed Chair in Thoracic Surgical Oncology.
This gift to the University of Pittsburgh Cancer Institute and the School of Medicine will advance clinical and surgical approaches in the prevention, detection, diagnosis, and treatment of lung and esophageal cancers. Prior to his death in March 2007, Sampson served as a member of the institute's development committee. He established the gift as an expression of hope for others after he was diagnosed with esophageal cancer.
Sampson left a legacy of service to community and philanthropic organizations, including the Boy Scouts of America, YMCA, and Rotary International. In 1998, he established the Cloverleaf Cares Program, Inc., which supplies geriatric care managers to people in residential communities. Sampson also advocated for such organizations as World Vision and the Arc of Westmoreland, two groups that focus on enhancing children's lives. He was a member of the Board of Trustees of his alma mater, Bucknell University, where he earned a degree in business administration before serving as a first lieutenant in the U.S. Army Corps of Engineers during the Korean War.
As a businessman, Sampson was the chair and chief executive officer of Rimco Properties, Inc., which developed, owned, and managed such properties as retirement homes, apartment complexes, shopping centers, and industrial parks. His father, Orin Sampson, was responsible for developing much of the following Pennsylvania communities throughout the mid-1900s: Holiday Park, Garden City, Churchill Valley, Monroeville, Plum, Penn Hills, and Murrysville.
Myles Sampson and his wife, J. Faye Sampson, were the trustees of the J. Faye and Myles D. Sampson Family Foundation, which carries on the family's tradition of giving.
Frank and Athena Sarris
Frank Sarris began experimenting with candy making in the basement of his Canonsburg, Pa., home more than 45 years ago. Since then, he and his wife, Athena, have transformed his love for candy making into a major chocolate enterprise. Known for its delectable candy and chocolate-covered pretzels, Sarris Candies has evolved from a local favorite with three employees to a nationally recognized company that employs 350 people and generates more than $16 million in annual sales.
It was Athena Sarris, now the company's secretary/treasurer, who encouraged her husband to quit his job as a forklift operator and pursue candy making full time. She worked as a secretary and kept the family afloat while the business grew. For 33 years, the Sarrises lived in an apartment above their candy store, pumping the profits back into the business.
In 2001, Frank Sarris received the Pennsylvania Small Business Person of the Year award from the Pittsburgh office of the U.S. Small Business Administration and was named one of the nation's top four small-business persons at a White House ceremony attended by President George W. Bush.
In 2002, Frank Sarris underwent a living donor kidney transplant at the Thomas E. Starzl Transplantation Institute. He was one of the first patients to benefit from the protocol pioneered at the Starzl Institute that greatly reduced the amount of antirejection medication needed during recovery. Several weeks later, he was back overseeing his production facility and candy store.
The Sarrises have made an exceptionally generous donation to the Thomas E. Starzl Legacy Endowment that will underwrite basic science research at the institute, and the Frank Sarris Outpatient Clinic helps the institute provide the best and most compassionate pre- and postsurgical care to transplant patients. The Sarrises also have contributed to the University's Library Fund, the Department of Athletics, and the Panther Club Athletic Scholarship Fund.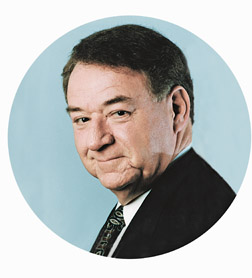 Charles M. and Rhoda Steiner
When Charles M. Steiner retired as the CEO, founder, and chair of Branch Group Inc. several years ago, he was renowned as a leading entrepreneur in the electric industry; indeed, today Branch Group, as part of Rexel, is the largest electrical distributor in the world.
In 1973, 10 years after he graduated from Pitt with a Bachelor of Business Administration degree in accounting, Steiner purchased the first of his many businesses, GEE Electric Co., in Wheeling, W.Va. After he grew GEE Electric into a successful business, he founded IMARK, an electrical cooperative; EDIC, an insurance company; and Vantage Group, a national sales organization to serve the electrical supply needs of major companies. Steiner now manages the Steiner Family Office.
Steiner's impressive contributions to the electrical industry have been recognized by his service as director and chair of various committees of the National Association of Electrical Distributors (NAED), for which he was presented the NAED Distinguished Service Award.
Through the Charles M. Steiner Atrium, Charles and Rhoda Steiner have provided students and faculty of the Joseph M. Katz Graduate School of Business (KGSB) with a beautifully enriched facility. The Steiners also established the Steiner Family Foundation Scholarship in Basketball and, most recently, have made a leadership gift to create The Chesapeake & Potomac Pitt Club Grant Program that will provide need-based assistance for deserving students from the metropolitan Washington, D.C., area to attend Pitt.
Charles Steiner serves on the Pitt Board of Trustees and the Board of Visitors for the College of Business Administration (CBA) and KGSB. In April 2001, he delivered the CBA commencement address, and in 2003, he was named a KGSB Distinguished Alumnus. He also is a Pitt Alumni Association Golden Life Member.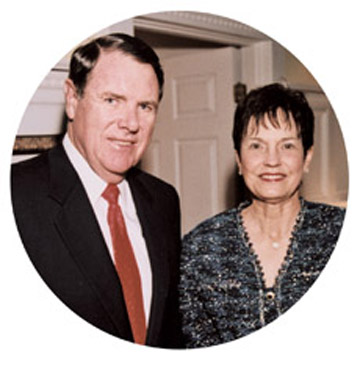 Thomas J. and Sandra L. Usher
The leadership, service, advocacy, and philanthropy of Thomas and Sandra Usher have played a significant role in the remarkable progress Pitt has made over the past 12 years.
Thomas Usher earned his bachelor's degree in industrial engineering at Pitt in 1964, then began his decades-long career at U.S. Steel in 1965, returning to Pitt to earn his master's and PhD degrees in industrial engineering in 1966 and 1971, respectively.
During his 41 years at one of the world's most influential corporations, Usher rose to become president and CEO of U.S. Steel, then chair of its board. In 2003, he accepted the U.S. Secretary of State's Award for Excellence for U.S. Steel from Colin Powell. He currently serves as nonexecutive chair of Marathon Oil Corp.
Usher's leadership—as a member of Pitt's Board of Trustees beginning in 1994 and as campaign chair of Southwestern Pennsylvania's most successful fundraising drive ever, Pitt's Discover a World of Possibilities campaign—has helped guide the University through one of its most exciting periods of growth. He serves on the Pitt board's Institutional Advancement Committee and chairs the engineering school's Board of Visitors.
He received the School of Engineering's Distinguished Alumni Award in 1986 and was named a Distinguished Alumni Fellow in 1999 and a Legacy Laureate in 2000. Pittsburgh Magazine named him one of the Pittsburghers of the Century in 1999. He and Sandra Usher, an alumnus and lifelong friend of the University, cochaired the University of Pittsburgh Cancer Institute 2006 Gala.
The Ushers have bolstered the mission of the University through their support of the School of Engineering's Industrial Engineering Learning Center, the endowed position of U.S. Steel Dean of Engineering, as well as other programs, both academic and athletic.
Recently, the Ushers have directed their philanthropic efforts to the battle against cancer through the John Kirkwood Research Fund at the University of Pittsburgh Cancer Institute and by a generous gift creating the Sandra and Thomas Usher Endowed Chair in Melanoma.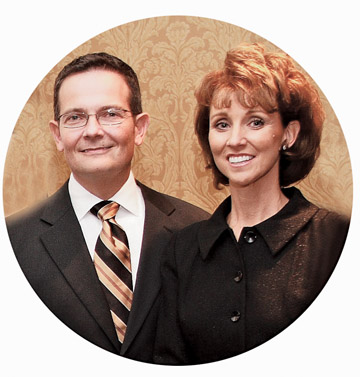 Bethann and Gordon J. Vanscoy
Throughout his career, Gordon J. Vanscoy has dedicated himself to the advancement of health sciences and higher education as a teacher, administrator, businessman, and philanthropist.
Vanscoy is the associate dean for business innovation and professor of pharmacy and therapeutics at his alma mater, Pitt's School of Pharmacy. A resident of Irwin, Pa., he earned two degrees at Pitt: a Bachelor of Science degree from the pharmacy school and a Master of Business Administration from KGSB. He also earned a Doctor of Pharmacy degree at Duquesne University.
Together, Vanscoy and his wife, Bethann Vanscoy, established the Gordon J. Vanscoy Endowed Chair and the Dr. Gordon J. Vanscoy Pharmaceutical Endowment in the School of Pharmacy. The couple also created the Dr. Gordon J. Vanscoy Fund for the White Coat Ceremony, one of the school's most cherished traditions. Each year, pharmacy graduates receive their white clinicians' coats and publicly declare their commitment to integrity, ethical behavior, and honor by reciting the Pledge of Professionalism.
In addition to his academic duties, Gordon Vanscoy is the chair and chief executive officer of University Pharmacotherapy Associates LLC, a consulting company specializing in national pharmaceutical education systems, clinical advisory panels, strategic consulting, disease management, and expert pharmaceutical litigation evaluation.
He developed one of the country's first anticoagulation clinic services and founded the Drug Information and Pharmacoepidemiology Center at the University of Pittsburgh Medical Center, as well as the National Certified Anticoagulation Care Providers, a credentialing entity. He is the author of more than 200 scientific papers and abstracts, is the recipient of dozens of research and educational awards and grants, and has delivered more than 700 invited lectures.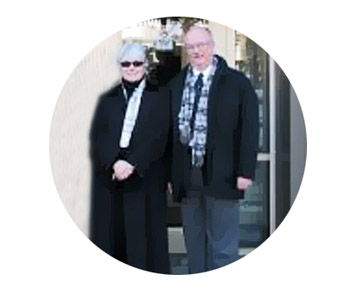 Robert J. and Mary B. Weiss
Robert J. and Mary B. Weiss, of Warren, Pa., demonstrated their commitment to the University of Pittsburgh at Bradford by donating the Seneca Building in downtown Bradford, Pa.—the most valuable gift of real estate made to the campus since its founding in 1963 and among the five largest outright donations that Pitt-Bradford has received.
Robert Weiss is an ophthalmologist, cofounder and president of Seneca Eye Surgeons, Inc., and chair of the Department of Surgery for the medical staff at Warren General Hospital. A specialist in retinal-vitreous diseases, he received his Doctor of Medicine degree from the State University of New York at Buffalo School of Medicine and did his residency at Emory University.
Weiss and his wife, Mary, donated the Seneca Building in 2006 in memory of Dr. Paul Orville Keverline, a 1969 graduate of Pitt's medical school and 1965 graduate of Pitt's School of Arts and Sciences. Keverline had treated hundreds of patients in his clinics in Pennsylvania and New York for 25 years, with all four of his sons earning degrees at Pitt, three of them in medicine and the fourth in business. Keverline, who was known for his flights in a self-propelled parachute, died in a 2002 plane crash while piloting his twin-engine plane. Weiss and Keverline were partners in Seneca Eye Surgeons, Inc., which Keverline cofounded, and had owned the six-story Seneca Building jointly.
Today, the Seneca Building houses Pitt-Bradford's Office of Outreach Services, Business Resource Center, Center for Rural Health Practice, and a component of the entrepreneurship program. In addition to providing office space for Pitt staff, the Seneca Building has high-tech classrooms for continuing education programs and workspace for entrepreneurs.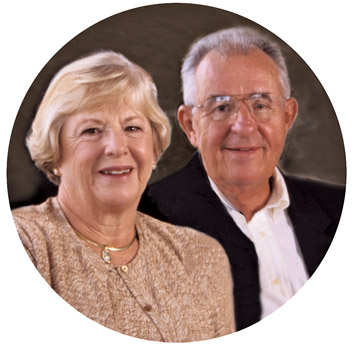 Margaret E. and James E. Wilkes
The geology degree that James E. Wilkes earned at Pitt provided him with the foundation upon which he built a successful career as the founder and chief executive officer of several oil and gas well drilling companies, notably Wilkes Venture, of which he was president, owner, and CEO at the time of his retirement.
Earlier in his career, he established Universal Well Services, which he sold to UGI Corp. before creating Clearwater Inc.—an international specialty chemical firm—as well as Wilkes Energy Inc., a well servicing company based in Houston, Tex.
A native of Windber, Pa., Wilkes attended the University of Pittsburgh at Johnstown (UPJ) with the help of a state scholarship. Following service in the U.S. Army, he completed his degree at the Pittsburgh campus in 1959 through the GI Bill. While attending Pitt, he worked part-time at the Western Psychiatric Institute and Clinic, where he met his future wife, Margaret, who was then a nurse.
The son of a widowed elementary schoolteacher, James Wilkes—who also played basketball for the UPJ Mountain Cats—has striven to match the generosity that made his own education possible by funding with his wife several scholarships designed to provide similar opportunities for aspiring student-athletes. Among the many examples of the Wilkeses' philanthropy are the James E. and Margaret E. Wilkes Football Scholarship, support of the Quest for Excellence-Olympic Sports and Football Locker funds, and, at UPJ, the James E. and Margaret Wilkes Scholarship, the James E. and Margaret Wilkes Athletic Scholarship, and the James E. Wilkes Windber Scholarship.
Additionally, the couple has contributed to the Panther Club Athletic Scholarship Fund, the Men's Basketball Athletic Scholarship Fund, and UPJ. James Wilkes is a Golden Life Member of the Pitt Alumni Association.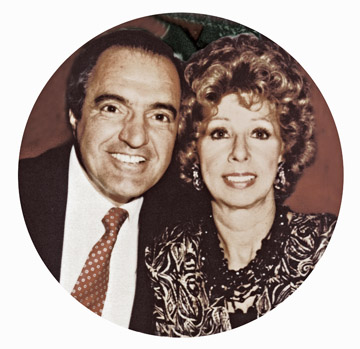 George D. and Marianna Zamias
One of the nation's first shopping mall developers, Johnstown, Pa., native George D. Zamias has been ranked as one of the top 100 developers in the nation.
At Pitt, Zamias earned his Bachelor of Business Administration degree in 1953 and his Master of Letters degree in real estate and insurance in 1954. While at the University, he was named a member of Beta Gamma Sigma, the honor society for business students and scholars.
In 1957, he founded George D. Zamias Developer, a firm that develops and manages retail shopping centers in seven states. In 1996, he formed Zamias Services Inc. to service the portfolio of assets held by George D. Zamias Developer and to capitalize on other third-party leasing and management opportunities. Together, these two companies are involved in nearly 4.9 million square feet of new development. Through his thriving business ventures, Zamias has helped to keep commerce humming in Southwestern Pennsylvania by developing retail centers such as The Village at Pittsburgh Mills and The Galleria in Johnstown.
Throughout his career, Zamias has been a generous supporter of UPJ. With his wife, Marianna, he has enhanced student life at the campus by establishing the Zamias Aquatic Center.
The Zamiases also expressed their support for the University with the establishment of the Demos Zamagias Memorial Scholarship, which has provided financial aid to deserving UPJ student-athletes since 1984.
The Zamiases are residents of Johnstown. George Zamias, who has played a leadership role at UPJ, is an emeritus member of the UPJ Advisory Board and a former member of its Board of Visitors; he also has taught real estate and related subjects at UPJ. He is a recipient of the Third Century Medallion, which he was awarded at the Zamias Aquatic Center dedication in 1990.
Other Stories From This Issue
There are no stories for the issue at this time.
On the Freedom Road

Follow a group of Pitt students on the Returning to the Roots of Civil Rights bus tour, a nine-day, 2,300-mile journey crisscrossing five states.
Day 1: The Awakening
Day 2: Deep Impressions
Day 3: Music, Montgomery, and More
Day 4: Looking Back, Looking Forward
Day 5: Learning to Remember
Day 6: The Mountaintop
Day 7: Slavery and Beyond
Day 8: Lessons to Bring Home
Day 9: Final Lessons