2015-16 Pittsburgh Contemporary Writers Series Season
By Anthony M. Moore
Issue Date:
September 14, 2015
Award-winning journalists, poets, and writers of diverse backgrounds and creative philosophies comprise the 2015-16 Pittsburgh Contemporary Writers Series Season.
The 2015-16 lineup will open Sept. 24 with a literary reading by acclaimed nonfiction writer Michael Paterniti. All 2015-16 readings, which are free and open to the public, will be held at 8:30 p.m. in the Frick Fine Arts Auditorium.
Paterniti is Pitt's 2015-16 William Block Senior Writer, an award granted to senior and distinguished fiction writers, nonfiction writers, and poets. He is the author of The Telling Room: A Tale of Love, Betrayal, Revenge, and the World's Greatest Piece of Cheese (Dial Press, 2013). The Telling Room was named one of the best books of the year by NPR, Entertainment Weekly, and the Christian Science Monitor, among others. Paterniti also is the author of the essay collection Love and Other Ways of Dying (Dial Press, 2015) and the memoir Driving Mr. Albert: A Trip Across America with Einstein's Brain (Dial Press, 2001).
A former executive editor of Outside Magazine, Paterniti is a correspondent for GQ whose work also has appeared in Esquire, National Geographic, and Rolling Stone. He is the winner of the 1998 National Magazine Award, a National Endowment for the Arts grant, and two MacDowell Fellowships.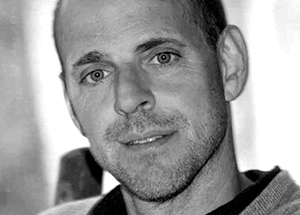 "For the past 16 years, the Pittsburgh Contemporary Writers Series has sought to attract innovative minds whose artistic philosophies and unique approaches to writing make each series reading a special occasion," said Lynn Emanuel, series director and a professor of English in Pitt's Kenneth P. Dietrich School of Arts and Sciences. "Michael Paterniti is the first of a dynamic lineup of artists who will be sharing their writing and life experiences with the city of Pittsburgh this season."
A complete series schedule follows:
Sept. 24
Michael Paterniti, nonfiction writer and journalist, opens the 2015-16 season.
Oct. 21
Anthony Marra, fiction, is Pitt's 2015 Fred R. Brown Literary Award winner. The New York Times bestselling author is known most widely for the novel A Constellation of Vital Phenomena (Hogarth, 2013). The book won the 2014 Anisfield-Wolf Book Award in fiction, the 2014 Carla Furstenberg Cohen Fiction Award, and the inaugural John Leonard Prize from the National Book Critics Circle.
Nov. 19
Ed Roberson, poetry, is a Pittsburgh native and the author of the nationally acclaimed poetry collections Atmosphere Conditions (Green Integer, 1999) and Voices Cast Out to Talk Us In (University of Iowa Press, 1995). He has won the 2011 Stephen Henderson Critics Award for Achievement in Literature and the 2008 Shelley Memorial Award from the Poetry Society of America.
Feb 11
Rachel Zucker, poetry, is the author of Museum of Accidents (Wave Books, 2009), which was named one of the Five Best Poetry Books of 2009 by Publishers Weekly. Her most recent book The Pedestrians (Wave Books, 2014) received wide praise in notable literary magazines and was named among the Chicago Tribune's Best Poetry Books of 2014.
March 22
James Fenton, poetry, is an English poet, journalist, and literary critic who has authored more than 15 books, including his latest poetry collection, Yellow Tulips: Poems 1968-2011 (Faber and Faber, 2012). He is a past winner of the Queen's Gold Medal and the Whitbread Prize for Poetry. Fenton is the 2015 PEN Pinter Prize winner, which recognizes British writers of outstanding literary merit.
April 7
Karen Joy Fowler, fiction, is best known for her New York Times bestselling novel The Jane Austen Book Club (Putnam Adult, 2004), which was made into a major motion picture of the same name in 2007. Her most recent novel, We Are All Completely Beside Ourselves (Putnam, 2013), won the 2014 California Book Award for Fiction as well as the 2014 PEN/Faulkner Award.
The University of Pittsburgh Writing Program and The University Store on Fifth cosponsor the 2015-16 Pittsburgh Contemporary Writers Series. For more information, visit pghwriterseries.wordpress.com or call 412-624-6508.
Other Stories From This Issue
There are no stories for the issue at this time.
On the Freedom Road

Follow a group of Pitt students on the Returning to the Roots of Civil Rights bus tour, a nine-day, 2,300-mile journey crisscrossing five states.
Day 1: The Awakening
Day 2: Deep Impressions
Day 3: Music, Montgomery, and More
Day 4: Looking Back, Looking Forward
Day 5: Learning to Remember
Day 6: The Mountaintop
Day 7: Slavery and Beyond
Day 8: Lessons to Bring Home
Day 9: Final Lessons