2016 Hesselbein Summit: A Focus on Leadership
By Lindsey Neyland
Issue Date:
August 22, 2016
The students stationed themselves on both sides of a busy assembly line in the William Pitt Union. Wearing plastic gloves and hair nets, the participants chatted and laughed while placing rice, soy, dehydrated vegetables, and packets of vitamins into individual packages.
All in a morning's work, prepping 10,000 meals to be shipped across the globe. And all part of the program for the 43 student leaders who participated in the University of Pittsburgh's eighth annual Hesselbein Global Academy for Student Leadership and Civic Engagement Summit held on Pitt's campus July 23-26. The summit provides a forum for student leaders to engage in an elevated level of leadership training by working closely with accomplished professionals.
The service project was for Stop Hunger Now, an international hunger-relief organization that sends the meal packages around the globe to support school programs, orphanages, and crisis relief efforts.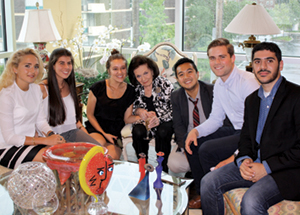 It was just one of many activities on the Hesselbein Summit agenda. The delegates—14 students from Pitt and the remainder from around the world—worked with nine professional mentors during the intensive, four-day program. The students participated in interactive workshops, received mentorship from government and business leaders, and took part in hands-on problem-solving sessions at local community agencies. They were also guests at Dining Dialogues, meals hosted by local civic and campus leaders in their homes.
"Meeting and interacting with fellows from across the globe was an unbelievable opportunity," said Hesselbein Fellow Elizabeth Bina, a Pitt junior and Stamps Scholar majoring in biology. "All of the delegates had dreams of impacting the world in different ways, and learning how those dreams can become realities through collaboration and understanding was empowering."
"We were excited to once again host such accomplished and diverse student leaders, as part of the Hesselbein Summit," said Pitt Vice Provost and Dean of Students Kenyon Bonner. "The unique talents and perspectives that they shared with us certainly helped to enrich our University community. In turn, we hope that the summit meaningfully contributed to students' development as conscientious and globally minded young leaders."
Established in 2009, the Hesselbein Global Academy is named in honor of Pitt alumnus Frances Hesselbein, recipient of the 1998 Presidential Medal of Freedom and the current president and CEO of The Frances Hesselbein Leadership Institute (formally The Peter F. Drucker Foundation for Nonprofit Management).
The professional mentors for this year's summit were:
• Keith Schaefer, Pitt Board of Trustees member and CEO of BPL Global, Ltd.;
• Randal D. Fullhart, retired Major General, U.S. Air Force, and Commandant of the Corps of Cadets, Virginia Polytechnic Institute and State University;
• Melanie Harrington, president and CEO, Vibrant Pittsburgh;
• Davie S. Huddleston, retired senior manager of diversity and inclusion, PNC Bank;
• Toshiko Inoue, financial advisor, AXAAdvisors, LLC;
• Chenits Pettigrew, assistant dean for student affairs and director of diversity programs, Pitt School of Medicine;
• Col. Diane Ryan, U.S. Military Academy professor, Department of Behavioral Sciences and Leadership, and acting deputy department head;
• Deborah Walker, director, Office of Municipal Investigations, City of Pittsburgh, and former student conduct officer, Pitt Division of Student Affairs; and
• Geovette E. Washington, Pitt senior vice chancellor and chief legal officer.
The summit's Dinner Dialogue hosts were:
• Eva Tansky Blum, Pitt Board of Trustees chair;
• Jean Ferketish, associate professor, Department of Administrative and Policy Studies, Pitt School of Education, and former secretary of Pitt's Board of Trustees;
• Cheryl Finlay, director, Pitt's Office of Career Development and Placement Assistance;
• Anthony (Tony) Fountain, senior vice president of business operations (retired), URS Corp.;
• Marc Harding, Pitt chief enrollment officer;
• Chenits Pettigrew;
• Karen Vander Ven, professor emeritus, Pitt School of Education;
• Marian Vanek, director, Pitt Student Health Service; and
• Patricia M. Waldinger, CEO, American Red Cross, Southwestern Pennsylvania Chapter.
Other Stories From This Issue
There are no stories for the issue at this time.
On the Freedom Road

Follow a group of Pitt students on the Returning to the Roots of Civil Rights bus tour, a nine-day, 2,300-mile journey crisscrossing five states.
Day 1: The Awakening
Day 2: Deep Impressions
Day 3: Music, Montgomery, and More
Day 4: Looking Back, Looking Forward
Day 5: Learning to Remember
Day 6: The Mountaintop
Day 7: Slavery and Beyond
Day 8: Lessons to Bring Home
Day 9: Final Lessons