$23M Mellon Grant Funds Pediatric Research
By Melanie Finnigan
Issue Date:
October 29, 2007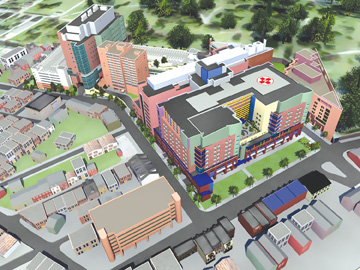 Perlmutter: Work done by Pitt, Children's Hospital collaboration will "challenge conventional wisdom"
In a pioneering effort, Children's Hospital of Pittsburgh of UPMC and the University of Pittsburgh School of Medicine have joined forces to launch a new institute designed to advance and strengthen the field of pediatric research.
The potential of this initiative has been recognized by the Richard King Mellon Foundation through a groundbreaking gift of $23 million. The gift will help establish the Richard King Mellon Foundation Institute for Pediatric Research, which will be physically located in research facilities now being constructed on the new campus of Children's Hospital of Pittsburgh of UPMC in Lawrenceville. Its faculty and programs will be a part of the University of Pittsburgh School of Medicine.
In his comments, David Perlmutter, the Vira I. Heinz Professor and chair of the Department of Pediatrics at Pitt and physician-in-chief and scientific director at Children's Hospital, said: "Our goal in creating this institute is to further elevate Pittsburgh's position as one of the world's leading centers for pioneering research in the critically important area of children's health. The foundation's support will enable us to aggressively pursue that goal by building and equipping a new laboratory for research in molecular and cellular biology, by adding to our already deep pool of faculty talent through the recruitment of additional pediatric scientists of international stature, and by supporting the most promising work of those scientists."
Scientists from Children's Hospital and Pitt's Department of Pediatrics already have built the fastest-growing pediatric research program in the country in terms of competitive research grants annually attracted from the National Institutes of Health, and the pediatric research program now ranks among the top 10 pediatric institutions for overall NIH funding.
According to Arthur S. Levine, senior vice chancellor for the health sciences and dean of the School of Medicine at the University of Pittsburgh, however, this is a time of both great scientific opportunity and serious financial challenge for research in children's health: "The recent, extraordinary advances in developmental, cellular, and molecular biology present possibilities for the prevention and treatment of disease that could not have been imagined just a few years ago, but the federal appropriations that traditionally have supported such work are under great stress. Given those circumstances, this exceptional investment in pediatric research is even more critical and will have even greater impact than would have been the case in the past."
Commenting on the project, Seward Prosser Mellon, president of the Richard King Mellon Foundation, stated, "The foundation's trustees are very pleased to acknowledge the collaboration of these outstanding institutions as well as the tremendous promise this undertaking offers both to the quality of life and economic vitality of our region."
"Children's health issues frequently fall short in the distribution of medical research dollars," added Richard P. Mellon, the foundation's chair. "Through this initiative, we hope to ensure a healthier outcome for our children, an ingredient essential to the future health and prosperity of our region and country."
"The construction of our new 10-acre, environmentally friendly campus in Lawrenceville visibly signals the beginning of a new era for children's health in Pittsburgh," said Roger A. Oxendale, president and chief executive officer of Children's Hospital of Pittsburgh of UPMC. "These added financial resources will strengthen our efforts to ensure that the research conducted within the new complex will ultimately result in healthier lives for all of the children in this region and beyond."
The new institute will apply some of the concepts first used by the renowned Howard Hughes Medical Institute to fund areas of basic science that have had a profound effect on our understanding of human disease. The Richard King Mellon Foundation Institute will house the laboratories of an internationally recognized scientific director and five exceptionally talented scholars.
Start-up and continuous funding will foster high-risk, high-impact projects and encourage the researchers of the institute to pursue their most innovative ideas. For the scholar positions, the institute will focus on physician-scientists at early stages in their careers and whose research will have a long-lasting influence on various areas of pediatric medicine.
"We envision this institute as an incubator for research that challenges conventional wisdom and leads to paradigm shifts in pediatric medicine," said Perlmutter. "In so many ways, this institute is the offspring of the philosophy that is embedded in every part of this academic medical center and university, together with the extraordinary philanthropic vision of the foundation."
"For 60 years, the Richard King Mellon Foundation has been investing to improve the quality of life, particularly in this region," said University of Pittsburgh Chancellor Mark A. Nordenberg.
"This grant will strengthen Western Pennsylvania's economy, even as it adds to our understanding of the biology of children's health. It is hard to imagine a more worthy pair of objectives, and we are grateful for the chance to advance them both together."
Other Stories From This Issue
There are no stories for the issue at this time.
On the Freedom Road

Follow a group of Pitt students on the Returning to the Roots of Civil Rights bus tour, a nine-day, 2,300-mile journey crisscrossing five states.
Day 1: The Awakening
Day 2: Deep Impressions
Day 3: Music, Montgomery, and More
Day 4: Looking Back, Looking Forward
Day 5: Learning to Remember
Day 6: The Mountaintop
Day 7: Slavery and Beyond
Day 8: Lessons to Bring Home
Day 9: Final Lessons