43rd Annual Pitt Jazz Seminar And Concert Set for November
By Sharon S. Blake
Issue Date:
September 9, 2013
The sounds of jazz will once again fill the University of Pittsburgh campus and venues throughout the region from Oct. 30 through Nov. 2 as Pitt hosts its 43rd Annual Pitt Jazz Seminar and Concert.
Some of the internationally renowned musicians/scholars will offer a free series of on-campus seminars during Jazz Week.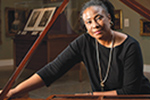 Other musicians will perform at venues for senior citizens, school children, and patients at the VA Pittsburgh Healthcare System. The week culminates Nov. 2 with a gala concert at 8 p.m. in Carnegie Music Hall, 4400 Forbes Ave., Oakland.
More details, including the exciting lineup of musicians, will be announced in the coming weeks.
As Pitt's new director of the Jazz Studies Program and a professor of music, internationally renowned pianist and composer Geri Allen is continuing the legacy of Professor Emeritus of Music Nathan Davis, the former director and founder of the Pitt Jazz Seminar and Concert, who retired this summer.
Geri Allen first heard jazz in her home in Detroit, where she grew up listening to her father's Charlie Parker records. She was taught by some of the best in Cass Technical High School, Detroit's magnet school for music, where she became skilled in composing and arranging.
Allen was one of the first students to graduate from Howard University with a Bachelor of Arts degree in jazz studies. It was at Howard where she began to embrace ethnic music from all cultures and it has greatly influenced her work. She met Davis through one of her instructors who had studied under him. After graduation, while studying under Kenny Barron in New York City, she was encouraged by Davis to attend Pitt to earn her master's degree in ethnomusicology in 1982.
Since then, Allen has performed and collaborated with a long list of jazz greats, including Davis, the Ornette Coleman Quartet, Ron Carter, Tony Williams, Betty Carter, Charles Lloyd, Marcus Belgrave, and many others. Currently, she is director of the Mary Lou Williams Collective. She also is touring with drummer Terri Lyne Carrington and bassist Esperanza Spalding in the ACS Trio.
Her song "Unconditional Love" was included on Carrington's Grammy Award-winning album Mosaic. The album received the 2012 Grammy Award for Best Jazz Vocal Album of the Year. Allen has released a number of recordings under her own name. Timeline (Motéma Music, 2010), which features her tap/quartet, received an NAACP Image Award nomination. A Child is Born (Motéma Music, 2011) is a compilation of traditional Christmas carols, hymns, and original music in a jazz setting. And her most recent release, Grand River Crossings (Motéma Music, 2013), is a solo piano-driven exploration of the music of Motown and the Motor City.
Howard University has honored Allen with its Benny Golson Award, while Spelman College named her the recipient of its African Classical Music Award in 2007. She was the first artist to receive the Lady of Soul Award in Jazz, and was also the youngest person, and the first woman, to receive the Danish Jazzpar Prize. She also is the recipient of a Guggenheim Fellowship in composition.
Allen recently was commissioned by the New Jersey Symphony Orchestra to compose Stone and Streams for the orchestra's 2013-14 season, commemorating the 50th anniversary of the Rev. Dr. Martin Luther King Jr.'s "I Have a Dream" speech, which he delivered in Washington, D.C., on Aug. 28, 1963.
Prior to accepting her new position at Pitt, Allen was an assistant professor of music at Howard University; a professor at the New England Conservatory of Music; and, most recently, a clinical associate professor and Harold Haugh Award recipient at the School of Music Theatre & Dance, Department of Jazz and Contemporary Improvisation, University of Michigan.
Allen performed as a guest musician at the Pitt Jazz Seminar and Concert in 1994, 2000, and in 2011, when she was honored with the University of Pittsburgh Jazz Seminar Committee Award.
Other Stories From This Issue
There are no stories for the issue at this time.
On the Freedom Road

Follow a group of Pitt students on the Returning to the Roots of Civil Rights bus tour, a nine-day, 2,300-mile journey crisscrossing five states.
Day 1: The Awakening
Day 2: Deep Impressions
Day 3: Music, Montgomery, and More
Day 4: Looking Back, Looking Forward
Day 5: Learning to Remember
Day 6: The Mountaintop
Day 7: Slavery and Beyond
Day 8: Lessons to Bring Home
Day 9: Final Lessons