$83.5 Million NIH Grant to Pitt Establishes Institute for Clinical And Translational Research
By Lisa Rossi
Issue Date:
October 9, 2006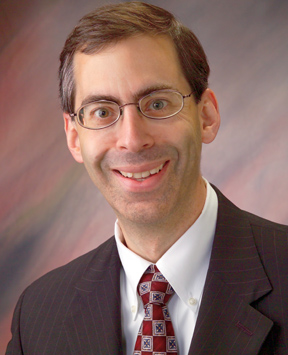 Steven E. Reis
Pitt, UPMC, Carnegie Mellon, and Urban League of Pittsburgh will collaborate on transformation of clinical research to enhance patient care
Pitt is among the first institutions selected by the National Institutes of Health (NIH) to receive a Clinical and Translational Science Award, joining 11 other academic health centers in a new consortium that aims to transform how clinical and translational research is conducted so that promising treatments can be more readily available to patients.
The award means that Pitt will receive a total of $83.5 million over five years to establish the Clinical and Translational Science Institute (CTSI), which will foster the development of clinical and translational research as a distinct field and promote the application of biomedical research advances into clinical practice. The award is one of the largest NIH grants the University has ever received.
The CTSI will be led by Steven E. Reis, Pitt associate vice chancellor for clinical research, health sciences, and will include Pitt's schools of medicine, nursing, pharmacy, dental medicine, and health and rehabilitation sciences, and the Graduate School of Public Health; the University of Pittsburgh Medical Center; Carnegie Mellon University; RAND Corporation; the Intel Research Pittsburgh lab; and, as a community partner, the Urban League of Pittsburgh.
"The development of this consortium represents the first systematic change in our approach to clinical research in 50 years," said NIH Director Elias A. Zerhouni. "Working together, these sites will serve as discovery engines that will improve medical care by applying new scientific advances to real-world practice. We expect to see new approaches reach underserved populations, local community organizations, and health-care providers to ensure that medical advances are reaching the people who need them."
Institutions competing for the awards were required to "build academic homes for clinical and translational science" through an infrastructure that would consolidate their existing resources with new initiatives; foster new research, training and community-focused programs that ensure patients, especially minority and the underserved, have greater access to clinical trials; and promote collaborations among departments, schools, other local institutions and industry to enable the adoption of new medical therapies into clinical practice.
In response, Pitt proposed establishing an institute that, in its broadest sense, would catalyze changes in the scientific enterprise.
"The University of Pittsburgh is committed to this endeavor," Reiss said, "and we fully understand that to be successful, we must lead and facilitate a transformation that will result in fundamental changes within our own institution, in how scientists are trained and perform research, and in the practice of medicine in Western Pennsylvania. We have to change existing paradigms and break down barriers; otherwise, we will have failed to achieve the ultimate goal of the NIH-led consortium, which is to ensure that advances in biomedical research quickly find their way into clinical practice."
Within the first few years of funding, the CTSI will:
• Begin training a new cadre of clinical scientists, starting with programs at the high-school level;
• Address minority and health disparities in the region through new initiatives, including the establishment of the CTSI Braddock Minority Health Clinical and Translational Research Center at UPMC Braddock; and
• Improve access to and increase participation in clinical trials through a novel institutional research subject registry to be embedded in UPMC's electronic health record system and implemented at UPMC's 350 outpatient practice locations and 19 hospitals. The registry will enable patients who have given prior consent to receive comprehensive health information and educational materials and to be offered opportunities to improve their health through participation in clinical research.
The CTSI also will enable the launch of novel methodologies. One application will evaluate breast lesions depicted on mammograms and pathology slides based on an open-source software system jointly created by Intel Research and Carnegie Mellon University. Called Diamond, it allows rapid scanning and searching of large volumes of images. Funding to develop other innovative clinical and translational methodologies will be available to investigators through the CTSI.
Arthur S. Levine, Pitt senior vice chancellor for the health sciences and dean of the medical school, said, "While we have a rich history of translating innovative biomedical discoveries, beginning with the development of the polio vaccine, one of our most critical strengths we bring to a new institute focused on translational science is rooted in a culture that values and encourages collaboration. As a university and a community, we have greatly benefited from our decades-long relationship with colleagues at Carnegie Mellon University, and through our extremely close affiliation with UPMC, we support and share a common commitment to excellence in research, education, and clinical care."
The CTSI will consist of four main areas:
• Education and career development, which will be headed by Wishwa N. Kapoor, Falk Professor of Medicine, professor of health policy and management, and chief of the Pitt medical school's Division of General Internal Medicine;
• Translational research, headed by Robert A. Branch, professor of medicine and pharmacology, director of Pitt's Center for Clinical Pharmacology, and chief of the medical school's Division of Clinical Pharmacology;
• Clinical research, which Reis will direct; and
• Clinical and translational bioinformatics, directed by Michael Becich, professor of pathology and director of Pitt's Center for Pathology Informatics.
Innovative interdisciplinary research initiatives will be developed through 10 CTSI resource cores and translated to clinical practice through a community partnership program that involves UPMC's extensive clinical networks and the Urban League of Pittsburgh, which likely will house a CTSI satellite office and clinic. The community partnership program will be led by Jacqueline Dunbar-Jacob, dean of Pitt's School of Nursing.
The Clinical and Translational Science Award initiative was established by the NIH as a commitment to re-engineer the clinical research enterprise, one of the key objectives of the NIH Roadmap for Medical Research. When fully implemented in 2012, the initiative will include 60 academic medical centers.
Other Stories From This Issue
There are no stories for the issue at this time.
On the Freedom Road

Follow a group of Pitt students on the Returning to the Roots of Civil Rights bus tour, a nine-day, 2,300-mile journey crisscrossing five states.
Day 1: The Awakening
Day 2: Deep Impressions
Day 3: Music, Montgomery, and More
Day 4: Looking Back, Looking Forward
Day 5: Learning to Remember
Day 6: The Mountaintop
Day 7: Slavery and Beyond
Day 8: Lessons to Bring Home
Day 9: Final Lessons