AAAC to Honor Five During Sankofa Weekend
By Patricia Lomando White
Issue Date:
October 15, 2007
The University of Pittsburgh African American Alumni Council (AAAC) will host the annual Sankofa Weekend this Friday, Saturday, and Sunday to welcome home alumni and honor five distinguished graduates during the University's Homecoming 2007.
Honorees are Ysaye M. Barnwell (FAS '75), Charlene Mickens Dukes (EDUC '87G, '92G), Henry "Model T" Ford (CBA '55), Margaret D. Garner (CAS '86), and Ludwick Hayden Jr. (CAS '66, EDUC '68G).
The AAAC Sankofa weekend begins at 9 a.m. Friday with the Apple Seed Project, a community service initiative that gives alumni the opportunity to share their time and talents with students in the Pittsburgh Public Schools. A Sankofa Marketplace from 5 to 11 p.m. and the AAAC Welcome reception, "It Ain't Nothin' but a House Party!" from 8 p.m. to 1 a.m., will be held at the Omni William Penn Hotel, Downtown.
The AAAC Sankofa Awards Reception and Banquet, "Honoring our Partners in Progress" at 6 p.m. Saturday at the Omni William Penn, will include the AAAC Distinguished Alumni Awards presentation, honoring the five outstanding African American alumni who have achieved recognition in their chosen profession and have demonstrated support for the University and the AAAC.
Other AAAC homecoming festivities include the AAAC board and advisory committee meeting at 9 a.m. Saturday in the Omni prior to the noon Pitt Panthers football game against the Cincinnati Bearcats.
A Sunday worship service, "Rejoice in the Miracle" from 10 to 11 a.m., and fellowship brunch, "Until We Meet Again" from 11 a.m. to 1 p.m., both at the Omni, bring AAAC's festivities to a close.
The idea for an African American alumni association originated with a small group of Pitt graduates in the early 1980s. The group met in the intervening years and sponsored several events, generating the interest and participation of an increasing number of African American graduates. The increased interest and growth led to the group's recognition as an affinity group of the Pitt Alumni Association.
The AAAC's mission is to support African American alumni, students, faculty, staff, and administrators and to strengthen their connection to the University through its many programs and activities. For more information, call 412-624-8229 or 1-800-258-7488 or visit www.alumni.pitt.edu. For more details about the AAAC events, visit www.alumni.pitt.edu/homecoming/sankofa.html. Biographical information on the AAAC honorees follows.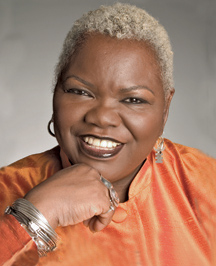 Ysaye M. Barnwell
Composer, author, singer, and actress, Barnwell was a professor at Howard University's College of Dentistry for more than a decade. She also administered public health programs at Children's Hospital National Medical Center and at Gallaudet University in Washington, D.C.
In 1977, Barnwell founded the All Souls Jubilee Singers, and in 1979 she was invited to join the world-renowned a cappella ensemble Sweet Honey in the Rock.
Barnwell, who trained as a sign-language interpreter, brought about the inclusion of an interpreter as part of the ensemble. A master teacher and choral clinician in African American cultural performance, Barnwell conducts the workshop "Building a Vocal Community: Singing in the African American Tradition," which has been presented across the United States, Canada, Great Britain, Singapore, and Australia.
She has been a commissioned composer on numerous choral, film, video, dance, and theatrical projects and won the Bessie Award for her score Safe House: Still Looking, commissioned by Liz Lerman Dance Exchange. As an actress, Barnwell has appeared in Jonathan Demme's Beloved and the TV show A Man Called Hawk.
She is author of the children's book No Mirrors in My Nana's House (Harcourt, 1998) and the forthcoming We Are One, to be published by Harcourt in the spring of 2008. Barnwell earned a PhD degree in speech pathology at Pitt.
She also holds bachelor's and master's degrees in speech pathology from SUNY Geneseo and a Master of Science degree in public health from Howard University.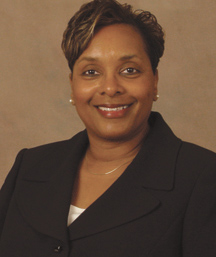 Charlene Mickens Dukes
President of Prince George's Community College in Largo, Md., Dukes has 26 years of leadership experience and administrative responsibility in higher education. She is a member of several professional organizations, including service as a founder and lead faculty member for the Community College Student Development Leadership Institute under the auspices of the National Council on Student Development, an affiliate of the American Association of Community Colleges.
Dukes also is a member of the National Academy Board of the National Association of Student Personnel Administrators; the Council of Law in Higher Education; and the Maryland Network, an affiliate of the Office of Women in Higher Education/American Council on Education.
From 2002 through 2006, Dukes served on the Appointed Board of Education of Prince George's County and chaired the Student Support, Student Appeals, and Personnel committees. In May 2007, she accepted an appointment from Maryland Governor Martin O'Malley to serve a three-year term on the State Board of Education. Dukes has been an adjunct faculty member at the Community College of Allegheny County, Prince George's Community College, and Morgan State University.
A graduate of Pitt with a master's degree and a doctorate in administrative and policy studies, Dukes also holds a Bachelor of Science degree in secondary education with a concentration in English from Indiana University of Pennsylvania.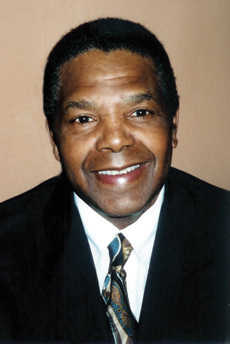 Henry "Model T" Ford
Ford, the first Black quarterback at the University of Pittsburgh, was one of several Panther players competing for that position in 1953, a position that few Blacks held at the college level at that time. After leading Pitt to its only score in the opening game against West Virginia, the head coach gave Ford the starting position for the next game and he remained the regular quarterback for the rest of the season.
He moved to the position of tailback in his senior year at Pitt. Ford grew up in Pittsburgh's Hill District and starred in football at Schenley High School. After college, he was drafted by the Cleveland Browns in 1954 and was a member of the club's 1955 NFL championship team. He played for the Pittsburgh Steelers the following season.
A business major at Pitt, Ford has owned and operated several businesses, including a food service corporation, a Coca-Cola bottling company, sporting goods and specialty products stores, and shopping malls. He earned the Bachelor of Business Administration degree at the University.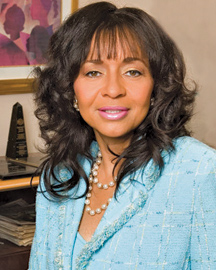 Margaret D. Garner
Owner of Broadway Consolidated Companies Inc. (BCCI), Garner pledges not just to build buildings, but to build a better quality of life for the people affected by her work. Garner began her career in Pittsburgh, working for the U.S. Department of Housing and Urban Development (HUD).
She was recruited by the assistant secretary of HUD for an internship in Washington, D.C., and joined the HUD team with the Chicago Housing Authority (CHA). Founded in 1999, BCCI has grossed nearly $50 million. Garner contracted with the University of Chicago to build Corner Children's Hospital and partnered with that university and the community to provide jobs for local residents. In 2004, Garner became the president of the Federation of Women Contractors.
In February 2005, BCCI was the first woman-owned general contracting company awarded a construction contract for the first Wal-Mart store in a major urban city. Garner's honors include appointment to the United Nations Commission on the Status of Women and the Black Contractors United Mentor/Protégé 2002 Award for outstanding achievements in developing sustained support systems for African American contractors. In 2003, Garner received the Minority Small Business Person of the Year Award in recognition of outstanding business and community leadership.
Garner earned a bachelor's degree in business and economics at Pitt.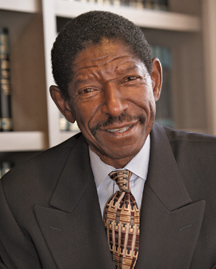 Ludwick Hayden
As international government affairs manager in Chevron Corporation's Federal and International Government Relations Office, Hayden represents Chevron's Africa strategic business interests and related internal clients. Prior to his current position, he was a federal relations manager at Chevron responsible for legislative advocacy and issue management as well as political and national constituency relations.
Hayden's advocacy and management led to the successful passage of the Africa Growth and Opportunity Act and participation in the Leon H. Sullivan Summits, formerly the African American Summits in Gabon, Senegal, Zimbabwe, Ghana, and Nigeria. Hayden is honorary director of the Ralph Bunche Societies Program of the Phelps Stokes Fund and serves on the boards of directors for AFRICARE, the Africa Society, Opportunities Industrialization Centers of America, and Constituency for Africa.
Hayden also is on the advisory committees of the African Presidents Archives and Research Center at Boston University, Opportunities Industrialization Centers International, Education Africa USA, and African Ancestry, Inc. A native of Baltimore, Hayden received the Bachelor of Arts degree in English literature and the Master of Arts degree in education from Pitt and a Master of Business Administration degree from Loyola College.
Other Stories From This Issue
There are no stories for the issue at this time.
On the Freedom Road

Follow a group of Pitt students on the Returning to the Roots of Civil Rights bus tour, a nine-day, 2,300-mile journey crisscrossing five states.
Day 1: The Awakening
Day 2: Deep Impressions
Day 3: Music, Montgomery, and More
Day 4: Looking Back, Looking Forward
Day 5: Learning to Remember
Day 6: The Mountaintop
Day 7: Slavery and Beyond
Day 8: Lessons to Bring Home
Day 9: Final Lessons