Abigail Loneker and Marcus Robinson Win Top Student Awards at 41st Annual Honors Convocation
By Micaela Fox Corn
Issue Date:
March 8, 2017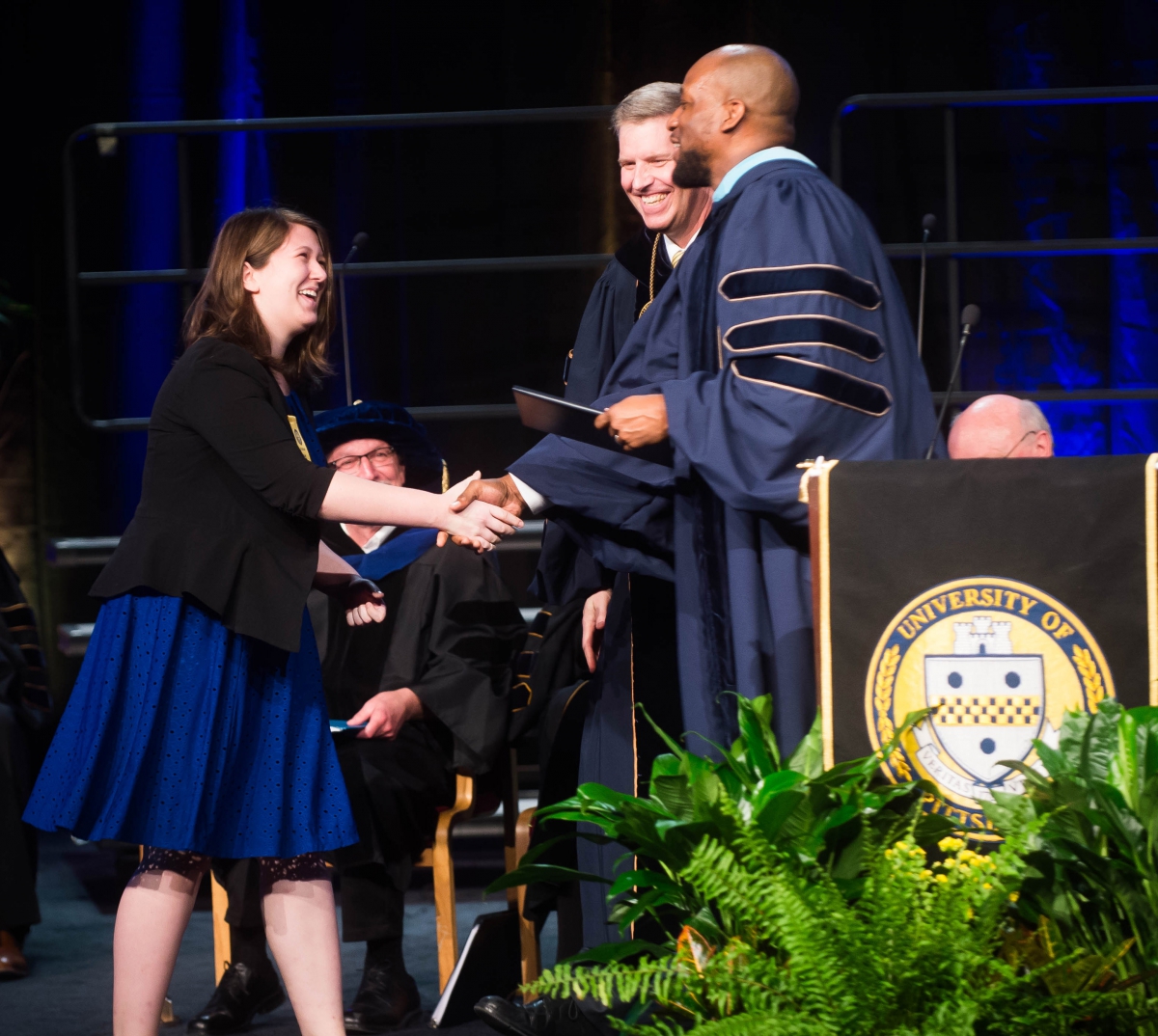 On an unseasonably warm and sunny Friday in February, several Pitt students and their families gathered on the steps of Oakland's Carnegie Music Hall. Nearby, across Forbes Avenue, a class was in session, Socratic style, on the grass. The sidewalks bustled with students, family members, faculty, and friends in formal dress, all heading for a very special academic event — Pitt's 41st Annual Honors Convocation, held Feb. 24.
Inside the hall, young scholars fastened gold "Honoree" ribbons to lapels and cardigans, while some faculty, too, in their academic regalia donned similar white ribbons. The scene set a regal tone as the community gathered to recognize some of Pitt's finest current scholars and achievers, among them undergraduates Abigail Loneker and Marcus Robinson who would receive top student awards during the 2017 celebration.
The Honors Convocation began in 1977, with Chancellor Wesley W. Posvar's commitment to honoring the academic accomplishments and leadership of the Pitt community. In particular, the event acknowledges students in the top 2 percent of cumulative academic standing by school.
In his 2017 opening remarks, Chancellor Patrick Gallagher noted that in the past year, Pitt students won more than 50 national and international awards and scholarships.
"So when I say we are in a room with the best and brightest minds," he noted, "I actually mean it."
Among those recognized were undergraduate students Lia Petrose, Jacky Chen, Leah Kaufman, Andrew Nitz, Patrick Asinger, Natalie Dall, Charles Hansen, Bailey Lien, Dan Lampmann, and Hasham Jamil; graduate students Daphne Henry, Dervla Kumar, Louis Lello, Benjamin Messerly, Gina Garcia (now a Pitt faculty member), Annika Johnson, Jonathan Sherry, and Erwan Terrien also were honored.
Others also were recognized, including N. John Cooper, the Bettye J. and Ralph E. Bailey Dean of the Kenneth P. Dietrich School of Arts and Sciences and the College of General Studies, was awarded an honorary degree of Doctor of Science. He will soon step down as dean of the Dietrich School, which under his leadership has strengthened its position as the liberal arts heart of a major public research university.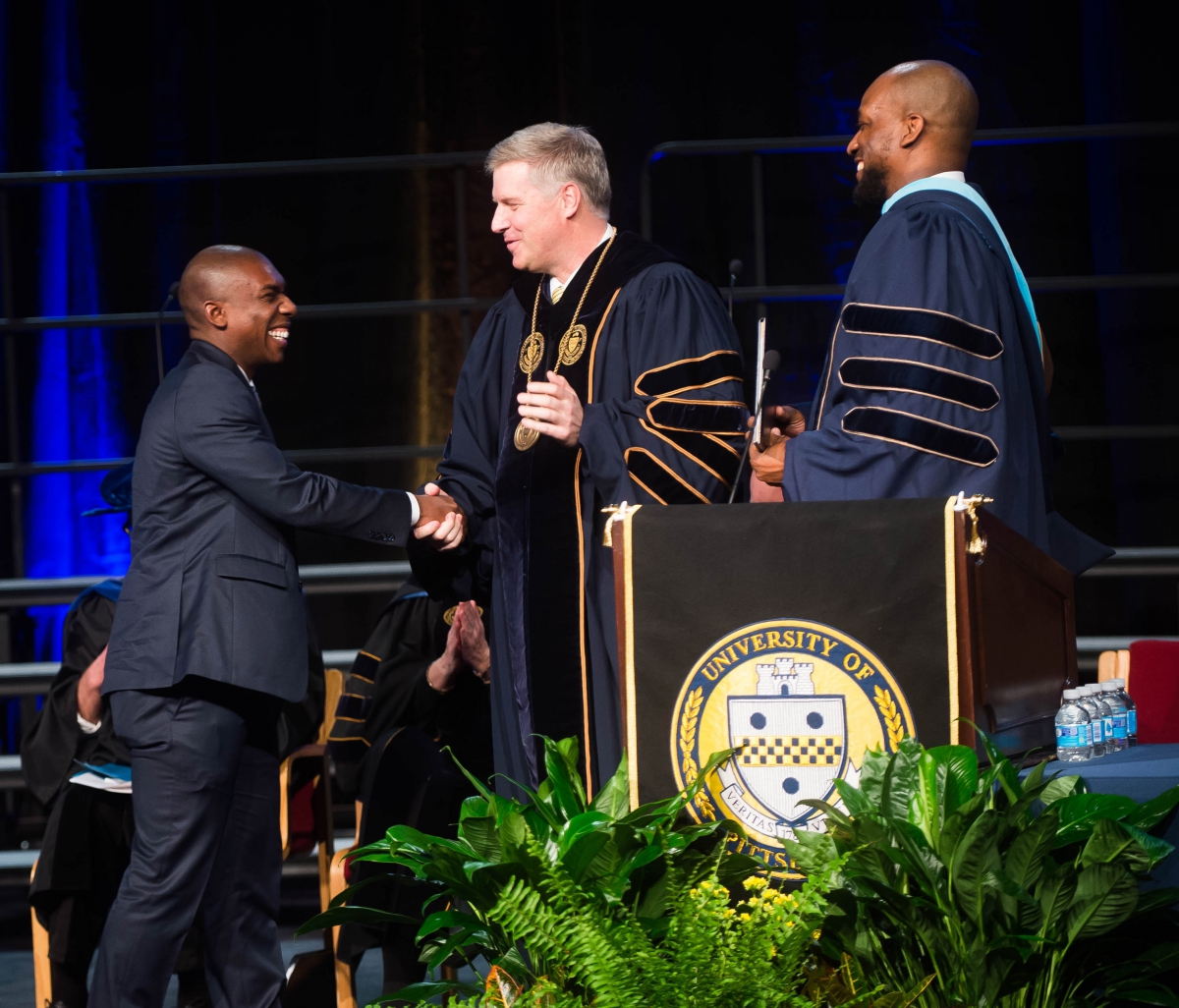 The ceremony concluded with two top awards for graduating seniors. The Emma W. Locke Award for a senior of high scholarship, character, and devotion to the ideals of the University went to Abigail Loneker, a bioengineering major with minors in math and political science. During her three years of research, Loneker presented at two national Biomedical Engineering Society conferences and one international World Biomaterials Congress. She also earned a first author listing on two publications, among numerous other accolades. Her experiences as a teaching assistant for sophomore bioengineers and involvement in professional development groups during her time at Pitt have led her to pursue a PhD in bioengineering "with the ultimate goal of being a bioengineering professor at a large research university," she said. "This award for me was confirmation that my hard work has had an impact on the Pitt community." Loneker was nominated for the award by the U.S. Steel Dean of the John A. Swanson School of Engineering Gerald Holder and bioengineering chair Sanjeev Shroff.
The Omicron Delta Kappa Senior of the Year Award, which recognizes a student who has attained a high standard of leadership in collegiate activities, went to Marcus Robinson. A senior neuroscience and anthropology double major with minors in chemistry and economics, Robinson also has kept busy outside the classroom. He is a 2015 Browne Leadership Fellow in the School of Social Work, the former president of Pitt's Rainbow Alliance, and a current member of Student Government Board's allocations committee. He also is a member of Pittsburgh Mayor Bill Peduto's LGBTQIA+ Advisory Council for the City of Pittsburgh. After taking a year to continue working in an emergency medicine research lab, he plans to attend medical school.
"Without the people I've met, this award wouldn't be possible at all. I've been fortunate to find some of the most encouraging and inspiring individuals who challenge my own beliefs and make all my actions more inclusive and powerful," Robinson said. He was selected Senior of the Year by a committee of faculty, staff, and an Omicron Delta Kappa student representative, from a pool of seven self-nominated finalists.
Other Stories From This Issue
There are no stories for the issue at this time.
On the Freedom Road

Follow a group of Pitt students on the Returning to the Roots of Civil Rights bus tour, a nine-day, 2,300-mile journey crisscrossing five states.
Day 1: The Awakening
Day 2: Deep Impressions
Day 3: Music, Montgomery, and More
Day 4: Looking Back, Looking Forward
Day 5: Learning to Remember
Day 6: The Mountaintop
Day 7: Slavery and Beyond
Day 8: Lessons to Bring Home
Day 9: Final Lessons