Adventure Ahead: Welcome Back to the Plan
By Cindy Gill
Issue Date:
September 14, 2015
With the University community across all five campuses now fully engaged in fall-semester work, it's time to implement the next phase in Pitt's success strategy—the launch of the 2016-2020 Plan for Pitt. This isn't a typical ... yawn ... strategic plan; it's ultimately a dynamic course of action involving the entire Pitt community.
"The Chancellor's vision for this is that the plan will serve as a North Star to help us coordinate our actions and be more impactful as we all work closely together to advance our mission," says David DeJong, Pitt's executive vice provost and professor of economics.
To launch the next phase, Chancellor Patrick Gallagher invites the University community to a session on Thursday, September 17, 3-4 p.m. in Connelly Ballroom, Alumni Hall, to learn more about Pitt's roadmap as it unfolds—and to anticipate the journey ahead with its possibilities for shared discovery and attainment.
An advantage in this enterprise is that it's built upon a strong and successful foundation.
"This new institutional plan is not coming out of left field," says DeJong. "We had a mission statement. We had strategic priorities that the Board of Trustees set forth. We had a structure for the way we conduct planning. Basically, we augmented the successful framework that was already in place."
Among the things that are new, the 2016-2020 Plan for Pitt includes key institutional values and a set of "drivers" to guide change and enable a nimble response to emerging opportunities.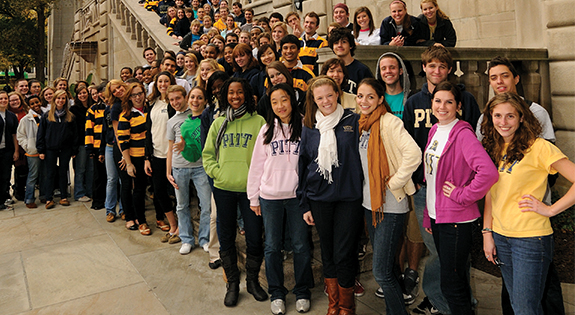 Values
Excellence, Impact
Integrity, Virtue
Collaboration, Collegiality
Diversity, Inclusion
Entrepreneurship, Agility
Drivers
Partnering for Impact
Harnessing Information
Shaping Our Culture
Importantly, the plan's new aspects are derived from the ideas and expertise of a broad set of Pitt's people. To begin, notes DeJong, the University conducted extensive environmental scans with different sets of Pitt constituents, asking "What are the primary challenges and what are the primary opportunities that we should be focused on as we go through this process and develop a plan?"
The responses—from the Board of Trustees, alumni, and faculty, staff, and students from all five campuses—led directly to the next segment of Pitt's roadmap. "We got very consistent, clear feedback on a set of things that motivated the initial outcomes of the plan," says DeJong. Among the key messages from the environmental scans were: Be more entrepreneurial. Take calculated risks. Look for opportunities to partner in ways that will advance the University's mission.
From there, the challenge was to define the actions needed to advance strategic priorities in the context of the messages conveyed by the Pitt community. That task resulted in five strategic goals, each with a collection of supporting initiatives.
Strategic Goals
Advance Educational Excellence We aspire to be a university that prepares students to lead lives of impact through a holistic and individualized approach to learning that engages them both inside and outside the classroom.
Engage in Research Impact We aspire to be a university that advances the frontiers of knowledge and makes a positive impact on the world by integrating the strengths of multiple disciplines and focusing on areas of great societal need.
Strengthen Communities We aspire to be a university that strengthens our communities—from the Pitt community, to our region and the world around us—by expanding engagements, enriching connections, and embracing a global perspective.
Build Foundational Strength We aspire to be a university that supports success through a foundation of strong internal culture, a robust capacity to partner, outstanding infrastructure, and effective operations.
Embrace Diversity and Inclusion We aspire to be a university that embodies diversity and inclusion as core values that enrich learning, scholarship, and the communities we serve.
The results of all of this initial work are available in the 2016-2020 Plan for Pitt at impact.pitt.edu. The next step, says DeJong, is to move into the implementation phase, answering issues like, What specifically are we going to do? Who's responsible? What's the timetable? What are the metrics? What are the measurable goals? What's the mode for continuing engagement?
The afternoon presentation on Thursday, September 17, will introduce the implementation stage, and DeJong encourages the University community to join the conversation in engagement meetings that will follow. "People were very excited to be heard, and we want to make sure we continue to build on that communication. There is going to be broad scope for everyone to participate."
There are three components to implementation:
All University units—business units, academic units, centers, schools, and regional campuses—will begin to align their plans with the institutional plan.
Supporting plans, such as the long-range facilities plan and the plan for the next capital campaign, will be developed to ensure sufficient support for the institutional plan.
Working Groups, organized around the plan's five strategic goals, will engage a range of constituents about what ought to be highlighted as key strategic initiatives are developed. Each group, has also been charged to identify a few cross-cutting interdisciplinary strategies to highlight. The groups represent broad swaths of leadership and expertise from across the University.
"The plan moving forward is to share the recommendations of the working groups with senior leadership to establish priorities and assignments of responsibilities for implementation," says DeJong. "For every strategy that we develop, we're very much focused on how we measure progress, the correct metrics, and the correct goals for those metrics. That is very natural for us in the strong culture of accountability and assessment we've established at Pitt."
Ideally, notes DeJong, the 2016-2020 Plan for Pitt will soon become a dog-earred document on all five campuses. "We want it to be used," he says. "We expect this to be a dynamic process, not something carved into stone.
"We're a great University," adds DeJong. "We've come a long way, but we've got to take it to the next level. We don't want to rest on our laurels. We have to be united in our actions."
Welcome back to the plan—and the start of Pitt's next great adventure.
Other Stories From This Issue
There are no stories for the issue at this time.
On the Freedom Road

Follow a group of Pitt students on the Returning to the Roots of Civil Rights bus tour, a nine-day, 2,300-mile journey crisscrossing five states.
Day 1: The Awakening
Day 2: Deep Impressions
Day 3: Music, Montgomery, and More
Day 4: Looking Back, Looking Forward
Day 5: Learning to Remember
Day 6: The Mountaintop
Day 7: Slavery and Beyond
Day 8: Lessons to Bring Home
Day 9: Final Lessons