At Age 17, Alexis Chidi Already Is a Second-Year Pitt Premed Student
By Melissa Heckscher
Issue Date:
September 11, 2006
The following story originally appeared in the Aug. 4 edition of the Daily Breeze of Torrence, Calif.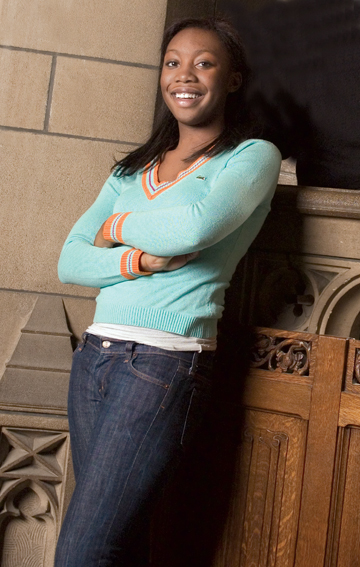 Even as a 3-year-old, Alexis Chidi had one up on her parents: She knew how to program the television.
"I'd turn off the cable, and they could never figure out how to turn it back on," said Chidi, now 17. "They'd be like, 'Please Alexis. Please.'"
Her parents still call her for help sometimes (remote controls can be confusing), but these days Chidi has bigger things to worry about—such as
becoming a doctor.
The Rancho Palos Verdes native, a pretty and confident teenager with baby cheeks and beaming brown eyes, graduated from Palos Verdes Peninsula High School when she was 15 and is already starting the second year of an
eight-year medical school program at the University of Pittsburgh.
While most youths her age are spending their summer readying for a senior year in high school, Chidi, who wants to be a pediatric neurologist, is
working on a brain research study at the California Institute of Technology, where she received a summer fellowship.
One of three summer fellows, Chidi is working on a study of a rare neurological condition called the agenesis of the corpus callosum, a birth
defect in which the structure that connects the two hemispheres of the brain (the corpus callosum) is partially or completely absent. The condition causes mental deficiencies ranging from mental retardation to social interaction problems.
"These are, like, MRIs," says Chidi as she taps a few keys on her laptop to fill the screen with a digital image of the human brain. She points to its acorn-shaped center and traces a circle around it with her finger.
"That's the corpus callosum," she says. Her voice is casual and confident. "With agenesis, it's just not there." There is no treatment for the condition, she explains, and scientists don't fully understand it.
"We're at the point now where we're just mapping out their brains," she continues. "There isn't much that people know about [agenesis] yet. It's kind of exciting."
Kind of.
According to Lynn Paul, a clinical psychologist who is part of the research team, the Cal Tech study is the biggest of its kind in the country.
"Alexis has taken on a project that I've wanted someone to work on for a long time," said Paul, referring to a paradigm Alexis constructed to test agenesis patients. "By having her here this summer and having her concentrated time, she can really get us set up to move forward in that
area."
Paul said though she was surprised to learn Chidi was so young, her age is irrelevant to the way she is treated at the lab.
"At this level, she's treated like any other college student," Paul said. "You earn your respect by what you do, not by your age. She doesn't carry herself like a little kid."
But then—she never really did.
By age 3, Chidi could do basic subtraction. By 3 1/2, she could read. She later skipped second grade and then eighth grade.
"When she was 9, she wanted to be an engineer," said Chidi's mom, Niki Guluchi-Chidi, executive director of La Vida Medical Foundation in Lawndale. "She had been assembling our electronics. Let's say we got a new stereo system—really top of the line—Alexis would take it out of the box and assemble the whole thing. ...We thought, 'Geez, her preschool must be really good.'"
Chidi's dad, Christopher Chidi, is a vascular surgeon with La Vida Medical Group. Initially, Alexis wanted nothing to do with medicine.
The summer after ninth grade, she attended the University of Denver's "Making of an Engineer" program where she studied biomedical engineering and nanotechnology. The next summer, she completed the university's "Making of a Scientist" program.
"That's when I realized I was more interested in the 'sciencey' part of things," she said. "I switched from engineering to science. I was like, 'What do I do? I like both.'"
Toiling away in labs, doing homework in the summer, studying the workings of microscopic molecules—most kids might call this boring.
For Chidi, it's hardly that.
"It's all, like, fun stuff," she said, "so it's not that big of a deal for me."
But she's not all about science. The summer before senior year, she worked as a congressional intern on Capitol Hill, a fitting diversion for a girl
who wants to some day get into public health.
"I'm interested in economics and politics and science—and [public health] is where they all converge," she said. "I'd also like to work with some
international organization at some point, like Doctors Without Borders."
Interestingly, Chidi's grandfather is a public health advocate in Nigeria, and her uncle, Ibrahim Babangida, a former president of Nigeria, is planning to run for re-election in 2007.
"My whole outlook is that there are certain things that everybody has to do, like school and standardized tests," Chidi said. "But there are so many other things to being a well-rounded person."
Well-rounded, indeed. Chidi also was a competitive figure skater for 12 years as well as a ballet, jazz, and tap dancer.
She joined a sorority at the University of Pittsburgh, and she plans on playing on the sorority soccer team this year.
"I'm having a lot of fun in school," she said. "I'm not just studying."
Other Stories From This Issue
There are no stories for the issue at this time.
On the Freedom Road

Follow a group of Pitt students on the Returning to the Roots of Civil Rights bus tour, a nine-day, 2,300-mile journey crisscrossing five states.
Day 1: The Awakening
Day 2: Deep Impressions
Day 3: Music, Montgomery, and More
Day 4: Looking Back, Looking Forward
Day 5: Learning to Remember
Day 6: The Mountaintop
Day 7: Slavery and Beyond
Day 8: Lessons to Bring Home
Day 9: Final Lessons