Albert C. Van Dusen, Former Senior Pitt Administrator with a Global Mission, Dies
by Liberty Ferda
Issue Date:
January 12, 2015
Albert C. Van Dusen, a former University of Pittsburgh senior administrator who helped propel Pitt onto the world stage through educational exchange programs overseas, died on Dec. 18, 2014, at age 99.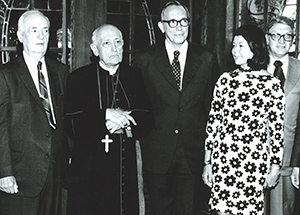 From 1957 until his retirement in 1981, Dr. Van Dusen served in a number of positions at the University, including vice chancellor and secretary of the University (1971-1980), assistant chancellor for planning and development, vice chancellor for professional schools, and vice chancellor of program development and public affairs. He was designated vice chancellor emeritus when he retired.
Throughout his career in Pittsburgh, Dr. Van Dusen was instrumental in building the University's educational exchange programs, traveling the globe to secure programs for Pitt in Africa, China, Korea, the Middle East, South Africa, and Southeast Asia.
Called "Van" by his friends and family, he is remembered by many for his dedication to the broader community—and to the University even after he had long retired.
Tom Crawford, Pitt's associate vice chancellor, corporate and foundation relations, Institutional Advancement, recalled that Pitt's School of Education held a 90th birthday party for Dr. Van Dusen in 2006—about 25 years after he had retired.
"I remember that after the luncheon, he pulled me aside and said, 'I'm not done yet, and I've been thinking creatively to figure out how we can help more kids travel internationally,'" Crawford said.
"I thought that was remarkable. He opened Pitt up to the world, and even long after his retirement, he was still looking for ways to help students be able to go out into the world," Crawford added.
Dr. Van Dusen and his wife, Margaret, took a creative approach to funding the Albert C. and Margaret Van Dusen Summer Study Abroad Scholarship, part of Pitt's Nationality Rooms and Intercultural Exchange Programs. They donated to Pitt many objects they had acquired in their own travels, including antique furniture, Middle Eastern brassware, gourd bowls from Nigeria, Japanese art, and other artifacts. The sale of those items helps to fund the annual $4,000 graduate scholarship for travel to any country.
E. Maxine Bruhns, who has directed the Nationality Rooms and International Exchange Programs since 1965, said Dr. Van Dusen was not only a wonderful boss but also a friend. His global focus allowed the international programs to flourish.
"He gave me freedom to keep building the rooms. He really wanted students to experience travel as he had," Bruhns recalled, adding that Dr. Van Dusen was a strong advocate for the establishment of the African Heritage Room as well as the Armenian and Israel Heritage Classrooms in the Cathedral.
Dr. Van Dusen remained active not only in the University community but in the broader community as well following his retirement. He served on several boards, including Duquesne University, the Japan-America Society, the World Affairs Council of Pittsburgh, ACTION Housing, the Pittsburgh YMCA, the Pittsburgh History & Landmarks Foundation, and local radio and television station WQED. He also chaired the Association for America's Public TV Stations from 1981-88 and was a member of the Pennsylvania Public TV Network Commission.
Dr. Van Dusen, a native of Tampa, Fla., earned his bachelor's and master's degrees at the University of Florida and his doctorate in industrial psychology from Northwestern University. He joined the Northwestern faculty in 1944 and served as vice president there from 1952 to 1956. He was a naval officer during World War II.
He is survived by his wife, Margaret; daughters Margaret Van Dusen Pysh of Arizona, Jane Van Dusen of Oregon, and Sara Van Dusen and son-in-law, Frank Matyskiela, of California. A celebration of life will be held at Heinz Chapel at a later date.
Other Stories From This Issue
There are no stories for the issue at this time.
On the Freedom Road

Follow a group of Pitt students on the Returning to the Roots of Civil Rights bus tour, a nine-day, 2,300-mile journey crisscrossing five states.
Day 1: The Awakening
Day 2: Deep Impressions
Day 3: Music, Montgomery, and More
Day 4: Looking Back, Looking Forward
Day 5: Learning to Remember
Day 6: The Mountaintop
Day 7: Slavery and Beyond
Day 8: Lessons to Bring Home
Day 9: Final Lessons