Alumni, Friends to Return for Pitt Homecoming, Oct. 28-31
By Patricia Lomando White
Issue Date:
October 25, 2010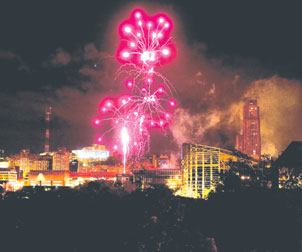 A Welcome Back Reception, a fireworks and laser show, Homecoming Extravaganza, theatrical performances, and school and departmental reunions are the highlights of festivities planned for alumni, students, and friends as the University of Pittsburgh celebrates Homecoming 2010 from Oct. 28 to 31, including the noon Oct. 30 football game between the Pitt Panthers and the University of Louisville Cardinals.
Homecoming festivities will begin from 6 to 8 p.m. Oct. 28 with Pathway to Professions: A Career Networking Event held in the J.W. Connolly Ballroom of Alumni Hall, at which alumni offer insights into their careers.
Celebrating its centennial, The Pitt News will hold an open house from 9 a.m. to 5 p.m. Oct. 29 in Room 424, William Pitt Union (WPU). Alumni can tour the office, meet the staff, and peruse bound volumes of newspapers from years past.
A festive autumn setting, complete with hors d'oeuvres and drinks, will be the backdrop for the Pitt Alumni Association's Welcome Back Reception that helps connect Pitt alumni from past decades. It will be held from 6 to 8:30 p.m. Oct. 29 in the Cathedral of Learning's Commons Room. The Nationality Rooms also will be open for visitors. Following the Welcome Back event, a number of schools and departments will host their own alumni receptions.
The Pitt Program Council's fireworks and laser show at 9:30 p.m. Oct. 29 on Bigelow Boulevard between the Cathedral of Learning and the William Pitt Union is always a hit with onlookers. The evening's festivities will continue with the Homecoming Extravaganza at 10 p.m. in the William Pitt Union with Casino Night, music, and light refreshments.
The Homecoming football pregame festivities will kick off at 9 a.m. Oct. 30 at Heinz Field with the World's Largest Family Block Party on Art Rooney Avenue between Gates A and B. The opening events will feature live entertainment on the main stage, a giant video wall, inflatable games for the kids, and other family-oriented activities.
Pitt's Panther Prowl at 10 a.m. will give fans the opportunity to meet and greet the football players as they arrive at Heinz Field outside Gate A. Immediately following will be the Pitt Marching Band's Pregame Concert. The band will lead the March to Victory parade at 11 a.m. from Tony Dorsett Drive down General Robinson Street, ending at the stage on Art Rooney Avenue. The Homecoming Court will ride in the parade, and the king and queen will be crowned during halftime festivities.
Throughout Homecoming weekend, Pitt's African American Alumni Council (AAAC) will host numerous events for the entire University community. These activities will include Rhyme, Rhythm, and Rapture: Blackline Magazine Release Party and Poetry Slam at 8:30 p.m. Oct. 28 in the Frick Fine Arts Building, 650 Schenley Dr., Oakland; screening of the documentary Blue Gold and Black: From Doorway to Distinction from 7:30 to 9 p.m. Oct. 29 in the Third Floor Lecture Room, Alumni Hall; and Rejoice in the Miracle, the AAAC worship service at 10 a.m. Oct. 31 at the Pittsburgh Grand Hotel, 600 Commonwealth Place, Downtown.
Additional Homecoming events will include those hosted by the School of Nursing, the School of Law, the School of Dental Medicine, the Swanson School of Engineering, the Graduate School of Public and International Affairs, the College of General Studies, and others.
Pitt Repertory Theatre will be presenting Slasher: A Horrifying Comedy, a satirical twist on horror movie clichés, written by Allison Moore and directed by Holly Thuma, from Oct. 29 through Nov. 7. Also, alumna Yvonne Hudson (A&S '89) will portray poet Emily Dickinson at 4 and 6 p.m. Oct. 30 in Emily Dickinson: The Poet Lights the Lamp, a presentation drawn from the author's letters and poems.
For general information about Homecoming, call the Pitt Alumni Association at 412-624-8229 or 1-800-258-7488 or visit www.alumni.pitt.edu/homecoming. For information on Pitt's AAAC Sankofa Homecoming Weekend, visit www.alumni.pitt.edu. For tickets to Slasher, call 412-624-7529 or visit www.play.pitt.edu. To RSVP for Emily Dickinson, e-mail Poets.Corner.Pittsburgh@gmail.com, or for information, call 412-251-5532. For ticket information for the Homecoming football game, call 1-800-643-7488 or visit www.pittsburghpanthers.com.
Other Stories From This Issue
There are no stories for the issue at this time.
On the Freedom Road

Follow a group of Pitt students on the Returning to the Roots of Civil Rights bus tour, a nine-day, 2,300-mile journey crisscrossing five states.
Day 1: The Awakening
Day 2: Deep Impressions
Day 3: Music, Montgomery, and More
Day 4: Looking Back, Looking Forward
Day 5: Learning to Remember
Day 6: The Mountaintop
Day 7: Slavery and Beyond
Day 8: Lessons to Bring Home
Day 9: Final Lessons