Alumni, Students Come Together For Homecoming 2007
By Patricia Lomando White
Issue Date:
October 15, 2007
Festivities kick off Wednesday; reunions, fireworks, live performances among highlights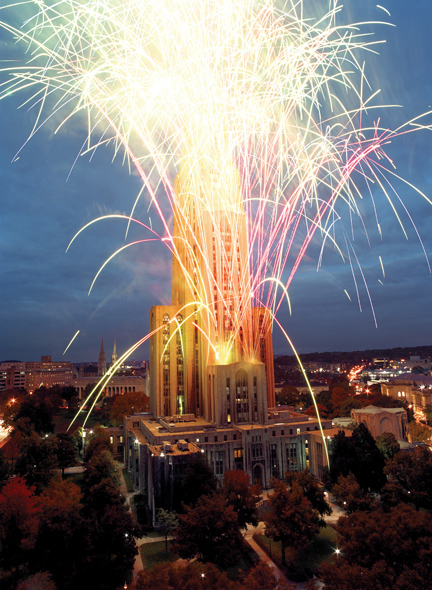 Homecoming festivities begin with a '50s Reunion for all 1950-59 Pitt graduates at 5 p.m. Wednesday in the Twentieth Century Club, 4201 Bigelow Blvd. Highlights will include the Alumni Dance Band, a 1957 class photo, and memories from alumni who attended the Ellsworth Center, a building that served the post-World War II overflow of Pitt students from 1947 to 1951.
Notable events for Thursday include a 2-5 p.m. Legacy Laureate Leadership Panel Discussion in Posvar Hall's Provost's Suite with this year's Legacy Laureates—alumni recognized for their outstanding personal and professional accomplishments—and Pitt alumni and student leaders participating.
From 6 to 8 p.m., alumni will offer insights into their occupations at "Pathway to Professions: A Career Networking Event," to be held in Alumni Hall's Connolly Ballroom.
The free Pitt Program Council fireworks and laser show welcomes everyone to campus with explosions of color and sound at 9:30 p.m. Friday from the closed-off Bigelow Boulevard between the Cathedral of Learning and William Pitt Union. The night continues at the Homecoming Extravaganza at 10 in the William Pitt Union with Casino Night, music, and refreshments.
The African American Alumni Council (AAAC) will host a welcome home reception at 8 p.m. Friday in the Omni William Penn Hotel, 530 William Penn Place, Downtown.
The AAAC Sankofa Awards Banquet and reception at 6 p.m. Saturday in the Omni William Penn Hotel will include the AAAC Distinguished Alumni Awards presentation, honoring outstanding African American alumni who have achieved recognition in their chosen professions and have demonstrated support for the University and the AAAC.
Other AAAC events include the Apple Seed Project in the Pittsburgh Public Schools, a board and advisory committee meeting, and a worship service and jazz fellowship brunch. For more details about the AAAC events, visit www.alumni.pitt.edu/homecoming/sankofa.html.
The Homecoming football game festivities begin at 9:30 a.m. Saturday in the Pitt Alumni Association pregame tent near Heinz Field along with a pregame fan fest at 10 a.m. on Art Rooney Avenue between Gates A and B, featuring a pregame live radio broadcast, games for children, and activities for families.
Starting at PNC Park at 11 a.m. the Pitt Marching Band will lead the "March to Victory" parade, following Art Rooney Avenue into Heinz Field. The Homecoming Court will ride in the parade, and the king and queen will be crowned during halftime activities.
Additional homecoming events include: the Department of Bioengineering 10th anniversary event, School of Engineering Homecoming reception, College of Business Administration/Joseph M. Katz Graduate School of Business "51+ Luncheon," Pitt School of Dental Medicine Dental Dash, School of Education lecture, School of Information Sciences Distinguished Alumni Awards, Graduate School of Public and International Affairs and College of General Studies receptions, and an event to honor Pitt Alumni Association scholarship recipients.
Throughout homecoming, Pitt Repertory Theatre will present The Recruiting Officer, a revival of George Farquhars's classic Restoration comedy, and the Kuntu Repertory Theatre will perform Good Black Don't Crack, a classic play by Rob Penny. In addition, Emily Dickinson: The Poet Lights the Lamp will be performed by alumnus Yvonne Hudson (FAS '89).
For general information about Homecoming or the Emily Dickinson performance, call the Pitt Alumni Association at 412-624-8229 or 1-800-258-7488 or visit www.alumni.pitt.edu.
For tickets to The Recruiting Officer, call 412-624-7529 or visit www.play.pitt.edu. For tickets to Good Black Don't Crack, call 412-624-7298. For ticket information for the football game, call 1-800-643-7488 or visit www.pittsburghpanthers.com.
Other Stories From This Issue
There are no stories for the issue at this time.
On the Freedom Road

Follow a group of Pitt students on the Returning to the Roots of Civil Rights bus tour, a nine-day, 2,300-mile journey crisscrossing five states.
Day 1: The Awakening
Day 2: Deep Impressions
Day 3: Music, Montgomery, and More
Day 4: Looking Back, Looking Forward
Day 5: Learning to Remember
Day 6: The Mountaintop
Day 7: Slavery and Beyond
Day 8: Lessons to Bring Home
Day 9: Final Lessons