Alumnus, '36 Medalist John Woodruff Dies at 92
Issue Date:
November 5, 2007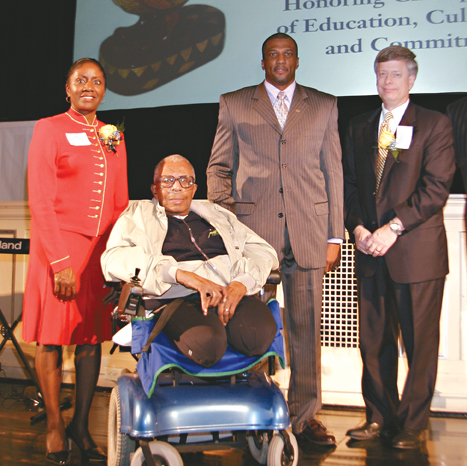 Above: Woodruff visited Pitt in October 2006 to be honored during Homecoming events, including the African American Alumni Council's Awards Night. From left, AAAC President Linda Wharton Boyd (CAS '72, FAS '75, '79); Woodruff; Roger Kingdom (CGS '02), gold medalist in the 1984 and 1988 Olympic Games; and Pitt Chancellor Mark A. Nordenberg.
Pitt alumnus John Woodruff, whose dramatic victory in the 800-meter run during the 1936 Olympic Games in Berlin made him the first African American to win a gold medal in the 1936 games and helped to spike the Nazi myth of Aryan racial superiority, died Oct. 30 in Fountain Hills, Ariz. He was 92.
Woodruff, who earned a BA in sociology at Pitt in 1939, was the last survivor of the 12 U.S. men who won track and field gold medals in the 1936 Olympics, according to The New York Times.
The Olympic successes of Woodruff and four other gold-medal-winning African American track and field athletes (including Jesse Owens, who won a then-record four golds) embarrassed German Chancellor Adolf Hitler. The Führer had boasted that the Berlin Games would showcase German athletic prowess and the superiority of the so-called Aryan race over non-Whites.
"John Woodruff's story was indeed a remarkable one," said Pitt Chancellor Mark A. Nordenberg. "Following the completion of his freshman year at Pitt, he scored a stirring sports and social triumph in the 1936 Berlin Olympics by winning the gold medal in the 800-meter race in what has been called the 'Hitler Olympics.' Because of the social context of his win—as important as it is in sports history—it was a triumph with far larger implications and even more lasting impact.
"The people in our University community loved and respected John Woodruff," Nordenberg said. "We stood in awe of his athletic achievements, but we also admired him as a human being who helped advance humanity's cause through the values he held and promoted. His lifetime and lifeline of achievements placed him and Pitt in the embrace of the vast and eternal."
"What an amazing human being he was, and what a legacy he has left for us to marvel at," Pitt track and field head coach Alonzo Webb said. "The shadow he cast was so large and so important that everyone who follows in his footsteps will forever be measured by him and his place in history."
Just as Woodruff had overcome poverty and racial discrimination to reach Berlin in the first place, his 800-meter win was a come-from-behind affair.
A lanky 21-year-old who lacked international running experience, Woodruff got boxed in by veteran runners after the race's first 300 meters.
Woodruff knew he would be disqualified if he fouled another runner in breaking free. Rather than risk that—or resigning himself to less than a gold medal—he coolly did the unthinkable. He stopped running.
"I knew I had to do something drastic if I was to have any chance of winning the race," Woodruff said in an interview with the Pitt Chronicle last year. "So, I stopped and moved over onto the third lane of the track. I let my opponents pass me by, and then I started the race all over again."
At 6 feet 3.25 inches, Woodruff was unusually tall for a middle-distance runner. His remarkably long stride—nine feet in length—had earned him the nickname Long John.
On Aug. 4, 1936, his long, powerful legs would carry Woodruff to track immortality.
From a dead stop in the back of the pack, Woodruff took off, his stride lengthening as he passed one rival after another. He gained the lead, relinquished it briefly, then retook it and sprinted for the finish line. Holding off a final charge by European champion Mario Lanzi of Italy, Woodruff broke the tape at 1:52.9. For the first time in 24 years, the United States had won an Olympic gold medal in the 800 meters.
The New York Herald Tribune called Woodruff's stop-and-restart maneuver the "most daring move seen on a track."
Pitt Emeritus Trustee Herbert Douglas, who earned bachelor's and master's degrees in Pitt's School of Education in 1948 and 1950, respectively, followed in Woodruff's Olympic tradition, winning the bronze medal in the long jump in the first Olympic Games to be held after the Berlin Olympics, in London in 1948.
This was fitting, because, Douglas said, Woodruff "was like a big brother to me." Douglas, who grew up with one sister and no brothers, first met Woodruff in 1940 when he [Douglas] was still a teenager and the first person from Western Pennsylvania to win three high school state championships in track and field.
It was the beginning of a close, 67-year-long mentoring relationship, in which the two were not only like brothers, but "argued like siblings. He advised me on my education, and he also guided me into the main job I had in my life, a 30-year career at wine and spirits importer Schieffelin & Co., where I became only the third African American vice president at a major national corporation in the United States.
"To me, John never reached his peak in running because World War II, and his service in it, intervened," Douglas said. "Had there not been a war, he would most likely have won the 800 meters in both the 1940 and 1944 Olympic Games. John's ability was unmatched in the 800 meters, and if the U.S. team had used John in 1936 in the four-by-four relay, the United States would have won the Olympic gold medal in that event as well. As it was, his race was the most spectacular one in the 1936 games.
"John had to overcome a lot of barriers," Douglas said. "He was very blunt, and he was an excellent soldier from what I have been able to learn, because he would always go by the book. He was very honest, the epitome of an upright citizen, a moral force, and a compass for me. If something wasn't right, he'd sure tell me about it!"
The grandson of former Virginia slaves, John Youie Woodruff was one of 12 children (some of whom died in infancy) of Silas Woodruff, a coke worker, and his wife Sarah, who did laundry for families in the Woodruffs' hometown of Connellsville, Fayette County, south of Pittsburgh.
John was a star football player at Connellsville High until his mother made him quit because the team's practices were interfering with his home chores. At age 16, Woodruff dropped out of high school to seek work in the local glass factory. But in the depths of the Great Depression, the factory wasn't hiring anyone—especially not Negroes, he was told.
So, Woodruff returned to school. Remembering how Woodruff had smoked his football teammates during practice runs, a Connellsville High assistant football coach who doubled as the school's track coach urged Woodruff to try the latter sport. Track practice ended early enough not to interfere with his chores, so his mother gave her blessing, Woodruff would later tell the Pitt Chronicle.
By the time Woodruff graduated from high school, he had set track records at the school, county, district, and state levels. Connellsville businessmen helped Woodruff gain an athletic scholarship to Pitt, where he arrived with 25 cents in his pocket.
"I got a room at the YMCA in the Hill District and a job helping to clean Pitt Stadium and the basketball gym after games. Later on, I got a better job helping to keep up the grounds" on Pitt's campus, Woodruff later recalled.
Financial assistance from Pitt track coach Carl Olson and from Robert L. Vann, editor and publisher of the Pittsburgh Courier, the leading African American newspaper of the day, helped Woodruff pay his living expenses during his freshman year at Pitt and, subsequently, in Berlin during the Olympic Games.
Following the Olympics, the gold medalist never lost a race. Woodruff went on to win the Amateur Athletic Union 800-meter championship in 1937 and National Collegiate Athletic Association 880-yard titles from 1937 through 1939. During the 1940 Compton Invitational in California, he ran the 800 meters in 1:48.6, a U.S. record that lasted 12 years.
In July 1937, at the Texas and Pan American Exhibition in Dallas' Fair Park, Woodruff won an 800-meter race against White world-record holder Elroy Robinson only to have his record revoked by Amateur Athletic Union officials who stated that the track was not of regulation length; they went on to disqualify Woodruff's record.
In March 2007, the Pittsburgh Post-Gazette reported that Texas middle school math teacher Melanie Hartsell and her students determined that even if the track had been regulation length, Woodruff's adjusted time for the 1937 race would still have beaten Robinson's record by a second and a half.
After earning his sociology bachelor's degree, Woodruff completed a master's degree in the same field at New York University in 1941. He served in the U.S. Army in World War II and Korea, retiring as a lieutenant colonel. He went on to work with the New York City Children's Aid Society; to teach in that city's public schools; and to serve as a special investigator for the New York City Police Athletic League, and as a parole officer for the State of New York.
Woodruff donated his Olympic gold medal to Pitt, where it will be shown in a newly designed display in the University's Hillman Library. Last year, despite having lost his legs because of a circulatory ailment, Woodruff traveled from Arizona with his wife of 40 years, Rose, to attend Pitt Homecoming festivities, including the Oct. 21, 2006, Pitt-Rutgers football game.
During the game, Pitt recognized Woodruff's presence and the 70th anniversary of his Olympic victory. He also was recognized during that Homecoming weekend's African American Alumni Council Annual Reception and Dinner and Pitt Varsity Letter Club Annual Dinner.
According to published reports, Woodruff is survived by his wife Rose; son John Woodruff Jr. of Brooklyn, N.Y.; daughter Randilyn Gilliam of Chicago; five grandchildren; and three great-grandchildren. Services for Woodruff were to be held Saturday in Arizona. Woodruff's ashes were to be interred in his wife's family plot at Crown Hill Cemetery, Indianapolis.
On Friday, the Tribune-Review of Greensburg reported that an oak tree from Germany's Black Forest that was given to Woodruff after the 1936 Olympics still stands on the grounds of Connellsville Senior High School.
At his wife's request, the newspaper said, a public memorial service will be held under that oak tree in Connellsville at a date to be announced.
Other Stories From This Issue
There are no stories for the issue at this time.
On the Freedom Road

Follow a group of Pitt students on the Returning to the Roots of Civil Rights bus tour, a nine-day, 2,300-mile journey crisscrossing five states.
Day 1: The Awakening
Day 2: Deep Impressions
Day 3: Music, Montgomery, and More
Day 4: Looking Back, Looking Forward
Day 5: Learning to Remember
Day 6: The Mountaintop
Day 7: Slavery and Beyond
Day 8: Lessons to Bring Home
Day 9: Final Lessons