Ana Guzman, University Architect, Dies, Leaving Impressive Legacy on Five Campuses
By Maddy Ross
Issue Date:
December 8, 2008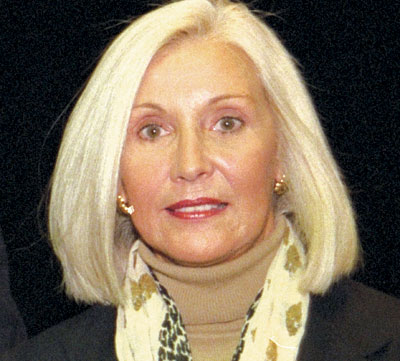 Ana Guzman, the University of Pittsburgh architect who presided over an unprecedented period of development on Pitt's five campuses, died Dec. 1 after a brief illness.
As associate vice chancellor of facilities management from 1996 until her retirement in 2005, she used her artistry and leadership to initiate such bold new construction as the Biomedical Science Tower 3, the painstaking historic restoration of Alumni Hall, and the transformation of an urban campus into a vista of stunning architecture softened and warmed by flower beds she planned, flower by flower.
Guzman's panache while working alongside the region's design and construction leaders, laborers, gardeners, and building engineers was legendary. Perfectly coiffed and elegantly attired, she would assess the scene and, with her thousand-watt smile, make the day of a grizzled construction foreman—or, with a slight arch of an eyebrow, stop him cold in his tracks if he missed the mark. Her throaty accented English (she was born in Argentina) communicated sophistication, confidence, and control, and her intellect and resolve elicited respect in a sea of hard hats at work sites throughout the University.
Although her position of facilities manager at Pitt put her in charge of the quality of the air inside 64 buildings, 12 miles of underground utilities, and the maintenance of more than 6.5 million square feet of building space, it was the $2 billion of new construction that is Guzman's hallmark. She once told a colleague that her work enhancing Pitt's educational mission, combined with beautifying a Pittsburgh neighborhood while putting thousands of employees of the region's building trades to work, constituted her dream job.
"It is impossible to overstate the value of her contributions to the University," said Chancellor Mark A. Nordenberg. "In fact, her impact was so significant that I used to refer to her, both publicly and privately, as 'Saint Ana,' a title reflecting the enormous respect she had earned throughout the University community."
Guzman and her husband, Alberto Guzman, a research scientist, came to Pittsburgh from Argentina with their two small children when he was hired by Carnegie Mellon University in 1967. A graduate of the Universidad Nacional de Cordoba's School of Architecture and Urban Planning, Ms. Guzman worked first with John Schurko and Associates in Pittsburgh, then was principal of her own firm, Ana M. Guzman AIA, before joining Pitt as a project manager in 1978.
Throughout her career, while she was designing a few glass ceilings, she was also breaking through them. In addition to being one of the few women in the country to manage large-scale construction projects, she was the first woman appointed to the City of Pittsburgh's Board of Appeals, going on to become board chair. She was also the first woman invited to membership in the Association of University Architects, served as that group's president in 1995-96, received its distinguished service award in 2004, and was named a fellow of the association that same year. After her retirement from the University, she was named to the Pennsylvania State Architects Licensure Board and to the board of trustees of the Ellis School.
Although she liked to recall the barely disguised shock when the University's facilities manager (long blond hair falling around her hard hat) walked onto a job site for the first time, breaking gender barriers isn't her legacy.
"Everywhere you turn on Pitt's campuses," Executive Vice Chancellor Jerome Cochran said, "you see the gift that was Ana's."
In addition to her husband, Ms. Guzman is survived by her son, Javier (Colleen) Guzman of Minneapolis; a daughter, Ana Cecilia (Alfred) Quezada of Mill Valley, Calif.; five grandchildren, Luis, Alex, Elliot, Rio, and Cruz; two sisters, a brother, and two sisters-in-law.
A private funeral was held Thursday, Dec. 4. A public memorial service to celebrate her life was held in Heinz Chapel on Friday, Dec. 5. Contributions in her memory  may be made to the Greater Pittsburgh Community Food Bank.
Other Stories From This Issue
There are no stories for the issue at this time.
On the Freedom Road

Follow a group of Pitt students on the Returning to the Roots of Civil Rights bus tour, a nine-day, 2,300-mile journey crisscrossing five states.
Day 1: The Awakening
Day 2: Deep Impressions
Day 3: Music, Montgomery, and More
Day 4: Looking Back, Looking Forward
Day 5: Learning to Remember
Day 6: The Mountaintop
Day 7: Slavery and Beyond
Day 8: Lessons to Bring Home
Day 9: Final Lessons