By Jane-Ellen Robinet
Issue Date:
April 27, 2008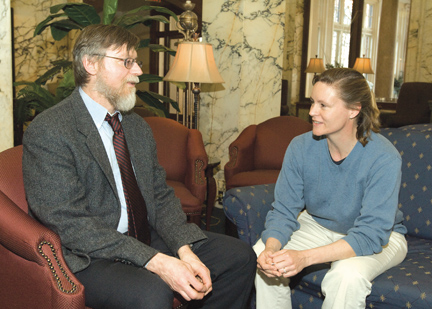 Training tomorrow's professors requires passion, people skills, and time
By the time Andrea Cuéllar received her bachelor's degree in anthropology from the Universidad de Los Andes in Colombia, she knew her next stop would be graduate work at the University of Pittsburgh. Hers was an easy decision based upon the prominence and reputation of one faculty member: Robert Drennan, a Distinguished Professor in the Department of Anthropology within Pitt's School of Arts and Sciences.

It wasn't only that Drennan, a member of the National Academy of Sciences, is internationally renowned for his archeological work and findings in China, Mesoamerica, and northern South America, it was also because Drennan has a stellar reputation as a mentor of doctoral candidates.
"As for what propelled me to … Pittsburgh, it was Professor Drennan himself. My undergraduate mentor had been his student, and by the time I got my undergraduate degree, I was already familiar with his work. The depth of his influence on generations of students is remarkable," said Cuéllar, who is now a professor of anthropology at the University of Lethbridge in Alberta, Canada. Cuéllar's dissertation focused on the role of economic specialization in the development of complex societies. Her fieldwork was done in Eastern Ecuador.
A Balancing Act
In his 30 years at Pitt, Drennan has served as either principal advisor or co-advisor to 30 doctoral students. His students have been extremely successful in landing prestigious grants, including many from the National Science Foundation, to fund their dissertation research. Many of his former students, or "mentees," rave about him, but Drennan makes no claims of having perfected the mentoring process. Far from it.
"Mentoring is a continual process of trial and error, a balancing act. When you sit down and talk about mentoring, it's really easy to start pontificating and sound like God up there, tweaking a puppet's strings. None of us are God, and you hardly ever know if you're doing the right thing," said Drennan, a winner of the 2007 Provost's Award for Excellence in Mentoring.
The most effective mentor-doctoral student relationships involve a healthy amount of tension between what the student needs and how much the mentor should give. Students begin a doctoral program and face a bevy of challenges: defining a thesis, learning how to write grant proposals to fund research, and finetuning their critical thinking, to name a few.
The mentors walk a tightrope between pushing their students to overcome hurdles independently, and, at the same time, ensuring that those hurdles don't derail a project. They must strike a balance between too-gentle encouragement and setting the research bar too high.
Doctoral mentoring at Pitt varies from school to school, department to department, professor to professor, and student to student. To the outsider, it is very much behind the scenes. But to the doctoral student, the relationship with a mentor is very much at the forefront of his or her agenda. The nature of that relationship can make all the difference between academic success or failure, personal happiness or agony.
"I honestly believe that (mentoring) is the most crucial element to graduate studies," said Mikael Haller, another Drennan mentee, who earned his PhD degree in archaeology/anthropology at Pitt in 2004. He now holds a tenure-track position in the Department of Anthropology at St. Francis Xavier University in Nova Scotia. In addition, the Canadian government has funded his archeological investigations for the next three years.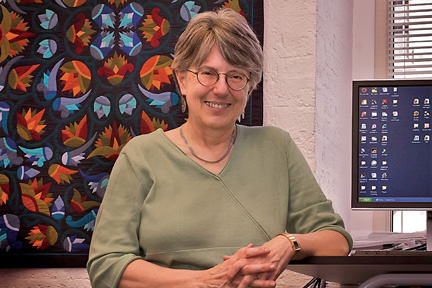 Coming in Green
There is a common misperception among nonacademicians that doctoral students hit the ground running, armed with their dissertation topics and the research skills to complete them. That is not, however, generally the case. In fact, probably most doctoral students enter a program with only a vague idea of dissertation topics, little insight into how much work the doctoral process requires, and little experience with original thinking and designing research projects.
Jeff Bridge acknowledged his inexperience in many of those areas when he began pursuing his doctorate in psychiatric epidemiology at Pitt in 1993. While earning bachelor's degrees in psychology and English literature at Pitt, he also worked at Western Psychiatric Institute & Clinic (WPIC). Bridge researched risk factors for teen suicide and worked closely with David A. Brent, academic chief of child and adolescent psychiatry at WPIC and a professor of psychiatry, pediatrics, and epidemiology in Pitt's School of Medicine.
The experience "piqued my interest in doing research as a career," he said. When Bridge decided to explore earning a doctorate in psychiatric epidemiology within Pitt's Graduate School of Public Health, Brent suggested that he talk with Nancy Day, head of the psychiatric epidemiology program. A winner of the 2007 Provost's Award for Excellence in Mentoring, Day has mentored about 30 Pitt students since 1980. She is a national expert on the long-term effects of fetal alcohol exposure.
"I knew someone else who had started in the psychiatric epidemiology training program before me, and I asked him some questions about Dr. Day. He said, 'Just be prepared. She will get the most out of you, but she can be intimidating until you know her. She does not suffer fools gladly,'" recalled Bridge with amusement. Bridge's doctoral dissertation focused on the risk of major depressive disorder in teens exposed to a friend's suicide. He is now an investigator in the Center for Innovation in Pediatric Practice, part of The Research Institute at Nationwide Children's Hospital in Columbus, Ohio, and continues to research teen suicide.
He said that while he believed his previous experience at WPIC had trained him to do research and original thinking, he quickly learned that wasn't true. "I was very much 'a newbie.' … Most of us got into the program because we were good students and someone recognized our potential. But we were just clay molds, and we needed years—and years after our dissertation—to develop a shape."
A Mentor's Mission
The mentoring relationship is key to that molding.
The mentor's role is to teach the inexperienced graduate student how to think originally, how to design research projects, and how to implement that research. "I tell my students that 'I know you have facts, but I want to know if you can think,'" Day said. "I could assign them a (dissertation) topic, and it would be helping me with my research. But that's not what it's all about."
Mentors train their students how to ask the right questions—and how to answer them—so that the students move their respective fields of study forward. In other words, the mentoring process is crucial to creating the next generation of scholars and professors.
Bridge remembers Day telling him exactly that during their first meeting. "Initially, she told me what her expectations were, and that they were very high," he said. "She made it very clear that she didn't want her students to be 'lifers.' 'Make your mark in the field,' she said. 'Sure, do well in the classroom, too, but go out in the field and make an impact.'"
Tools of the Trade
Successful mentoring requires the mentor to have fine-tuned people skills, a considerable amount of time available for consults, an open mind, a nurturing instinct, and a passion for training the next generation's scholars.
Leon Gleser, professor of statistics in the School of Arts and Sciences, said he—like most mentors—works hard to find the delicate balance between helping a student too much and too little.
One of the easiest mistakes to make as a mentor, he said, is to overdirect students. "This is easy to do with some students, because they want you to tell them what to do at every step, and some are so timid that you feel like you're taking over. But real growth comes with making your own mistakes, so I try to suggest steps to try and then let them choose what they will do," said Gleser, a winner of the 2008 Provost's Award for Excellence in Mentoring. Gleser is graduate director for the Department of Statistics and has supervised a total of 23 doctoral dissertations, including 10 at Pitt. His students have received tenure-track or postdoctorate positions at Harvard University, the Cleveland Clinic, and Vanderbilt University, among others.
"On the other hand, it is also easy to neglect the students who seem to know what they're doing and makes advising too easy for you. Sometimes they have problems that they don't tell you about until it is almost too late to fix them," he added.
To determine the difference, Professor Kenneth Jordan is known for walking casually past students' desks to check in with them. Jordan, a winner of the 2008 Provost's Award for Excellence in Mentoring, is Distinguished Professor of Computational Chemistry at Pitt. He also is director of the University's Center for Molecular and Materials Simulations as well as a member of Pitt's Petersen Institute for Nanoscience and Engineering. He has mentored 23 doctoral students at Pitt and is currently advising six others.
Jan Steckel, a mentee of Jordan's, said if her work was going well when Jordan would make a walk-by, "our interaction was limited to a quick greeting or perhaps a short progress report. If I happened to be having some kind of difficulty, his casual visit or short e-mail provided an easy opportunity for me to mention the problem to him," she said.
She added that Jordan would also encourage students to form study groups. "If I or another student expressed frustration or confusion about anything, he would often reappear a few minutes later with a book or an article. … If more than one student was interested in the concept, he often suggested that we form a study group. He would suggest an introductory-level problem that we could all work on and then meet to discuss."
Steckel is currently a research scientist working in the U.S. Department of Energy's National Energy Technology Laboratory.
Another key role for the mentor is to introduce students to professional contacts and to encourage them to publish their research. Katheryn M. Linduff, who holds a joint appointment in the Department of the History of Art and Architecture and the Department of Anthropology, has helped a number of her doctoral students win fellowships and internationally competitive grants. She is an expert on ancient Chinese art and archaeology, and her doctoral students have a record of obtaining fellowships, including from the Andrew W. Mellon Foundation, National Science Foundation, and National Gallery of Art and 10 Chancellor's fellowships in Chinese studies.
To help her students obtain grant funding and land field-research positions, Linduff taps her extensive network of peers, which she has developed over the past 25 years. She said that placing a doctoral student in a field-research position, for example, more often than not requires that she personally know the person in charge and visit the site. It takes years to solidify such academic relationships—something that Linduff concentrates on to the benefit of her students.
In addition, Linduff is praised by a number of mentees for encouraging students to publish research papers and then to present them at various national conferences she chairs.
Finally, another key tool for mentors is the simple red pen. Mentors use it in the seemingly endless revisions of students' dissertation descriptions, grant proposals, job applications, and other documents. Linduff's red pen is legendary. It is not uncommon for her to critique six or more drafts of students' papers and grant proposals.
When It Doesn't Work
Not every mentoring relationship is successful, of course.
"It's not terribly uncommon for the relationship to not work out effectively," Drennan said. "If it's not working or it looks like the student would work better with other people, then the student needs to shift. Students have shifted both to and from working with me when it seems someone else might guide them better. It often coincides with a student's shift in academic interest … or it's related to the personal relationship."
Sometimes, it's just a difference of approach.
Gleser said he has had "difficulty diplomatically telling students that they are not succeeding at what they are trying to do, and then helping them to find a different path."
He recalled a situation before he came to Pitt where his mentee "had a fixed idea of what a 'successful' research solution must be, but the problem he was attempting was not suitable for a solution of this kind. I could not get him to change his outlook, and he thought I should help him find a solution of the type he was seeking."
The student eventually completed his doctorate with another advisor.
"I'm glad he achieved his goal, but I know that I could have handled the situation better," Gleser said.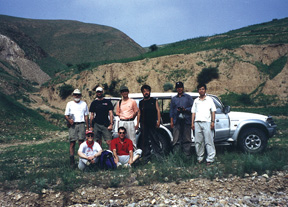 The Personal Side
But when the relationships do work, they often result in lifelong academic and personal relationships. Networking and grant proposal revisions aside, mentors also play key roles in students' and their families' personal lives. Linduff, for example, recalled the story of one of her students, a young, pregnant woman from the People's Republic of China whose family was restricted by the U.S. government from entering the United States to help with the delivery. Linduff remembered coaching the young student on breathing exercises in her office and then sending one of the student's classmates as her coach into the delivery room.
Many of Linduff's students are from China, and a number of them face language struggles as well as daily life struggles once they arrive in Pittsburgh. Linduff frequently picks these students up at the airport upon their arrival in the United States; helps them find apartments and roommates; aids them in establishing both social and academic networks; and holds an annual Thanksgiving dinner that all current and former mentees, called "Thanksgiving Alums," can attend.
Christian Peterson, whose coadvisors were Linduff and Drennan, recalled how, after he was injured during field work in Eastern Inner Mongolia, Drennan allowed him to recover in his home.
Learning Goes Both Ways
Doctoral students aren't the only ones who gain something from the mentoring relationship. The professors do, too, and they cite their continued learning as one of the reasons they love to mentor.
Jordan recalled talking with a former doctoral student about potential dissertation topics. "He proposed a problem very different from anything that I was working on at that time. Fortunately, I agreed to let him pursue this project rather than trying to convince him to work on a project already under way in the group. This now has evolved into one of the main areas of research in my group," he said.
Linduff said she, too, finds it exciting to watch a student develop into a researcher. She also enjoys the learning she does as part of getting up to speed on the specifics of a doctoral student's dissertation topic.
"The process is very stimulating intellectually, and I like learning new ways to think or to solve a problem," Linduff said.
It's not surprising that mentors and their students develop close personal and professional friendships that literally last a lifetime. After the students receive their doctorates and begin their careers, the phone calls go both ways—they call their mentors for advice and their mentors call them with questions. Finally, they have become peers—and friends—at the same time.
The doctoral process "was a long one, and I am still amazed at how much I matured as an investigator and a person during my time at Pitt," said Haller, who completed his doctorate in archaeology under the guidance of Drennan.
"Overall, the best testament to how influential Dr. Drennan's mentoring is the fact that I have implemented the same strategies in my own teaching, research, and mentoring. … Therefore, not only did Dr. Drennan have a great impact on my academic life, he has indirectly influenced the success of students here at St. Francis Xavier University, and many more to come in the future," Haller said.
Four Pitt Faculty Members Win 2008 Provost's Award for Excellence in Mentoring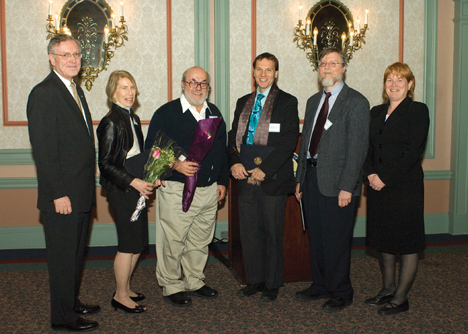 Four members of the University of Pittsburgh faculty are recipients of the 2008 Provost's Award for Excellence in Mentoring, an honor that recognizes faculty for their mentoring of doctoral students. This is the third year the awards have been granted.
The awardees were selected from 31 nominations made by Pitt doctoral students and faculty.
The honorees are Louise Comfort, professor of public and urban affairs in the Graduate School of Public and International Affairs; Donald DeFranco, professor of pharmacology in the School of Medicine; Leon Gleser, professor of statistics in the School of Arts and Sciences; and Kenneth Jordan, Distinguished Professor of Computational Chemistry in the School of Arts and Sciences. Each of the four winners will receive a cash prize of $2,500.
"Fundamental to the success of our doctoral training programs are the faculty members who serve as mentors to our graduate students," said Pitt Provost and Senior Vice Chancellor James V. Maher. "Our faculty mentors provide intellectual and professional guidance that helps support, encourage, and promote the growth of our students. The faculty selected for these awards exemplify our commitment to the excellence of graduate education at the University of Pittsburgh."
Brief biographies of the recipients follow.
Louise Comfort is a fellow of the National Academy of Public Administration and a Fulbright Senior Scholar. Comfort has chaired 16 doctoral dissertations, served on 22 doctoral dissertation committees, and is currently advising 11 additional students. Her students have participated in a variety of research projects, including the Interactive, Intelligent Spatial Information System (IISIS), which is computational software that helps community leaders manage risk during disasters and better link communities together when public safety is at risk. Comfort, who directs the operation, and the IISIS team have spent several years researching and compiling data and are now conducting field demonstrations in the Pittsburgh metropolitan region. Alumni who have studied under Comfort have gone on to hold both academic positions and high-level policy-setting administrative positions throughout the world.
Donald DeFranco has made significant contributions to the graduate experience of all pharmacology students as the current graduate director. A number of projects in his laboratory are focused on examining the molecular basis of neuronal cell death. He has implemented a student journal club where students sponsor the presentation of a paper by the weekly invited visiting seminar speaker and later meet with the visiting scientist to discuss the paper. Throughout the past 23 years, DeFranco has advised 17 doctoral students and is currently advising three others. His students have been very successful in securing tenure-stream or postdoctoral positions at distinguished medical schools.
Leon Gleser has, since the inception of the Department of Statistics in 1997, advised all incoming students in his role as graduate director. He has enjoyed a distinguished research career and was the executive editor of Statistical Science. Gleser has supervised a total of 23 doctoral dissertations, 10 of which have been at Pitt. He is currently advising three other students. His students have been placed in tenure-stream or postdoctoral positions at Harvard University, the Cleveland Clinic, and Vanderbilt University, among others.
Kenneth Jordan is the director of the University's Center for Molecular and Materials Simulations and a Fellow of the American Association for the Advancement of Science. He also is a member of Pitt's Petersen Institute for Nanoscience and Engineering and an associate faculty member in the Department of Computational Biology. Jordan is an expert in the use of theoretical and computational methods for understanding the properties of molecules, clusters, and surfaces. In recent years, he has been especially interested in hydrogen bonding and how excess electrons and protons localize in clusters of water. Jordan's research on water was included in Science magazine's top 10 scientific breakthroughs of 2004. During the past 30 years at Pitt, Jordan has advised 23 doctoral students and is currently advising six others. His former students maintain successful research careers at both research universities and national laboratories.
—By Amanda Leff
Provost's Award for Excellence in Mentoring
2008 Winners
Louise Comfort, professor of public and urban affairs in the Graduate School of Public and International Affairs

Donald DeFranco, professor of pharmacology and chemical biology in the School of Medicine, member of the Pittsburgh Institute for Neurodegenerative Diseases

Leon Gleser, professor of statistics in the School of Arts and Sciences

Kenneth Jordan, Distinguished Professor of Computational Chemistry in the School of Arts and Sciences, director of the Center for Molecular and Materials Simulations
2007 Winners
Kathleen M. Blee, Distinguished Professor of Sociology in the School of Arts and Sciences

Nancy Day, professor of psychiatry in the School of Medicine

Robert Drennan, Distinguished Professor of Anthropology in the School of Arts and Sciences

Noreen Garman, professor of administrative and policy studies in the School of Education
2006 Winners
Celia Brownell, professor of psychology in the School of Arts and Sciences

Katheryn Linduff, professor in the Department of the History of Art and Architecture in the School of Arts and Sciences

Esther Sales, professor in the School of Social Work

Alan Sved, professor of neuroscience in the School of Arts and Sciences, codirector of the Center for Neuroscience
Other Stories From This Issue
There are no stories for the issue at this time.
On the Freedom Road

Follow a group of Pitt students on the Returning to the Roots of Civil Rights bus tour, a nine-day, 2,300-mile journey crisscrossing five states.
Day 1: The Awakening
Day 2: Deep Impressions
Day 3: Music, Montgomery, and More
Day 4: Looking Back, Looking Forward
Day 5: Learning to Remember
Day 6: The Mountaintop
Day 7: Slavery and Beyond
Day 8: Lessons to Bring Home
Day 9: Final Lessons