Asian Studies Center Presents Asia Over Lunch Lecture Series
Issue Date:
January 26, 2009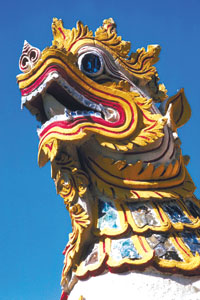 The University of Pittsburgh's Asian Studies Center will present the Spring 2009 Asia Over Lunch lecture series at noon on Thursdays, beginning Jan. 29 in 4130 Posvar Hall. Asian Studies is part of Pitt's University Center for International Studies.
The dates, presenters, and lecture titles follow:
Jan. 29–Siddharth Chandra, a Pitt professor of international affairs and director of the Asian Studies Center, "Marijuana Policy and Consumption in India: A Historical Perspective";
Feb. 5–Huiping Xie, doctoral candidate in Pitt's Graduate School of Public and International Affairs,  "What Advances Community-driven Development? A Cultural Perspective of Gender Mainstreaming and Self-organization Mechanisms in the Rural Areas of China";
Feb. 12–Asif Khan, Jie Cui, and Muriel Zhou, Pitt doctoral candidates in education, "Gender and Higher Education in Pakistan";
Feb. 19–Seung-Hwan Shin, Pitt doctoral candidate in English, "Tale of Two Koreas: Division System, Semi-sovereignty, and Broken Subjectivity in Shiri and JSA";
Feb. 26–Lee Branstetter, professor of economics and public policy in Carnegie Mellon University, "Will India and China Dominate the 21st Century Global Economy?";
March 5–Hiro Good, librarian in Pitt's East Asian Library, "Guide to New Japanese Digital Resources: Asahi Shinbun Database and Institutional Depositories";
March 19–Donald Goldstein, Pitt professor of public and international affairs and interim director of the Matthew B. Ridgway Center, "Pearl Harbor: The Relevance of the Attack 68 Years Later"; and
March 26–Clark Chilson, Pitt assistant professor of religious studies, "How to Hide a Religion: Dissimulation as a Transformative Process in the History of a Modern Secretive Shin Buddhist Association."
For more information, contact the Asian Studies Center at 412-648-7370.
Other Stories From This Issue
There are no stories for the issue at this time.
On the Freedom Road

Follow a group of Pitt students on the Returning to the Roots of Civil Rights bus tour, a nine-day, 2,300-mile journey crisscrossing five states.
Day 1: The Awakening
Day 2: Deep Impressions
Day 3: Music, Montgomery, and More
Day 4: Looking Back, Looking Forward
Day 5: Learning to Remember
Day 6: The Mountaintop
Day 7: Slavery and Beyond
Day 8: Lessons to Bring Home
Day 9: Final Lessons