Audrey Murrell Wins Award For Promoting Social Justice
By Sharon S. Blake
Issue Date:
March 3, 2008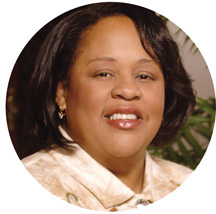 Audrey Murrell, a Pitt professor of business administration in the Joseph M. Katz Graduate School of Business and College of Business Administration, is the recipient of the inaugural Iris Marion Young Award for Political Engagement.
The award honors Iris Marion Young, a philosopher and social theorist of international renown who was a professor in Pitt's Graduate School of Public and International Affairs (GSPIA) during the 1990s before taking a position at the University of Chicago in 2000. She died of cancer in 2006. During her time in Pittsburgh, Young volunteered and organized on behalf of peace and social justice, fair labor practices, adult literacy, and children's rights, among other causes. She also worked to combat hate groups and poverty. The award, intended to pay tribute to Young's work in promoting social justice and democracy, is sponsored by GSPIA and the Pitt Women's Studies Program, part of the School of Arts and Sciences.
Murrell will accept the honor at a 5 p.m. reception March 6 in the Lower Lounge of the William Pitt Union.
She was selected from a field of 25 nominees representing Pitt faculty, students, and alumni, many of whom have engaged in activities that have had political impact within the University community and beyond.
"She plays to perfection that most important of academic roles—that of a public scholar," said John C. Camillus, executive associate dean and Donald R. Beall Professor of Strategic Management in the Katz School. "Her research speaks to issues of significance and immediacy to the community," he added.
For Murrell, the award carries with it special meaning.
"My energy is consistently directed toward ways to ensure social justice and to support social responsibility," she said, calling these issues a "common thread" that runs through all of her work and service.
Murrell is director of the Katz School's David Berg Center for Ethics and Leadership and also holds appointments in Arts and Sciences' Department of Psychology and in GSPIA. She publishes, teaches, and serves as a consultant in the areas of mentoring, workforce diversity, and leadership development, particularly for women.
She has been active in Leadership Pittsburgh, Family Services of Western Pennsylvania, and the Minority Enterprise Corporation of Southwestern Pennsylvania. She serves as board chair for Urban Youth Action, Inc.; board secretary for the North Side Christian Health Center; and as a board member for Manchester Citizens Corporation.
Murrell's institutional leadership and social activism have already brought her many honors, among them winning the Chancellor's Distinguished Public and Community Service Award in 1998.
Other Stories From This Issue
There are no stories for the issue at this time.
On the Freedom Road

Follow a group of Pitt students on the Returning to the Roots of Civil Rights bus tour, a nine-day, 2,300-mile journey crisscrossing five states.
Day 1: The Awakening
Day 2: Deep Impressions
Day 3: Music, Montgomery, and More
Day 4: Looking Back, Looking Forward
Day 5: Learning to Remember
Day 6: The Mountaintop
Day 7: Slavery and Beyond
Day 8: Lessons to Bring Home
Day 9: Final Lessons