Audubon Day: Pitt's Detailed Prints of Beautiful Birds Take Flight
By Sharon S. Blake
Issue Date:
November 2, 2015
More than two dozen original prints from John James Audubon's Birds of America will be on display at the University of Pittsburgh on Nov. 6 as Pitt's University Library System hosts its fifth annual Audubon Day, which is free and open to the public.
The collection of these hand-colored, life-sized prints of a variety of birds will be shown from 9 a.m. to 4:45 p.m. in Room 363 of Hillman Library.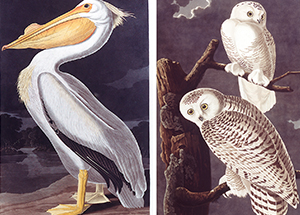 The images are from Pitt's copy of Birds of America, which comprises 435 individual prints. One of the rare complete sets, it is the single most-valuable set of materials in the University Library System, donated to Pitt by the family of William M. Darlington. Audubon's famous work was just part of the Darlington family gift—it also included historical materials, military manuscripts, books, maps, and atlases.
Allan Stypeck, president of Second Story Books, Inc., will be the featured speaker for Audubon Day. His free public talk, from 10 to 11:30 a.m. in the Amy Knapp Room on Hillman's ground floor, will place the Audubon prints within the broader context of the complete Darlington Collection.
Stypeck, who once cohosted The Book Guys on NPR, frequently works with private individuals and institutions on their collections. He built Second Story Books, Inc., into one of the largest used, out-of-print, and rare bookstores in the nation. It has locations in Washington, D.C., and Rockville, Md.
Pitt's Audubon Day celebrates sharing the national treasure of Birds of America with students, the public, and the Pitt community, who will have the opportunity to learn more about our region's history through Darlington's collecting interests.
For more information, contact Jeanann Croft Haas at 412-648-8199 or jeanann@pitt.edu.
Other Stories From This Issue
There are no stories for the issue at this time.
On the Freedom Road

Follow a group of Pitt students on the Returning to the Roots of Civil Rights bus tour, a nine-day, 2,300-mile journey crisscrossing five states.
Day 1: The Awakening
Day 2: Deep Impressions
Day 3: Music, Montgomery, and More
Day 4: Looking Back, Looking Forward
Day 5: Learning to Remember
Day 6: The Mountaintop
Day 7: Slavery and Beyond
Day 8: Lessons to Bring Home
Day 9: Final Lessons