Issue Date:
June 23, 2008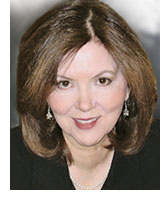 Two Computing Services and Systems Development (CSSD) projects—involving implementation of an innovative enterprise storage solution and guest wireless computing access—were recognized as Laureates by the IDG's Computerworld Honors Program during the 20th Annual Laureates Medal Ceremony and Gala Awards Evening in Washington, D.C.
Since 2003, the Computerworld Honors Program has selected the University of Pittsburgh for more than 15 awards for computing projects.
"Computerworld is a widely respected publication in the IT world, and we are honored to be recognized again by its Honors Program," said Jinx Walton (right), director of Pitt's CSSD.
The winning projects were:
"Enterprise Storage Solution Provides Cost Savings and Improved Infrastructure," an entry in the Business and Related Services category. The IBM Corp. nominated Pitt for this award; and
"Providing Guest Wireless Access in a Large University Environment," an entry in the Education and Academia category. The nominating company for this award was Cisco.
For two decades, the Computerworld Honors Program has acknowledged those individuals and organizations that have used information technology to benefit society. It unites chairs and CEOs of the world's foremost information technology companies to recognize the most outstanding user achievements in technology each year.
The technology achievements honored by this program are preserved and protected in national archives and in more than 350 universities, museums, and research institutions throughout the world. Each year, members of the Chairmen's Committee, a group of 100 chairs and CEOs of global technology companies, nominate individuals and organizations around the world whose visionary applications of information technology promotes positive social and economic progress.
Neil Resnick, professor of medicine and director of Pitt's Institute on Aging, was honored as the 2008 Distinguished Professor by the Society of General Internal Medicine (SGIM). The objective of the Distinguished Professor program is to raise the visibility of aging-related research and education among SGIM members through a series of sponsored educational and mentorship activities during the annual meeting. The ultimate goal is to improve the care of older persons.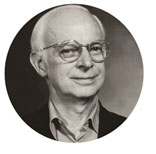 Rolf Loeber (left), Distinguished University Professor of Psychiatry and professor of psychology and epidemiology in the School of Medicine, recently received two distinguished honors. He was elected a member of the Royal Dutch Academy of Sciences, a select group of scientists who promote the quality of scientific and scholarly work. Loeber's election was based on his work in criminology and developmental psychopathology. In addition, he was elected as an honorary member of the Royal Irish Academy for his work in Irish history, architecture, and literature.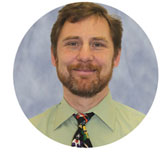 Samuel Stebbins (right), director of the Graduate School of Public Health's Center for Public Health Preparedness, has been accepted as a scholar of the National Public Health Leadership Institute (PHLI), a one-year leadership development program for high-potential leaders with a commitment to leading their own organizations and communities. The goal of PHLI is to create new public health leaders who will help lead change in the public health system.
Jennifer Grandis, professor of otolaryngology and pharmacology in Pitt's School of Medicine and program leader of the University of Pittsburgh Cancer Institute's head and neck cancer program, was recently awarded a clinical professorship from the American Cancer Society. Grandis, one of only three recipients of a clinical professorship this year, will receive $400,000 over five years.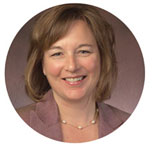 Doris M. Rubio (left), associate professor of medicine, biostatistics, and nursing and director and codirector, respectively, of the School of Medicine's Center for Research on Health Care Data Center and Institute for Clinical Research Education, has been selected by the Hedwig van Ameringen Executive Leadership in Academic Medicine (ELAM) Program for Women, a core program of the Institute for Women's Health and Leadership at Drexel University College of Medicine, as one of the 2008-09 ELAM fellows. This is the only national program dedicated to preparing senior women faculty for leadership at academic health centers.
Jennifer Lingler, an assistant professor in Pitt's School of Nursing, was recently awarded the Brookdale Leadership in Aging Fellowship from the Brookdale Foundation. This competitive national award was created to encourage emerging leaders in the field of aging. The fellowship provides two years of support to junior academics to focus on a project that will help establish them in an area of aging research.
Annette DeVito Dabbs, assistant professor in the Department of Acute and Tertiary Care in the School of Nursing, won this year's award for the best research presentation by a nurse or social scientist for her abstract, "A Randomized Controlled Pilot Trial of Pocket PATH vs. Standard Care and Early Self-Care Behaviors after Lung Transplantation," at the International Society for Heart and Lung Transplantation 28th Annual Meeting and Scientific Sessions held in Boston in April.
Diane Helsel, assistant professor in Pitt's School of Health and Rehabilitation Sciences, was awarded the Pennsylvania Dietetic Association's 2008 Outstanding Dietetics Educator Award, which recognizes excellence in teaching, mentoring, and leadership of educators in the American Dietetics Association-accredited dietetics education programs.
Leslie Davis, president of Magee-Womens Hospital of UPMC, will be the Executive in Residence for the 2008-09 academic year in the Department of Health Policy and Management in Pitt's Graduate School of Public Health. The Executive in Residence program fosters better relationships between the Health Administration Program and the world of practice for the advantage of both the students and faculty of the program.
Pitt's University Center for Social and Urban Research (UCSUR) announced the recipients of the 8th Annual Steven D. Manners Faculty Development Award. Winners are assistant professor Peter J. Gianaros and professor J. Richard Jennings, both in the School of Medicine's Department of Psychiatry; Elizabeth LaRue, an instructor in the School of Nursing's Department of Health and Community Systems; and Keith H. Morgenlander, an assistant professor in Pitt's Department of Medicine.
Gianaros and Jennings received an award for their project, titled "A Teaching and Student Research Laboratory for Integrative Biological and Psychosocial Assessments," to equip and design a research laboratory that will provide faculty and students with the opportunity to develop, acquire, and disseminate new research skills in relating biological measures to concepts in the social, behavioral, and policy sciences. LaRue's project, titled "The Validity and Utility of a Tool for Evaluating Web Pages Presenting Health Content," will be used to establish the validity of SPAT, a mnemonic tool used by people to help them pre-evaluate Web page health information for accuracy.
Morgenlander's project, titled "Assessing Health-Seeking Behaviors, Fatalism and Cancer Knowledge by Reticent, Difficult-to-Reach Populations in McKeesport, Pa.," will develop a pilot survey research program that assesses care-utilization behaviors in remote populations. The Steven D. Manners, Awards are given in memory of Manners, who was UCSUR's assistant director when he died in September 2000.
ACADEMY PRESIDENT
Jeffrey Schwartz was installed as president of the World Academy of Art and Science (WAAS) during an international conference on global warming held this past semester on the University of Pittsburgh campus. Schwartz, who coordinated the conference, will serve as WAAS president for four years. He is a professor in Pitt's Departments of Anthropology and History and Philosophy of Science and a fellow in the University's Center for Philosophy of Science. Standing with Schwartz is Pitt Chancellor Mark A. Nordenberg.
Other Stories From This Issue
There are no stories for the issue at this time.
On the Freedom Road

Follow a group of Pitt students on the Returning to the Roots of Civil Rights bus tour, a nine-day, 2,300-mile journey crisscrossing five states.
Day 1: The Awakening
Day 2: Deep Impressions
Day 3: Music, Montgomery, and More
Day 4: Looking Back, Looking Forward
Day 5: Learning to Remember
Day 6: The Mountaintop
Day 7: Slavery and Beyond
Day 8: Lessons to Bring Home
Day 9: Final Lessons