Issue Date:
July 21, 2008
Andrew F. Stewart, professor and chief of the Division of Endocrinology and Metabolism, Department of Medicine, University of Pittsburgh School of Medicine, was honored by The Endocrine Society during the organization's 90th annual meeting on June 20 in San Francisco. Stewart delivered the society's 2008 Gerald D. Aurbach Award Lecture, in recognition of his outstanding contributions to endocrinology research.
Considered an international authority in disorders of bone and mineral metabolism, Stewart leads investigations involving translational and basic science research of pancreatic beta islet cell function in individuals with diabetes. He was the first to characterize humoral hypercalemia of malignancy, a syndrome that is a common cause of death in patients with breast, lung, and other cancers, in complete biochemical detail.
The Aurbach Award is given by The Endocrine Society in honor of the late Gerald D. Aurbach, who served as society president from 1989 to 1990. The award was first presented in 1993.

Anthony Grace, a professor of neuroscience, psychiatry, and psychology in Pitt's Department of Neuroscience, received the 2008 CINP-Lilly Neuroscience Basic Research Award for his research into the biological bases of psychiatric disorders.
The award is presented by the Collegium Internationale Neuro-Psychopharmacologicum and pharmaceutical company Eli Lilly to a researcher younger than 55 who has made significant contributions to the understanding of the nervous system. Grace accepted the award July 13 in Munich at CINP's 26th congress. CINP is the world's sole global organization dedicated to neuropsychopharmacology.
The CINP-Lilly award acknowledges Grace's work to determine the modes of action of psychiatric drugs by creating models of neuron activity that expose the biological and chemical roots of mental disorders. The award pertains in particular to his research into the neurobiology of schizophrenia and the resulting interplay between medication and the brain's neurotransmitters.
Freddie H. Fu was installed as the 37th president of the American Orthopaedic Society for Sports Medicine (AOSSM) during the society's annual meeting in Orlando, Fla. Fu is a professor and chair of the Department of Orthopaedic Surgery in the University of Pittsburgh School of Medicine and founding medical director in the UPMC Center for Sports Medicine.
Fu is known worldwide for his pioneering surgical techniques to treat sports-related injuries to the knee and shoulder and his extensive scientific and clinical research in biomechanics. Under Fu's leadership, the UPMC Center for Sports Medicine has grown into one of the world's largest and most comprehensive sports medicine clinical and research centers. Fu is the head team physician for the University's Department of Athletics.
Fu joined the medical school faculty in 1982 as an assistant professor of orthopaedic surgery and director of sports medicine. He became clinical vice chair of the Department of Orthopaedic Surgery in 1990 and executive vice chair in 1994. He is the editor of 28 major orthopaedic textbooks and also serves on the editorial boards of, and as a reviewer for, many orthopaedic journals, including the American Journal of Sports Medicine, Arthroscopy, and the Journal of Bone and Joint Surgery.
Alan H. Teich, associate professor of psychology and natural sciences at the University of Pittsburgh at Johnstown, has been named interim vice president for academic affairs at Pitt-Johnstown.
Teich joined the Pitt-Johnstown faculty in 1987 as an assistant professor of psychology and natural sciences. He was promoted to associate professor in 1993. He received his doctoral degree in behavioral medicine from the University of Miami, his master's degree in experimental psychology from the State University of New York at Geneseo, and his bachelor's degree in psychology from the State University of New York at Brockport.
As a member of the Pitt-Johnstown faculty, Teich has served as the chair of the Department of Psychology and Division of Natural Sciences, and he has been a member of numerous University committees. He is very active in his field and has conducted extensive research on the effects of stress on the human body, experimental pain, and the effects of divorce on children. His research has appeared in several professional journals, including
Behavioral Brain Research, Behavioral Neuroscience, Perspectives in Behavioral Medicine, and Physiology and Behavior.
Michael Madison, professor of law and associate dean for research in the University of Pittsburgh School of Law, is one of four law professors and other experts who served on a committee to develop a Code of Best Practices in Fair Use for Online Video to guide creators of online entertainment.
Sponsored by the American University's Center for Social Media, the committee was cochaired by Peter Jaszi, professor of law and faculty director of the Glushko-Samuelson Intellectual Property Clinic at American's Washington College of Law, and Patricia Aufderheide, professor and director of the social media center in American's School of Communication.
Madison had a similar role on the board of an earlier project—a statement of best practices for fair use in documentary filmmaking—on which the current project is based.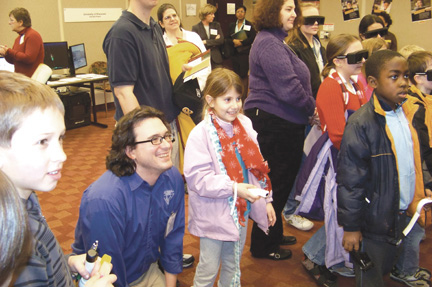 The Pittsburgh Supercomputing Center (PSC) won the Best Demonstration at TG08 award during the annual conference of the TeraGrid, a National Science Foundation program of cyberinfrastructure for U.S. science and education. A PSC team of two scientists, Shawn Brown and Philip Blood, and University of Pittsburgh student intern Jordan Soyke received the award for WiiMD, an innovative project that merges the video-game technology of the Nintendo Wii with interactive supercomputing. Brown (second from left) demonstrates WiiMD to visiting students at a National Science Foundation open house in Arlington, Va. The PSC is a joint effort of the University of Pittsburgh and Carnegie Mellon University together with the Westinghouse Electric Company.
Other Stories From This Issue
There are no stories for the issue at this time.
On the Freedom Road

Follow a group of Pitt students on the Returning to the Roots of Civil Rights bus tour, a nine-day, 2,300-mile journey crisscrossing five states.
Day 1: The Awakening
Day 2: Deep Impressions
Day 3: Music, Montgomery, and More
Day 4: Looking Back, Looking Forward
Day 5: Learning to Remember
Day 6: The Mountaintop
Day 7: Slavery and Beyond
Day 8: Lessons to Bring Home
Day 9: Final Lessons