Issue Date:
July 23, 2007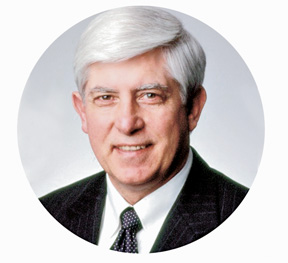 Donald S. Burke, dean of Pitt's Graduate School of Public Health (GSPH) and the University's associate vice chancellor of global health, has been named an Ambassador in Research!America's Paul G. Rogers Society for Global Health Research. As such, Burke is one of 50 of the nation's foremost global health experts who have joined forces to increase awareness about the critical need for greater U.S. public and private investment in global health-related research.
The society, named for Paul G. Rogers, a former Florida Congressman and a champion of research to improve health, was established in 2006 by the organization Research!America with funding from the Bill and Melinda Gates Foundation. In its first two years, the society's advisory council—which includes three Nobel Laureates—has selected 50 of the nation's leading scientist-advocates to serve as ambassadors.
"Our nation's leaders must understand that increased U.S. investment in global health research will help improve health conditions in impoverished countries and also help to prevent the emergence and spread of diseases that can endanger Americans here and abroad," said Burke. "Put simply, it's a matter of national security."
As GSPH dean, Burke leads one of the nation's preeminent public health schools. Burke, who was recruited to Pitt from the Johns Hopkins Bloomberg School of Public Health last year, also directs the University's Center for Vaccine Research, serves as associate vice chancellor for global health, and became the first holder of the University of Pittsburgh Medical Center Jonas Salk Chair in Global Health.
Research!America is the nation's largest not-for-profit public education and advocacy alliance working to make research to improve health a higher national priority.
Colin MacCabe, University of Pittsburgh Distinguished Professor of English and Film, has been awarded a $1,060,000 grant from the Arts and Humanities Research Council (AHRC) of the United Kingdom.
The grant will fund MacCabe's research project, titled "Colonial Film: Moving Images of the British Empire." With the award, MacCabe will categorize a collection of more than 4,000 British films ranging from pre-1900 productions to television-era programming. Currently the films are poorly catalogued and lack contextual and interpretative information.
According to MacCabe, the project's goal is to make these historical films available to a broad audience. A Web site will be established for scholars, researchers, and the public to access the films. The award will fund the production of a new catalogue of colonial films for the National Film and Television Archive at the British Film Institute and a new film catalogue at the British Empire and Commonwealth Museum. It also will enhance the existing catalogue of colonial films at the Imperial War Museum.
Established in April 2005, AHRC is a research council that supports innovative study of the arts and humanities. It is a nondepartmental public body sponsored by the U.K.'s Office of Science and Innovation.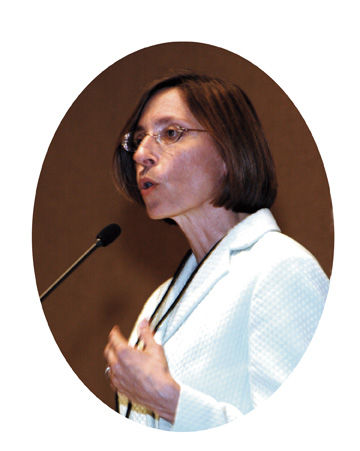 The National Association of College and University Attorneys (NACUA) has presented its First Decade Award to Pitt Associate General Counsel Theresa Colecchia. The award recognizes university attorneys who have been NACUA members for 10 or fewer years and have made "a significantly innovative contribution, or provided outstanding service, to the association and to the practice of higher education law."
Colecchia has frequently spoken at NACUA conferences and continuing legal education workshops on issues relating to sponsored research, intellectual property, and human subject research. She is the editor of the NACUA compendium, Legal Issues in Sponsored Research Programs: From Contracting to Compliance. NACUA's committee on honors called Colecchia the "go-to" person among her colleagues both within and outside of NACUA on the subject of sponsored research.
Anthony Delitto, a professor in the physical therapy department in Pitt's School of Health and Rehabilitation Sciences, is a 2007 recipient of the Lucy Blair Service Award from the American Physical Therapy Association. Delitto also was invited to be a keynote speaker at the World Confederation for Physical Therapy, held in Vancouver in June 2007.
Jaime B. Talkowski, an instructor and doctoral student in the School of Health and Rehabilitation Sciences, was recently awarded the Promotion of Doctoral Studies II Award by the Foundation of Physical Therapy. The award is a scholarship for outstanding research potential and academic performance.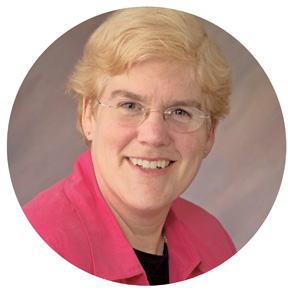 Susan Whitney, a professor in the School of Health and Rehabilitation Sciences, was recently named a Catherine Worthingham Fellow of the American Physical Therapy Association (APTA). The fellowship honors individuals whose work has resulted in lasting, significant advances in the science, education, and practice of physical therapy. Five to nine people are chosen each year for the fellowship, and there are fewer than 100 fellows in the United States.
Joseph T. Hanlon, a Pitt professor of geriatric medicine and pharmacy and a research health scientist in the VA Pittsburgh Healthcare System, received the 2007 Edward Henderson Award and was the invited presenter of the Henderson State-of-the-Art Lecture, which focused on medication-related adverse events in geriatric patients. The lecture and awards ceremony were held during the American Geriatrics Society Annual Meeting in Seattle, May 2-6, 2007.

Kristine Schonder, an assistant professor in Pitt's School of Pharmacy, has been named a member of the Steering Committee and Technical Advisory Panel for the National Quality Forum to develop national voluntary consensus standards for end-stage renal disease care. Schonder is the only pharmacist on the 22-member committee.
The purpose of the project, funded by the Centers for Medicare and Medicaid, is to identify and endorse measures for public accountability and quality improvement related to end-stage renal disease care at both the facility and physician levels
The University of Pittsburgh Medical Center (UPMC) has once again received national recognition for its clinical programs, earning 13th position in the U.S. News & World Report magazine's annual "America's Best Hospitals" ranking. The 2007 results place UPMC one notch higher than last year and mark its eighth appearance on the prestigious Honor Roll, which includes only 18 hospitals nationwide.
In addition, UPMC is nationally ranked in 14 of the 16 medical specialties surveyed and is the only local hospital to receive recognition in any category.
Of 5,462 hospitals in the nation that were eligible, fewer than 1 percent, or 18 hospitals, made the Honor Roll, and only 173 were ranked in one or more specialties. Hospitals earned Honor Roll status by listing at or near the top in at least six specialties—"a demonstration of broad expertise," according to the magazine.
The specialty rankings for UPMC are: third in ear, nose and throat; eighth in geriatrics; 10th in rheumatology; 11th in psychiatry; 12th in cancer, gynecology (Magee-Womens Hospital of UPMC), neurology and neurosurgery, and orthopaedics; 14th in kidney disease; 16th in respiratory disorders; 18th in rehabilitation; and 27th in digestive disorders, endocrinology, and urology.
The 2007 America's Best Hospitals rankings appear in the July 25 edition of U.S. News & World Report magazine, which hit newsstands on July 16. Rankings also appear on www.USNews.com/.
Other Stories From This Issue
There are no stories for the issue at this time.
On the Freedom Road

Follow a group of Pitt students on the Returning to the Roots of Civil Rights bus tour, a nine-day, 2,300-mile journey crisscrossing five states.
Day 1: The Awakening
Day 2: Deep Impressions
Day 3: Music, Montgomery, and More
Day 4: Looking Back, Looking Forward
Day 5: Learning to Remember
Day 6: The Mountaintop
Day 7: Slavery and Beyond
Day 8: Lessons to Bring Home
Day 9: Final Lessons