Back to School/Sharpening the Competitive Edge
By Patricia Lomando White
Issue Date:
August 19, 2008
Pitt's Outside the Classroom Curriculum is designed to encourage students to broaden their experiences, education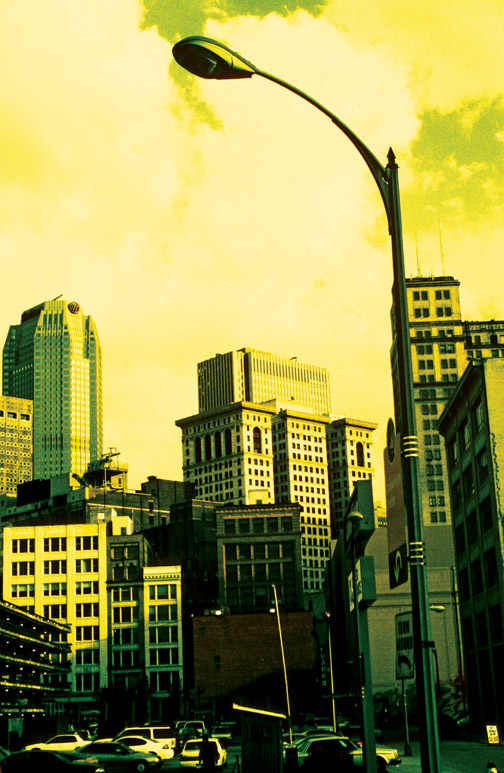 Competition is the name of the game in academics, business, sports, and life—and University of Pittsburgh students are no strangers to the game. Now, Pitt students can enhance their skills outside the classroom and sharpen their competitive edge.
Beginning this fall, Pitt will introduce the Outside the Classroom Curriculum (OCC), a Universitywide initiative that includes a series of extracurricular programs and experiences to complement students' academic studies. It is designed to help students develop important personal attributes and professional skills needed for future success.More than two years in the making, OCC is unique in its scope. "There are some schools that have bits and pieces of a structured, outside-the-classroom curriculum," said Kathy W. Humphrey, Pitt vice provost and dean of students. "But, from what we can determine, no other major university has a program in place to support education of the whole student with this level of depth and breadth.
"The OCC is based on the Pitt Pathway, a set of resources—such as career counselors, faculty, and student organizations—that help students find their paths to academic, personal, and professional success. OCC focuses on nine key areas: leadership development, career preparation, communication skills, healthy lifestyle, understanding diversity, a sense of self, community participation, appreciation for the arts, and service to others.For each of the nine categories, OCC offers a wide range of activities to choose from and specifies the years in which they are to be completed.
The following sampling of the varied OCC activities in four categories reveals the program's breadth.In the leadership category, students can complete the Emerging Leaders Program, join a student organization, coordinate a book club or reading group, serve as an officer in a student organization, or serve as a facilitator in peer-mentor programs. In the career-preparation area, students can participate in the Career Development Explore program, attend a career development session, meet with a career counselor, attend the mandatory book discussion on the new OCC program during orientation, or develop a résumé.
In the healthy lifestyle category, students can participate in a recreational or physical activity for two hours a week, visit the Student Health Service Open House, learn how to read a nutrition facts label, or maintain a healthy diet and body weight.In the appreciation for the arts area, students can compose poetry, develop creative poster presentations for research or class projects, perform in a campus or off-campus production, serve as a PITT ARTS host, or assist with fundraising for the arts.
Students who complete the OCC requirements will receive an Outside the Classroom Curriculum "transcript" documenting their participation; they also will receive a green cord of distinction to wear at commencement. Most importantly, according to Humphrey, students will have numerous opportunities to gain and sharpen skills that will make them more successful as students and Pitt graduates.
Derived from goals for undergraduate students established by Pitt's Office of the Provost, OCC was developed by a campuswide committee comprising students, faculty, and staff.According to Pitt Provost and Senior Vice Chancellor James V. Maher, employers and admissions officers at graduate and professional schools, when surveyed, consistently express interest in graduates who write and speak well, have excellent computer and mathematical skills, demonstrate sophisticated quantitative reasoning, think clearly, read critically, make good decisions, and understand the diversity of cultures in the United States and throughout the world."In short, they are looking for a sophisticated, well-rounded person," said Maher. "What excites me about OCC is that our campus collaborated to develop a structured way for students to accomplish this goal. This enhanced Pitt Pathway is flexible, yet intentional; it is designed to encourage and challenge."Humphrey said she hopes the OCC will "help students maximize their Pitt experience and gain a competitive edge in whatever field they choose to pursue. From the moment students arrive on campus, we want them to be thinking about their future—what skills and attributes they should be developing both in and outside the classroom. "Mostly, we are eager to help students be transformed into the men or women they want to become," she added.Incoming freshmen will be introduced to OCC at orientation training sessions. In addition, resident assistants will conduct training sessions on each floor of the residence halls to help students determine which programs and activities are best suited for them. Several of the OCC orientation programs fulfill OCC requirements, giving freshmen a jump start.
Second-year students and upperclassmen will be able join the curriculum as well. While students can participate in workshops, for example, to gain a credit toward one of the nine goals, they also can obtain credit for such things as attending a basketball game or a concert. Humphrey noted that OCC's goal isn't to make students' lives more difficult, but to give some credit in areas in which students already are involved. Other activities may put students outside their comfort zones and push them a bit.The message being sent is that "connecting to this institution is important to us," Humphrey said.
Pitt's Computing Services and Systems Development customized a software package to allow students to track their progress through my.pitt.edu. Students will have the ability to register for programs, track their attendance through a swipe-card system, and ultimately generate a transcript."By experiencing this diversified set of programs and activities, our students will clearly be able to document that they accepted the challenge of gaining diversified sets of skills and experiences as undergraduates," Humphrey said. "Plus, they will be able to articulate how their experiences have transformed their lives and made them the types of people a company wants to hire or that a school wants to admit."
Other Stories From This Issue
There are no stories for the issue at this time.
On the Freedom Road

Follow a group of Pitt students on the Returning to the Roots of Civil Rights bus tour, a nine-day, 2,300-mile journey crisscrossing five states.
Day 1: The Awakening
Day 2: Deep Impressions
Day 3: Music, Montgomery, and More
Day 4: Looking Back, Looking Forward
Day 5: Learning to Remember
Day 6: The Mountaintop
Day 7: Slavery and Beyond
Day 8: Lessons to Bring Home
Day 9: Final Lessons