The Beatles Still Draw Students at Pitt: Spring Course on Group Is Filled
By Sharon S. Blake
Issue Date:
January 12, 2009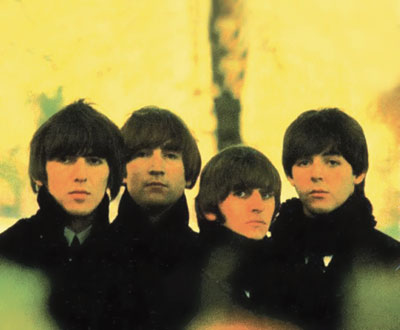 Don't be surprised to hear the strains of "I Saw Her Standing There" or "Lucy in the Sky With Diamonds" emanating from Room 132 in the Music Building this semester. That's where music professor Andrew Weintraub is teaching a course called Music of the Beatles to 40 undergraduate students.
The brainchild of former Pitt music professor and department chair David Brodbeck, the course explores the history and music of the most critically acclaimed band in rock-music history.
"The Beatles were strongly influenced by British pop music, dance hall ditties, American rockabilly, and rock 'n' roll, including Elvis Presley, Buddy Holly, Chuck Berry, and Little Richard," says Weintraub. "But they were extremely creative in reshaping those forms."
Students will hear the innovative recording techniques created by the Beatles and George Martin, their producer, arranger, and sound engineer. The course also will teach how The Beatles originated the concept of the rock album—one track progressing to another, almost telling a story.
Using the rich resources available—historical accounts, musicological studies of the Beatles' music, the Web, and biographical materials—Weintraub and his students will scrutinize the group's songs from a technical standpoint, looking at chord progressions and the development of style. Among the songs to be studied include "Please Please Me," "Let It Be," and the 1995-96 "Anthology," in which listeners can hear the musicians collaborating in the studio as they produced as many as 40 or 50 versions of one song.
Not all of the music heard by the class will stem from record albums and CDs.  Weintraub, a guitarist, and teaching assistant Matthew Heap, a pianist from England, also willplay their own musical examples. And while the course has attracted both music and nonmusic majors, Weintraub intends to assign all students at least one in-class song performance.
"Once they internalize it, sing it, and play it, they'll know it better," he says. "And they'll begin to understand the music's influence on society."
Weintraub says admiration for the Beatles continues to grow, as new generations discover the band's  music. He receives at least 10 new e-mails a day from students seeking a spot in the already-full class.
"There's no set answer as to why they're still so popular," Weintraub says, adding that his 11-year-old son listens to Beatles tunes on his iPod. "There's so much mystique surrounding them . . . and their influence is heard everywhere today."
Other Stories From This Issue
There are no stories for the issue at this time.
On the Freedom Road

Follow a group of Pitt students on the Returning to the Roots of Civil Rights bus tour, a nine-day, 2,300-mile journey crisscrossing five states.
Day 1: The Awakening
Day 2: Deep Impressions
Day 3: Music, Montgomery, and More
Day 4: Looking Back, Looking Forward
Day 5: Learning to Remember
Day 6: The Mountaintop
Day 7: Slavery and Beyond
Day 8: Lessons to Bring Home
Day 9: Final Lessons