Better Pediatrician-Parent Communication Could Improve Adolescent Health Outcomes
By Courtney McCrimmon
Issue Date:
February 3, 2014
Improved communication between pediatric providers and the parents and guardians of adolescents could lead to better health outcomes for the adolescents, according to a recent University of Pittsburgh School of Medicine study published in the journal Patient Education and Counseling.
Most

preventive health conversations between parents and providers take place when children are very young, but such communication is arguably even more important during the adolescent years, when adolescents' health choices could directly influence health outcomes, said the study's lead author, Aletha Akers, an assistant professor of obstetrics and gynecology within Pitt's School of Medicine.
Akers and her research team administered an anonymous, self-reported questionnaire to 358 parents who were accompanying their adolescent children on visits to general outpatient pediatric clinics at Children's Hospital of Pittsburgh of UPMC.
The questionnaire—which asked parents or guardians to assess the main health issues concerning their adolescents—relied on their ability to recall conversations with their adolescent's health care provider on a range of preventive health topics, including nutrition, mental health, physical activity, sexual activity, and substance abuse. Akers said most parents could recall discussing at least one preventive health topic with their adolescent's care provider. They were much more likely to recall discussing general prevention topics like physical activity and nutrition than they were to recall discussing more sensitive topics like sexual activity, substance abuse, and mental health issues.
The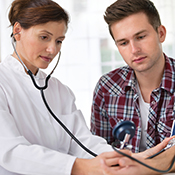 study's results, said Akers, could be the first step toward improving communication between pediatric care providers and parents and guardians. Adolescence is a relatively healthy period of life, she noted, and most health problems during this time result from participating in high-risk behaviors.
"By building on tools we already have in place," said Akers, "we can improve conversations about high-risk health behaviors, including incorporating screening and counseling practices into acute-care visits or visits for school physicals, since many adolescents miss their annual well-child check-ups. The use of electronic medical records can remind care providers of essential health topics that need to be discussed with adolescents and their guardians."
This study was funded by the National Institutes of Health and the Robert Wood Johnson Foundation.
Other Stories From This Issue
There are no stories for the issue at this time.
On the Freedom Road

Follow a group of Pitt students on the Returning to the Roots of Civil Rights bus tour, a nine-day, 2,300-mile journey crisscrossing five states.
Day 1: The Awakening
Day 2: Deep Impressions
Day 3: Music, Montgomery, and More
Day 4: Looking Back, Looking Forward
Day 5: Learning to Remember
Day 6: The Mountaintop
Day 7: Slavery and Beyond
Day 8: Lessons to Bring Home
Day 9: Final Lessons