Black History Month Ad Series to Highlight Prominent Alumni
By Jane-Ellen Robinet
Issue Date:
February 3, 2014
Four stellar records of achievement by four prominent Black alumni of the University of Pittsburgh:
An honors graduate of Pitt's School of Law and a legal scholar
A renowned reporter for one of the most influential Black publications in the United States
A Nobel Prize laureate and environmentalist
The first Black four-star general in the U.S. Army
As part of its annual celebration of February's Black History Month, the University of Pittsburgh will launch an advertising campaign featuring these four alumni who were trailblazers in their fields: Derrick A. Bell (LAW '57), a legal scholar and champion for justice; Frank Bolden (EDUC '34), a Pittsburgh Courier reporter and editor; Wangari Maathai (A&S '65), recipient of the 2004 Nobel Peace Prize; and Roscoe Robinson Jr. (GSPIA '64), the first African American four-star general in the U.S. Army.
The quarter-page, weekly ads will begin Feb. 5 in the New Pittsburgh Courier. The campaign highlights a sampling of the many outstanding contributions and "firsts" made by Pitt's Black alumni.
Brief biographies of the four alumni follow.
Derrick A. Bell (1930-2011), a champion for social justice, was immersed in civil rights issues and school-desegregation cases early in his law career. He became the first tenured Black professor at Harvard Law School and later one of the first Black deans of a law school that was not historically Black, the University of Oregon School of Law. During these years, he fought for race and gender diversity through his personal protests, as well as his scholarship. He resigned his deanship at the University of Oregon when the school failed to hire his chosen recruit, an Asian-American woman, for a faculty position there. At Harvard, he staged a sit-in and later took an unpaid leave of absence in similar expressions of protest. At Pitt, he served as a Distinguished Lecturer and Scholar in the School of Law during the 2005-06 academic year. Last year, the Pitt law school honored Bell's legacy with the designation of the Derrick A. Bell Constitutional Law Commons on the Barco Law Library's fifth floor.
Frank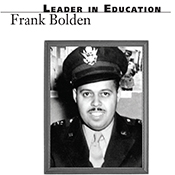 Bolden (1912-2003) began freelancing for The Pittsburgh Courier while he was a Pitt undergraduate. After receiving an education degree in 1934, he was turned down for a teaching job in Pittsburgh because of his race. He was eventually hired by The Pittsburgh Courier as a general assignment reporter and feature writer. He covered the cultural life of Wylie Avenue jazz clubs, and became one of the first accredited Black war correspondents during World War II in the still-segregated U.S. Army. Permitted only to cover African American units, Bolden was embedded with those units in Asia as they were helping to build an airstrip along the Burma Road. By 1945, The Pittsburgh Courier was the most influential Black newspaper in the nation, with a peak circulation of 400,000. He was promoted to city editor, and after leaving the paper for a two-year stint as a New York Times reporter, he returned to Pittsburgh in 1964 to become the assistant director of information for the Pittsburgh Board of Education.
Wangari Maathai (1940-2011) earned a master's degree in biology from Pitt in 1965 and, after spending several more years studying abroad, she returned to her homeland, Kenya, to find a deforested landscape that was threatening the local ecology as well as the livelihoods of farmers. She began a simple tree-planting project that paid rural women for each tree they planted and kept alive. Known as the Green Belt Movement, the project resulted in the planting of more than 20 million trees and led to her winning the 2004 Nobel Peace Prize. Maathai's movement also brought Kenyan citizens together to advocate for sustainable development, social justice, and democracy. Maathai died in 2011, but her Green Belt Movement continues to plant trees and advocate for a better world. To honor her legacy, Pitt planted and dedicated the Wangari Maathai Trees and Garden on the Cathedral of Learning's lawn.
Roscoe Robinson Jr. (1928-1993), who graduated from the U.S. Military Academy at West Point in 1951, earned the Bronze Star Medal for his service as a rifle company commander in the Korean War. In 1964, he earned a master's degree from Pitt's Graduate School of Public and International Affairs. During the Vietnam War, Robinson served as battalion commander for the 7th Cavalry Regiment, earning the Legion of Merit, the Distinguished Flying Cross, and 11 Air Medals. He was promoted to Brigadier General in 1975 and was appointed to command the U.S. Army Garrison in Okinawa, Japan. In 1976 he was promoted to major general and assigned to command the 82nd Airborne Division at Fort Bragg, North Carolina, becoming the first African American to hold that post. He achieved another "first" when he was promoted to a four-star general in 1982. He also served from 1982 to 1985 as U.S. Representative to NATO's Military Command in Brussels. Pitt's Graduate School of Public and International Affairs dedicated a classroom in his honor and created an annual Gen. Roscoe Robinson Jr. Lecture on Public Service and Diversity.
Other Stories From This Issue
There are no stories for the issue at this time.
On the Freedom Road

Follow a group of Pitt students on the Returning to the Roots of Civil Rights bus tour, a nine-day, 2,300-mile journey crisscrossing five states.
Day 1: The Awakening
Day 2: Deep Impressions
Day 3: Music, Montgomery, and More
Day 4: Looking Back, Looking Forward
Day 5: Learning to Remember
Day 6: The Mountaintop
Day 7: Slavery and Beyond
Day 8: Lessons to Bring Home
Day 9: Final Lessons