Black History Month Profile: A Good Sense of Direction
By Anthony M. Moore
Issue Date:
February 25, 2013
Pitt senior Matthew Sauers has a clear vision of what he wants to be after graduating from the University of Pittsburgh this spring: a leader in whatever he does. With a sense of drive and a focus well beyond his 21 years, the finance major is no stranger to taking charge.
Since arriving at Pitt in 2009 with a University Scholar academic scholarship, Sauers has been active in numerous student organizations. He is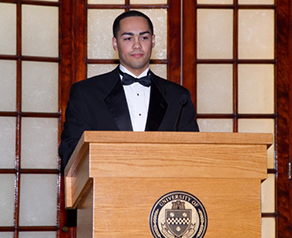 president of Pitt's Omicron Chapter of Alpha Phi Alpha Fraternity Inc., the nation's first intercollegiate fraternity for African Americans, and he has served as the vice president for the University's Roberto Clemente Minority Business Association. In addition, Sauers has worked as an undergraduate teaching assistant for Pitt's College of Business Administration and is also a member of the University's Blue & Gold Society.
Sauers' awards have included a National Black MBA Association scholarship from that organization's local chapter, a National Pan-Hellenic Council Academic Scholarship from the council's Pittsburgh alumni chapter, the Cecile Springer Diversity Scholarship from the Pitt Alumni Association, and the Blue Stars Leadership Award from Pitt's Division of Student Affairs and Student Government Board. He also was inducted into the Order of Omega, a national Greek leadership honor society that recognizes undergraduates who exhibit leadership in interfraternity activities.
On the Dean's List every semester except one, Sauers said he holds a 3.70 GPA. "I've always taken my grades very seriously. If getting that 'A' meant skipping out on the party to spend a Saturday evening at home studying, then that's what I had to do," said Sauers, a San Francisco native.
With his academic prowess and a penchant for getting involved, Sauers often finds himself leading organizations and running the show. "I enjoy assuming a lead role in most situations," he said.
His role in the Omicron Chapter's Centennial Celebration Weekend in January was a key one. An Alpha Phi Alpha member since the Spring 2011 semester, Sauers was actively involved in every phase of coordinating the weekend's festivities, which included a diversity seminar, an unveiling ceremony for an exhibition about the fraternity, and a candlelight vigil honoring the late civil rights leader and Alpha Phi Alpha member Martin Luther King Jr.
For the weekend's marquee event, a January 19 Centennial Celebration Gala, Sauers delivered opening and closing remarks to an audience comprising Pitt Chancellor Mark A. Nordenberg, U.S. Congressman Chaka Fattah, and Alpha Phi Alpha General President Mark S. Tillman, as well as more than 350 current and alumni fraternity members, and others University officials, including Vice Provost and Dean of Students Kathy Humphrey.
"The Centennial Weekend was an exciting time for the chapter and the fraternity as a whole. It meant more than two years of planning and preparation, but it was a really great experience," said Sauers.
One of Sauers' strengths is his comfort in working with people from diverse backgrounds. "A major benefit of growing up in San Francisco, one of the most socially diverse cities in the country, is that I've seen many kinds of people," he said. "Being the president of a fraternity, you're going to find yourself working closely with people of different ages, backgrounds, and opinions."
Once he graduates in May with a Bachelor of Science degree in business administration from Pitt's College of Business Administration, Sauers will work in Pittsburgh as a corporate and institutional banking analyst for The PNC Financial Services Group, Inc. He interned for the bank during the past three summers.
Graduate school is on his horizon sometime over the next few years, and while Sauers said he is open to settling permanently in any of a number of major American cities, it is the California Bay Area that holds his heart. His ultimate career goal is to work within major league baseball. A lifelong fan of the San Francisco Giants, Sauers said his dream job would be to serve as that team's general manager.
Sauers said that while he has received inspiration from the lives of King and Malcolm X, his personal role model is his father, Pitt alumnus David A. Sauers (A&S '77), a civil litigation lawyer with the Sapiro Law Firm in San Francisco.
"My father has been, without a doubt, the biggest influence on my life," Sauers said, crediting his father with steering him toward Pitt. "My father was a strong advocate for Pitt when I was deciding on schools. He was right: in terms of academic opportunities and extracurricular activities, Pitt has been everything I hoped it would be."
Other Stories From This Issue
There are no stories for the issue at this time.
On the Freedom Road

Follow a group of Pitt students on the Returning to the Roots of Civil Rights bus tour, a nine-day, 2,300-mile journey crisscrossing five states.
Day 1: The Awakening
Day 2: Deep Impressions
Day 3: Music, Montgomery, and More
Day 4: Looking Back, Looking Forward
Day 5: Learning to Remember
Day 6: The Mountaintop
Day 7: Slavery and Beyond
Day 8: Lessons to Bring Home
Day 9: Final Lessons