Black History Month Profile: A Life Transformed Through Poetry
By B. Rose Huber and Terrell Jermaine Starr
Issue Date:
February 18, 2013

In a Detroit home, a child draws on colored sheets of paper her aunt supplies her from the printing company where she works. Sometimes, the young girl draws animals. Other times, quaint buildings or people. The scribbled images quickly become part of the child's reality, at least in her mind.
"I actually believed whatever I drew was real," says the former doodler, now an award-winning poet. If she drew a house, therein resided people and souls and emotions. "If I drew money, I thought I actually had one hundred dollars," she adds, wryly.
What the experience taught her was that ideas expressed on paper have life—and the ability to change one.
Today, Toi Derricotte is a Pitt professor of English and cofounder, with fellow poet Cornelius Eady, of the New York-based Cave Canem Foundation—a historic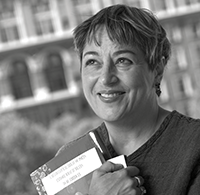 workshop/retreat established in 1996 to support and foster the work of African American poets. She has published more than a thousand poems and prose pieces in journals, anthologies, and magazines and is the winner of two Pushcart Prizes, the Lucille Medwick Memorial Award from the Poetry Society of America, the Paterson Poetry Prize for her book Tender, the Anisfield-Wolf Book Award for Non-Fiction for The Black Notebooks, along with numerous fellowships and other honors. In 2012, she was named to the prestigious Academy of American Poets' Board of Chancellors. In 2009, she won the Pitt Chancellor's Distinguished Public Service Award. She has mentored hundreds of students, including Pitt 1997 MFA graduate and 2010 National Book Award for Poetry winner Terrance Hayes. Now a professor of English at Carnegie Mellon University, Hayes, Derricotte says, helped her build Cave Canem from the "ground up.
"Derricotte's acclaimed works include the books Tender, Captivity, and the Black Notebooks, but so far she's most proud of her recently published memoir-rooted collection of poems, The Undertaker's Daughter. This book explores in raw and honest detail Derricotte's tumultuous childhood, which included abuse, racism, and painful questions of identity. Somehow, the scribbled drawings of her childhood—and later, the images she crafted with words—helped Derricotte to define her own reality in an unpredictable world.
"While writing this book, I began hearing the voices of my father inside of me," Derricotte says. "I'd always thought these voices were my own, but, through writing this book, I realized they were something else completely. It shows the power of a poem and how it can bring out a part of the self that's unvoiced, something unique that an artist struggles to put together—a way of transforming an internal chaos into something that has order and beauty."
As a young adult, Derricotte majored in special education at Wayne State University in Detroit while continuing to come to terms with personal pain through poems and private journal writings—rarely showing them to others. After earning her bachelor's degree, she began to teach students with special needs in the Detroit area and eventually moved to New Jersey and New York, where she continued to teach, gaining, at that time, experience in the Poets-in-the-Schools program. All the while, she was composing her own poetry, mastering her craft in private. More than a decade after earning her teaching degree, she began graduate school at New York University, where, at age 43, she earned a master's degree in English and creative writing. She moved to Pittsburgh shortly thereafter and accepted a faculty position in Pitt's Department of English.
Twenty years later, Derricotte continues to influence poets of all races in the classroom. Even though she will retire from Pitt this year, she plans to continue her work with Cave Canem Foundation to "give power to people whose words weren't recognized." This issue of silence pulls on Derricotte's heartstrings, as she often felt voiceless in her early career.
"African Americans weren't really recognized when I was in graduate school," she remarks. "Very few were published, and we didn't read their work. I cofounded Cave Canem to address this, to encourage those voices to see what it did for me and how it kept me alive. I wanted these discouraged voices to be heard and encouraged to speak."
It is through this type of mentoring that Derricotte feels whole. Though she has a mantel lined with literary awards, she is most proud of her years of university teaching, where she has guided young students to craft words that incarnate feelings, nourish the spirit, and seek the truth.
"Writing is a gift that you pass on, and my students at Pitt have recognized that," Derricotte says, fondly. "I've felt fortunate to help shape the voices of undergraduate scholars as well as mentor graduate students who have made this their life's work. It truly is a wave that passes down."
Derricotte admits that it's not an easy path—being a poet. There is a "demon" that goes along with it, she says jokingly, especially in terms of getting published and staying afloat financially. But for most serious writers, the urge to put pen to paper continually returns. She credits the writer's voice as a catalyst, advising young authors to accept negative, doubting voices as just part of the process."
I don't think that we know early on what we're doing," she says, "We're just doing it out of love and need."
Which is how it began for the child who scribbled her dreams onto pages and then turned them into something real.





Other Stories From This Issue
There are no stories for the issue at this time.
On the Freedom Road

Follow a group of Pitt students on the Returning to the Roots of Civil Rights bus tour, a nine-day, 2,300-mile journey crisscrossing five states.
Day 1: The Awakening
Day 2: Deep Impressions
Day 3: Music, Montgomery, and More
Day 4: Looking Back, Looking Forward
Day 5: Learning to Remember
Day 6: The Mountaintop
Day 7: Slavery and Beyond
Day 8: Lessons to Bring Home
Day 9: Final Lessons