Black History Month Program Named for K. Leroy Irvis
By John Harvith
Issue Date:
January 22, 2008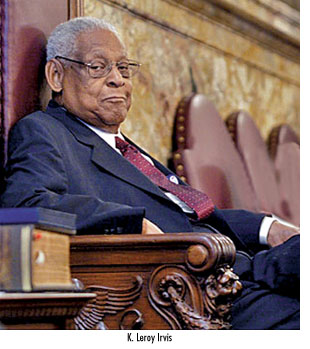 The program of Black History Month observances that the University of Pittsburgh inaugurated in 2004 has now been established as the University of Pittsburgh K. Leroy Irvis Black History Month Program to honor the memory of the legendary Pennsylvania legislative leader, Pitt alumnus, and emeritus trustee. Irvis, who in 1977 became the first African American speaker of the House in Pennsylvania and the first Black speaker of any state house since Reconstruction, sponsored in 1966 the bill that made Pitt a state-related institution of higher education.
Pitt established a number of ongoing opportunities to honor Irvis, among them are his being named a member of the University's inaugural class of preeminent alumni, the Legacy Laureates; the creation of the K. Leroy Irvis Fellowship, the establishment of the Pitt Hillman Library's K. Leroy Irvis Reading Room—dedicated at a standing-room-only ceremony on Dec. 6, 2001—which houses his personal archive; and the production of a 2004 video documentary on his life and work, K. Leroy Irvis: The Lion of Pennsylvania, narrated by Julian Bond, issued on DVD, and broadcast both locally on WQED and statewide on public television. Pitt also presented Irvis with the School of Law Distinguished Alumni Award in 2004.
"This establishment of the Irvis Black History Month Program is not only the latest recognition by the University of the historic significance of K. Leroy Irvis' many contributions to Pitt, Pittsburgh, the Commonwealth of Pennsylvania, higher education, and the cause of human rights, but also a decision to bring his name to the forefront of our Black History Month observances, keeping it before current and future generations of Pennsylvanians," said Pitt Chancellor Mark A. Nordenberg.
"I take great personal satisfaction in having been touched by the greatness of K. Leroy Irvis through my many interactions with him in his roles as a Pitt trustee, 1954 alumnus of the Pitt law school, dynamic legislator, neighbor, mentor, and friend. I also am grateful for the many opportunities for community partnering that our Black History Month celebrations have presented since 2004. I look forward to continuing those parnerships as Pitt's Black History Month Program moves forward under the name of Speaker Irvis—and all that he stood for," Nordenberg added.
"This new University of Pittsburgh initiative, which serves as a tribute to K. Leroy Irvis' beliefs and a celebration of his life, has brought joy to my heart," said Cathryn L. Edwards Irvis, Speaker Irvis' widow. "The administrators, educators, and especially students of the University have always held a special place in our affections, and we watched with pride as Pitt grew from a regional university to an institution of higher education that enjoys a reputation for excellence and innovation in so many areas on the national and international stage. This recognition of Speaker Irvis serves as a bridge to remind us of our past accomplishments that were achieved by working together as well as an inspirational platform as the University leads us into the 21st century and beyond; much appreciation to the University of Pittsburgh and my personal thanks to Chancellor Nordenberg for establishing the K. Leroy Irvis Black History Month Program."
The inaugural K. Leroy Irvis Black History Month Program event will be the world premiere screening on Feb. 1 of the WQED-produced TV documentary Fly Boys: Western Pennsylvania's Tuskegee Airmen, which includes several Tuskegee airmen who are Pitt alumni and has as its sponsors the University, WQED Pittsburgh, the Pittsburgh Foundation, and Alcoa Foundation. The by-invitation event—cohosted by Nordenberg and WQED Pittsburgh President and CEO and Pitt Trustee George L. Miles Jr.—will take place at Soldiers and Sailors Military Museum and Memorial in Oakland.
"The University thought it was most fitting that the inaugural Irvis Black History Month Program be the premiere screening of Fly Boys because, among his many other accomplishments, Irvis designed, built, and flew his own elaborate model aircraft, but, owing to his poor eyesight and to his profound regret, was not eligible to be a Tuskegee airman," commented Pitt Vice Chancellor for Public Affairs Robert Hill. "Now, happily, we are able to recognize that aspect of his legacy by attaching his name to this world premiere event."
Irvis grew up in nearby Albany and received the Bachelor of Arts degree, summa cum laude, in history and English and the Master of Arts degree in education from what is today the University of Albany, State University of New York. He began his teaching career in the Baltimore, Md., public schools, interrupting it during World War II to teach aircraft riveting for the war effort.
In 1945, he moved to Pittsburgh to work with the Urban League. While his Pittsburgh life expanded his interests—he worked as a steel chipper for Crucible Steel, served as a news writer for the Pittsburgh Courier, and became involved in operating a toy manufacturing company—it also strengthened his abiding commitment to racial justice.
As a young community activist in the Pittsburgh of 1947, Irvis organized the nation's first demonstration against Downtown department stores in response to their discriminatory hiring practices. That determination motivated Irvis throughout his career, which included more than three decades of public service.
At the Pitt School of Law, where he earned his law degree in 1954, he was a member of the Law Review. While at Pitt, he was inducted into the Phi Beta Kappa national honorary society. Following graduation from law school, he worked for two judges as the first Black to be clerk of the Court of Common Pleas in Pittsburgh and later was appointed Allegheny County's assistant district attorney, a post he held for six years.
Irvis' political career began in 1958, when he was elected to the Pennsylvania House of Representatives. He served 15 consecutive terms and sponsored more than 1,600 pieces of legislation, including the bills that created the community college system, the Pennsylvania Human Relations Commission, and the Pennsylvania Higher Education Assistance Agency. Irvis sponsored the bill enacted into law in 1966 that created the state-related system of universities, including Pitt, Penn State, Temple, and Lincoln universities.
In 1977, when Irvis was elected the first African American speaker of the Pennsylvania House and the first Black speaker of any state house in the nation since Reconstruction, it was unanimous, by acclamation; the only other Pennsylvania House speaker to have received that honor was Benjamin Franklin. That first term lasted through 1978; in 1979, he became House Democratic leader. Irvis served again as House speaker from 1983 until his retirement in 1988, making him the longest-serving Pennsylvania House speaker in the 20th century. He fought tirelessly for civil rights, health care, consumer protection, prison reform, improvements in housing and education, and government reform. Known for his thunderous oratory, Irvis' extemporaneous speeches became legendary throughout Pennsylvania.
As a noted wood sculptor, painter, writer, model airplane designer, and poet, Irvis earned a widespread reputation as a Renaissance man. In addition to Pitt, many organizations honored him for his public service, including the National Association for the Advancement of Colored People, the University of Pennsylvania, and Clarion University of Pennsylvania, and in May 2003, the Commonwealth of Pennsylvania renamed the South Office Building on the Capitol Complex in Harrisburg the Speaker K. Leroy Irvis Office Building.
Irvis died in Pittsburgh on March 16, 2006, at age 89.
Founded in 1787, the University of Pittsburgh can look back on a proud tradition of service to the Black community dating back to the 1820s, when Chancellor Robert Bruce tutored a young lad from Pittsburgh's Hill District. The University's first Black graduate was William Hunter Dammond, who, in 1893, earned a degree in civil engineering with honors. Pitt's modern tradition of Black History Month celebrations, which began with the production and 2004 world premiere screening of K. Leroy Irvis: The Lion of Pennsylvania, continued in 2006 with the production of an award-winning exhibition at the Heinz Regional History Center and accompanying book celebrating the 125th anniversary of the area social organization Three Rivers Youth; the 2006 world premiere screening of the WQED documentary Torchbearers, for which Pitt was the major sponsor, on the contributions of Pittsburgh civil rights pioneers, many with a Pitt connection; and the 2007 world premiere screening of a video documentary on the Hill District-based Freedom House Ambulance Service, whose Black drivers were trained under CPR pioneer and Pitt School of Medicine visionary Peter Safar.
Other Stories From This Issue
There are no stories for the issue at this time.
On the Freedom Road

Follow a group of Pitt students on the Returning to the Roots of Civil Rights bus tour, a nine-day, 2,300-mile journey crisscrossing five states.
Day 1: The Awakening
Day 2: Deep Impressions
Day 3: Music, Montgomery, and More
Day 4: Looking Back, Looking Forward
Day 5: Learning to Remember
Day 6: The Mountaintop
Day 7: Slavery and Beyond
Day 8: Lessons to Bring Home
Day 9: Final Lessons