Black History Month Series/Tonya Groover
By Hassan Wilcox
Issue Date:
February 5, 2007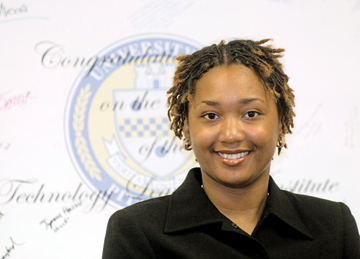 Helping to Bridge America's Digital Divide
Last summer, 24 students from local high schools completed a Pitt pilot program aimed at helping them succeed in computer science—a field in which African Americans and members of other disadvantaged groups make up a disproportionately tiny fraction of degree recipients and professionals.
Founded and directed by Pitt undergraduate Tonya Groover, the Technology Leadership Institute (TLI) is a six-week academic enrichment program that helps high school students build the knowledge and skills necessary to gain admission into competitive college programs in computer science and information
science.
Sponsored by Pitt's School of Arts and Sciences and its Department of Computer Science, as well as the University's School of Information Sciences, TLI includes field trips to places such as the Pittsburgh Supercomputing Center, coursework on Web design and basic computer science, advice on applying to college, math tutoring, and technology-based service learning.
"I strongly believe the African proverb, 'It takes a village to raise a child,'" says Groover, a senior majoring in computer science and minoring in sociology. "It is important that as a community we provide opportunities, exposure, and encouragement for the next generation." TLI, she says, helps underserved students "be the best that they can be and have a somewhat equal playing field."
Groover notes that "there are social implications involved with computers and technology. This program provides an opportunity for students to get academic instruction as well as the ability to use what they learn in the classroom outside the classroom through a service-learning project."
Long before Groover set out to help bridge the "digital divide" between those with access to computers and technology and those without it, she was just a little girl fascinated by computing.
"I have always been a problem-solver, very curious. Since my dad was into computing, he really encouraged me to get into computers, too," says Groover, who grew up in Penn Hills.
Before coming to Pitt, Groover also became interested in teaching and entrepreneurship. She sold Tupperware and candy, and she taught others to use Microsoft programs. "It's not about the money," Groover says of her business and teaching ambitions. "It's about the opportunities that I created for myself, and I always like to teach people."
Groover took computer programming courses in high school but subsequently found Pitt's introductory computer science curriculum to be more rigorous than she had anticipated. "What I learned in high school did not prepare me at all for what I needed to know in college," she acknowledges.
Groover switched her major to computer engineering for two terms before returning to computer science. She also held leadership positions with Pitt's Black Action Society and the University's chapter of the National Society of Black Engineers.
Curious why African Americans were so underrepresented in computer science, Groover applied for and was awarded—in summer 2005—a research grant from the Pitt computer science department's Moyé Information Technology Initiative Summer Research Experience to investigate the digital divide. (The Moyé initiative was created by Alfred L. Moyé, a Pitt trustee and former vice chancellor and professor who has been a mentor to Groover.)
Some of the statistics Groover came across in her research literally brought tears to her eyes.
For example, she read the 2005 Taulbee Survey on computer science enrollments, which showed that African Americans, Native Americans, and Hispanics together received only 8 percent of the computer science degrees conferred by U.S. colleges and universities during the previous year.
"What can I do to solve this problem?" Groover recalls asking herself.
In fall 2005, she wrote the proposal outlining the TLI.
"Tonya is incredibly mature and focused," says Moyé. "Rarely have I met anyone more dedicated and determined to make a difference. Her organizational and leadership skills and strength of character were key to making her dream of TLI a reality. She expected a level of excellence from all who participated in the program, including the instructors.
"If Tonya saw something going wrong, or if her expectations were not met, she made an effort to change the situation, regardless of the person's status," Moyé recalls.
"College is a time for work," Groover says. "Sometimes, I'm out late with friends and then I come right back to my office to do work for the [TLI] program."
Groover's digital-divide research is part of a larger project she calls the Ujima Project. "'Ujima' is an African word meaning collective work and responsibility," she was quoted as saying in the computer science department's LINKS newsletter. "I believe those of us who are blessed with technical skills should strive to share with those who are disadvantaged, because we live in a technologically driven society, and those without access and training will continue to fall behind."
Groover is on track to complete her B.S. degree this spring. Eventually, she says, she would like to earn a graduate degree in computer science and education. In the meantime, she plans to continue directing the TLI after she graduates in April.
Many people lament the digital divide, but Groover has dedicated herself to leading a program devoted to bridging it.
Other Stories From This Issue
There are no stories for the issue at this time.
On the Freedom Road

Follow a group of Pitt students on the Returning to the Roots of Civil Rights bus tour, a nine-day, 2,300-mile journey crisscrossing five states.
Day 1: The Awakening
Day 2: Deep Impressions
Day 3: Music, Montgomery, and More
Day 4: Looking Back, Looking Forward
Day 5: Learning to Remember
Day 6: The Mountaintop
Day 7: Slavery and Beyond
Day 8: Lessons to Bring Home
Day 9: Final Lessons