Black History Month: Sweet Success
By Jane-Ellen Robinet
Issue Date:
February 4, 2008
Lori Hunter blazed trails in engineering and academia; now she oversees a thriving catering business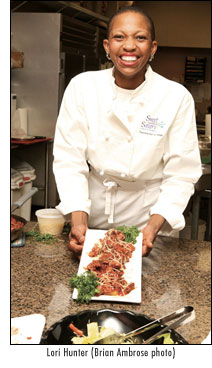 Lori Hunter's career has traversed a broad path since she earned her bachelor's degree in electrical engineering at the University of Pittsburgh in 1980. She started out as a computer systems engineer at Alcoa in Pittsburgh, transitioned 14 years later to become an academic dean, and is now an entrepreneur with a successful catering business. Along the way, she picked up a master's degree in education at Harvard University and a PhD in education at Syracuse University.
Say what?
Yes, at 49 years old, Hunter is the creative force behind Sweet and Savory Creations LLC, a catering business in Glastonbury, Conn., just east of Hartford. Like Hunter, the business is thriving and running at full-speed. She expects revenues of $540,000 this year and hopes to hit the $1 million mark in 2009.
But how does a 12-year stint as an engineer and 12 years in academia lead to a career that caters to the tasty side of life? In Hunter's case, the recipe for success has been methodical planning, excellent networking, and the determination to give 100 percent every day to every task.
"People looked at me like I was crazy," she said, when she decided to "retire" in 2006 from her position of associate dean of Continuing Studies and director of the Graduate Liberal Studies Program at Wesleyan University in Connecticut and to do catering full-time. " 'All that education. Why would you leave to cook for people?' friends would say," Hunter recalled with a laugh.
"I told them that 'It's my own business and no one can take my degrees and experience away.' … All I can say is that I've not had a chance to look back," she said.
"This is a business that uses my engineering degree," said Hunter. "Catering is manufacturing a process and figuring out how to manage all the details. The deadline is the deadline. I don't care if it's raining or snowing or the oven breaks, the lunch is at noon. There is no give. I'm managing a process and the product is food."
Indeed. Sweet and Savory Creations has fine-tuned the art of food as a business. Its corporate clients read like a list of who's who. It offers cooking classes as well as a Dine by Design program that prepares, freezes, and ships two weeks of meals for people who don't want to—or can't—cook. It sells its own cookbook and has bottled the tasty spice used on one of the company's most popular dishes: pan-seared herb crusted chicken.
Hunter began the catering business in 2000 when a friend's company needed a caterer for boardroom functions. Always fond of cooking, Hunter incorporated Sweet and Savory Creations and used a local church's kitchen. Before long, people were asking her to cater church functions, graduation parties, anniversary parties, and weddings. By 2005, business was so plentiful that she built a 1,000-square-foot kitchen in a nearby mall, where the company is headquartered today. She employs three full-time and two part-time employees, and calls upon a wait staff of about 25 people, depending upon her needs.
Her energy infuses all that she does, including teaching many of the cooking classes. Brian Ambrose, a professional photographer based in Glastonbury, attended one of the classes to get some shots of Hunter for a lifestyles article in a local newspaper.
"She was incredible! I was supposed to be there for one hour but ended up staying for three. The food was unbelievable," Ambrose said.
Called "The Warden" by her colleagues, Hunter exudes a total can-do attitude, which she says she inherited from her mother. The second of four children in a family raised in the Bronx, N.Y., Hunter said her mother stressed education—and the importance of staying busy so as to stay out of trouble.
All of her life, Hunter recalled, her mother dished out plenty of loving encouragement, no matter what the circumstances. "I'd sometimes say to my Mom, 'I don't know if I can do this.' And my mother would always say, 'I know you can do that.' It was always, 'I know you can.' "
Hunter said she received similar encouragement from a key mentor within Pitt's School of Engineering, James T. Cain, an electrical engineering professor. "There were some difficult semesters but he was fantastic. He was my senior project advisor and he made all the difference," she said. In addition, Pitt's Engineering Impact Program helped enormously, Hunter said. The program, aimed at increasing the number of engineers from underrepresented populations, brings students on campus six weeks before the start of freshman year to help them acclimate to the University. It also provides support and guidance during a student's four years.
After graduating from Pitt, Alcoa hired Hunter as a computer systems engineer. "I loved the opportunity. Alcoa, like many companies, had few, if any, people of color or women working as engineers. I was blazing some trails, and there were some people who tried to run me over a couple of times. But that was interesting and challenging and, thankfully, something I was prepared to deal with," she said.
That experience—of being the only Black woman in some corporate settings—is something she describes to young engineering students today. Hunter said that wherever she has worked, she's always connected with a local college or engineering society to help mentor underrepresented students. "I like being able to tell them that as a woman and person of color, this is what happens when you walk into a new environment and people look at you as though you're incapable or that you're the first of your kind they've seen. You have to figure out how to rise above that so you don't react to other people's issues," she said.
At Pitt, Hunter was an active member in the National Technical Association, an organization for underrepresented students in engineering and technology. During her time at Syracuse University, she served as an outside advisor to the National Society of Black Engineers, the Society of Hispanic Engineers, and the Society of Women Engineers.
Dedication to helping underrepresented students achieve is a legacy she left at Syracuse University. Hired by the school in 1995 as an assistant dean responsible for retaining and supporting women and other underrepresented students in engineering, Hunter was handed a program called the Minority Engineering Program. The title itself was offensive to Hunter—"it conjures up remediation, segregation," she said.
Hunter and her staff renamed the program PRIDE, Programs Rooted in Developing Excellence, created a program logo, organized dinners to recognize students' academic achievement, and created Academic Excellence Workshops. The workshops provided weekly study sessions in calculus, using small groups with an upperclass engineering student facilitator. "We developed these programs based on academic excellence, and when you do that, everyone wants to be a part of it," Hunter said, adding that the number of Calculus I students going on to Calculus II rose from 65 to 85 percent the first year. Her success with the creation of PRIDE resulted in a promotion to associate dean and responsibility for a broad range of undergraduate and academic activities.
What began in 1995 as a program with five facilitators and 24 participants now has 50 facilitators and 300 students. It became so popular that it now is offered to all students, not just underrepresented and women students, said Kathryn Pynn, who worked with Hunter and now directs PRIDE.
"She was very dedicated," Pynn said of Hunter. "I cannot tell you how many late nights we spent trying to get our programs going. From her background and corporate contacts, she was also instrumental in helping us gain corporate sponsors for some of our programs."
Meanwhile, the cooking continues at Sweet and Savory Creations. Hunter said the business is a perfect fit for her and that she is blessed to have a dedicated staff and mentors. She turns 50 this November, and while she said she learned long ago to celebrate every day, she is planning a major celebration for August, when the catering business hits a summer lull. The exact time and place are to be determined, but the caterer has been chosen.
Other Stories From This Issue
There are no stories for the issue at this time.
On the Freedom Road

Follow a group of Pitt students on the Returning to the Roots of Civil Rights bus tour, a nine-day, 2,300-mile journey crisscrossing five states.
Day 1: The Awakening
Day 2: Deep Impressions
Day 3: Music, Montgomery, and More
Day 4: Looking Back, Looking Forward
Day 5: Learning to Remember
Day 6: The Mountaintop
Day 7: Slavery and Beyond
Day 8: Lessons to Bring Home
Day 9: Final Lessons