Blessy Bellamy: Embracing the world around her
By Jill King Greenwood
Issue Date:
April 27, 2015
Blessy Bellamy has crafted a very full life at the University of Pittsburgh. Her classes have been challenging; her volunteer activities, meaningful; and her choice of career, heartening.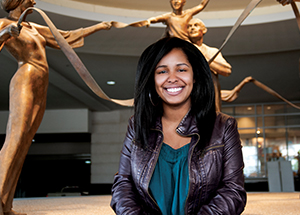 The Pitt senior graduates today with a Bachelor of Science in psychology, a minor in chemistry, and a certificate in Conceptual Foundations of Medicine. She wants to spend a "gap year" doing biomedical research with the National Institutes of Health and then go to medical school to become a pediatrician.
"I loved Pitt and my undergrad years," Bellamy says. "I fell in love with the campus and everything about Pitt. I found a large support network here of friends, mentors, and people who encouraged me consistently to keep growing.
"That's what you find at this University. Whatever you want to do or be, it's here at Pitt," she adds.
The 22-year-old graduate has balanced a challenging course load with hundreds of volunteer hours, including teaching English to Bhutanese refugees from Nepal. She also volunteers as a research assistant in Hillman Cancer Center's Biobehavioral Oncology Unit, studying stress and depression in patients with metastatic colorectal cancer.
"I get to talk to the patients, and to their families, and hear their stories. That's the best part about it, to hear what they have to say and to know that you are somehow having an impact."
Bellamy said she was drawn to cancer research after watching friends and family battle the disease.
Her favorite volunteer experience to date has been working with Connecting Children With Champions, an organization that provides support for children with cancer. Through networking and fundraising, Bellamy helped to raise more than $20,000 for the cause.
A University Honors College student, Bellamy was named Resident Assistant of the Year at the Student Affairs Blue Stars Red Carpet Awards last year. She was an Omicron Delta Kappa Senior of the Year finalist in February, and she received the Rising Senior Award from the African American Alumni Council in 2014. She works for the Honors College, serving as the housemaster for the college's Forbes-Craig Apartments residence hall, where she oversees the building's operations as well as honors programming for residents.
Balancing her rigorous class schedule with extracurriculars can be a challenge, but organization is key, she says. "I keep schoolwork as my priority, and I rotate everything else around that. It was also helpful for me to learn my boundaries. I'm involved in several organizations, but I had to learn to limit the number, so I can focus on my schoolwork and the causes I believe in."
While free time is hard to come by, Bellamy said she enjoys spending time with friends or watching Netflix.
She has applied for a grant from a National Institutes of Health post-baccalaureate program, which gives college graduates an opportunity to conduct biomedical research. Bellamy then plans to enter medical school.
"The best part of medicine is being able to talk to people, to help them and contribute," she says. "I love kids, and I want to help them. That is the direction I am being led in. I believe strongly that you have to give back to the community that helped you."
With that in mind, Bellamy said she intends to be an active Pitt alumnus.
"I believe it's important to show your commitment in your actions and not just words," she says. "I know where I started from and how I got here. I want to encourage and pull others up, to help them succeed. You may come from a rougher spot than someone else but that just means that you may need to work harder and you will need people to lift you up and support you. Believe in yourself, remain humble, and know that you can achieve your dreams."
Other Stories From This Issue
There are no stories for the issue at this time.
On the Freedom Road

Follow a group of Pitt students on the Returning to the Roots of Civil Rights bus tour, a nine-day, 2,300-mile journey crisscrossing five states.
Day 1: The Awakening
Day 2: Deep Impressions
Day 3: Music, Montgomery, and More
Day 4: Looking Back, Looking Forward
Day 5: Learning to Remember
Day 6: The Mountaintop
Day 7: Slavery and Beyond
Day 8: Lessons to Bring Home
Day 9: Final Lessons