Brianna Kiesel: "The epitome of a leader"
By Anthony M. Moore
Issue Date:
April 27, 2015
Brianna Kiesel's spring has been overflowing with moments of unbridled joy. Little more than a week ago, she was chosen 13th overall in the Women's National Basketball Association 2015 Draft, and she'll soon be playing with the pros in the Tulsa Shock.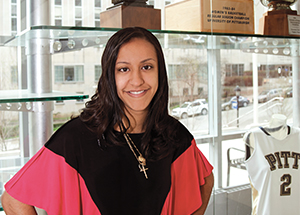 In March, the Pitt Women's basketball team gained entry into the 2015 NCAA Tournament. It was the first time in six seasons that the women's team was chosen for the annual playoff, which ultimately determines a collegiate national champion. For Kiesel, the moment made her four years of dedication and personal growth worthwhile.
"Beyond question, earning a spot in the [NCAA] tournament was the greatest accomplishment of my career here at Pitt. Being able to represent our University and showcase our growth as a team made all of the sacrifices and struggles worth it," says Kiesel.
Ranked fifth in Pitt's all-time scoring and assists categories, Kiesel is the only player in the University's history to lead a team in that category for four consecutive seasons. Earlier this year, she was honored with the coveted All-ACC Women's First Team designation, signifying her status as one of the top ten female players in the Atlantic Coast Conference during the 2014-15 season.
The Utica, N.Y., native graduates today with a Bachelor of Arts degree in legal studies, along with a communication certificate, from the College of General Studies. She also holds a Pitt undergraduate degree in the administration of justice, which she earned last spring.
While her accomplishments on the basketball court are impressive, Kiesel has received numerous academic accolades as well. She has been the recipient of Pitt's Scholar Athlete Award during the past four years, and she was recently honored with Pitt's 2015 Blue-Gold Award, which recognizes one male and one female senior student athlete for academic achievements and leadership.
Kiesel, who was heavily recruited in 2011 by a number of colleges and universities, says that Pitt's emphasis on excellence outside of athletics was one of the University's most attractive qualities, for her and her parents.
"Basketball will always be important to me, but I'm more than just an athlete. I wanted to attend a school that would prepare me for the world and provide opportunities for me to grow as a person," says Kiesel. "Pitt had a strong, family-oriented environment that my parents and I were attracted to. It was clear that the coaches at Pitt cared about your future and wanted to see student athletes pursue their interests outside of athletics."
And, outside the classroom, Kiesel indulged her lifelong love for poetry. Citing Maya Angelou and Edgar Allen Poe as her greatest creative influences, she says her occasional writing of poetry provided a breather in the midst of her demanding academic and athletic schedules.
Volunteering has been a staple in her schedule as well. She has worked as a counselor for the Pittsburgh Kids Foundation and has been involved with Pittsburgh's chapter of Big Brothers and Big Sisters, Children's Hospital of Pittsburgh, and the Veterans Administration's Pittsburgh Healthcare System.
"I have a passion for people, and I enjoy helping others to achieve their goals," she says.
Ultimately, Kiesel plans to combine her passions for people and basketball to pursue a career in coaching. Serving as the head coach for a major college or university women's basketball program would be her dream job, but she would be just as content to lead a women's high school team. As a coach, her primary objective would be to serve as a positive role model in the lives of young women.
It was a trip overseas that helped to cement Kiesel's career goals. Through the Coach for College Program, a service-learning project that connects U.S. student-athletes with overseas teaching opportunities, Kiesel traveled to the Vietnamese port city of Da Nang during the summer of 2014.
While in Vietnam, she traveled extensively, taught mathematics, and coached children as young as 12 in the fundamentals of basketball. Although Kiesel views her work with various civic organizations in Pittsburgh as rewarding, it was her time in Da Nang that provided a perspective-changing experience.
"As a lover of basketball, it was special for me to see that genuine joy that only comes from the love of playing the game. I could ask for nothing more in a career field than to see that level of enjoyment in the eyes of young girls every single day," says Kiesel.
At Pitt, Kiesel served as the Panthers' co-captain for the past three seasons and was the squad's starting point guard since her freshman year. She was a driving force in Pitt's emergence as a contender in the NCAA's highly competitive Atlantic Coast Conference.
In March, in the second-round NCAA tournament game, the Pitt women faced the second-seeded Lady Vols of Tennessee, and Kiesel's talent was on full display in her final college game. She trimmed a 14-point deficit to 4 points late in the game's second half and emerged with a career-high 32 points despite the 77-67 loss to Tennessee.
She earned the respect of basketball fans everywhere. Just as, early on, she had won the admiration and respect of Panthers head coach Suzie McConnell-Serio, who has coached Kiesel since 2013.
"The University of Pittsburgh could not have asked for a better representative, both on and off the basketball court, than Brianna Kiesel," said McConnell-Serio. "In every way imaginable, Brianna has led this team in exceeding all expectations. She leads by example, her work ethic is unquestionable, and she has a fundamental dedication to the team—she is the epitome of a leader."
After today, Kiesel's focus will be on professional basketball in the Women's National Basketball Association, but she'll continue to look for ways to help others succeed, too.
"Basketball, and athletics in general, has been an unbelievable blessing for me and my family," says Kiesel. "It has given me an opportunity to graduate from one of the top schools in the nation. I would love to continue playing for as long as I can, and eventually make a career out of helping other young women achieve their goals."
Other Stories From This Issue
There are no stories for the issue at this time.
On the Freedom Road

Follow a group of Pitt students on the Returning to the Roots of Civil Rights bus tour, a nine-day, 2,300-mile journey crisscrossing five states.
Day 1: The Awakening
Day 2: Deep Impressions
Day 3: Music, Montgomery, and More
Day 4: Looking Back, Looking Forward
Day 5: Learning to Remember
Day 6: The Mountaintop
Day 7: Slavery and Beyond
Day 8: Lessons to Bring Home
Day 9: Final Lessons