Issue Date:
October 15, 2007
Senate Plenary Presents Fitness Forum at WPU
Pitt's fall 2007 Senate Plenary, titled "Embracing Fitness for Life: Taking an Active Role In Improving Your Health," will take place from 2 to 4:30 p.m. Wednesday in the Assembly Room of the William Pitt Union.
Chancellor Mark A. Nordenberg will deliver the event's welcoming remarks, and Senate President John J. Baker will open the session.
Diane Holder, executive vice president of the University of Pittsburgh Medical Center and president of UPMC Health Plan and UPMC's Health Insurance Division, will deliver the keynote address, titled "What's Happening to Our Workforce: Why Wellness Matters."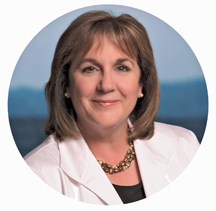 Diane Holder
Holder has held numerous leadership positions within Western Pennsylvania's health care community, including CEO of UPMC's Western Psychiatric Institute and Clinic and founding CEO of Community Care Behavioral Health Organization. She is a professor in Pitt's Department of Psychiatry and an adjunct instructor in the Department of Psychology.
Other speakers include John Kozar, director of Pitt's Benefits Department, and John Jakicic, chair of Pitt's Department of Health and Physical Activity.
In addition, there will be an audience-driven question-and-answer panel discussion focusing on the individual specialties of the panelists. Michael R. Pinsky, professor in Pitt's Department of Critical Care Medicine, will serve as moderator. The panelists will include Holder; Jakicic; Bruce Rabin, Pitt professor of pathology and psychiatry; and Elizabeth Venditti, Pitt assistant professor of psychiatry.
Pitt Provost and Senior Vice Chancellor James V. Maher will make closing remarks. For more information, visit www.pitt.edu/univsenate and click on "Plenary Sessions."
—Anthony M. Moore

LPC Hosting National Education Figures at Open House
Pittsburgh's school superintendent and the former governor of Colorado are among the speakers slated to attend an Open House Colloquium sponsored by Pitt's Learning Policy Center.
The event will be held at 2:30 p.m. Oct. 25 at the Concordia Club, 4024 O'Hara St., Oakland. Following the speakers' presentations, there will be a reception at 4 p.m. with members of the LPC staff and guests.
This event is free and open to the public, but an RSVP is required for attendance. More information is available at the LPC Web site, www.learningpolicycenter.org.
Guest speakers are Roy Romer, former Colorado governor and recently retired superintendent of Los Angeles Unified School District; Mark Roosevelt, superintendent for Pittsburgh Public Schools; and University Professor of Psychology and Cognitive Science Lauren Resnick, director of Pitt's Learning Research and Development Center (LRDC) and Institute for Learning.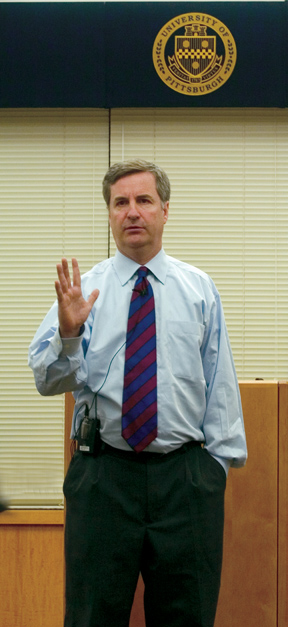 Mark Roosevelt
Romer was the governor of Colorado for three terms, from 1986 to 1998, becoming the nation's senior Democratic governor. As governor, he served as chair of the Educational Commission of the States and the National Education Goals Panel. Romer currently chairs the Strong American Schools "ED in '08" campaign.
Before becoming superintendent of the second-largest school district in Pennsylvania, Roosevelt was a state representative in Massachusetts, serving in the state's General Court (legislature) from 1986 to 1994, where helped pass the Education Reform Act of 1993. That law changed the funding mechanism for school districts and raised standards for statewide testing.
Resnick is an internationally known scholar in the cognitive science of learning and instruction. Her research focuses on school reform, assessment, effort-based education, the nature and development of thinking abilities, and the role of talk and discourse in learning.
An advisor to the first chair of the National Education Goals Panel, Resnick served as a member of the National Council on Education Standards and Testing.
—Anthony M. Moore
Health Law Job Fair Slated
Pitt's School of Law and the American Society of Law, Medicine, and Ethics (ASLME) will sponsor a conference for law students on Friday titled "Taking the Health Law Career Path: Health Law Student Conference and Job Fair" in the Barco Law Building's Teplitz Memorial Courtroom and various classrooms.
The conference, beginning at 8:45 a.m. and open to law students from across the country, is aimed at those interested in pursuing careers in health law in settings other than large law firms.
Donna Gerson, career consultant and author of Choosing Small, Choosing Smart: Job Search Strategies for Lawyers in the Small Firm Market (National Association for Law Placement, 2001), will be the featured speaker.
Director of Career Planning and Placement in Pitt's law school from 1994 to 2001, Gerson now works as a freelance writer and contributing editor to the American Bar Association's (ABA) Student Lawyer magazine. A lawyer, Gerson has practiced in both midsize and small law firms. She serves as a pro bono attorney for the Neighborhood Legal Services Association. She is a member of the ABA, the Pennsylvania Bar Association, and the Allegheny County Bar Association.
Organizations providing speakers include UPMC, University Hospitals Health System of Cleveland, the Pennsylvania Departments of Public Welfare and Health, the American Society of Anesthesiologists, the American Psychological Association, the Blue Cross Blue Shield Association, Respironics Corp., the Pennsylvania Health Law Project, and the Children's National Medical Center.
—Patricia Lomando White
Other Stories From This Issue
There are no stories for the issue at this time.
On the Freedom Road

Follow a group of Pitt students on the Returning to the Roots of Civil Rights bus tour, a nine-day, 2,300-mile journey crisscrossing five states.
Day 1: The Awakening
Day 2: Deep Impressions
Day 3: Music, Montgomery, and More
Day 4: Looking Back, Looking Forward
Day 5: Learning to Remember
Day 6: The Mountaintop
Day 7: Slavery and Beyond
Day 8: Lessons to Bring Home
Day 9: Final Lessons