Issue Date:
January 7, 2008
Air Force Major General To Address Issues in Postwar Iraq
Major General Paul J. Selva, director of Air Force strategic planning, will deliver a lecture at 1 p.m. Jan. 17 to discuss how the United States might meet the challenges of a postwar Iraq.
The free public lecture, titled "The Conflict After Iraq—What Will It Look Like? Are We Prepared?" is presented by Pitt's Matthew B. Ridgway Center for International Security Studies. The talk will be held in Room 125 of the Frick Fine Arts Building. Registration is required.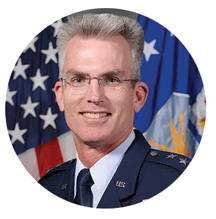 Selva's remarks will offer insight on how the United States can approach the resolution of complex issues such as security, liberty, and sovereignty that will arise after U.S. troops return home from Iraq—while, at the same time, preserving freedoms at home and leadership and credibility abroad.
Selva is responsible for directing the development and implementation of strategic planning and providing policy guidance for the U.S. Air Force. He has held numerous staff positions and has commanded at the squadron, wing, and headquarters levels. Prior to his current assignment, the general was director of operations for the U.S. Transportation Command at Scott Air Force Base in Illinois.
A question-and-answer session will follow Selva's address. Registration for the talk can be done online at www.ridgway.pitt.edu or through Patricia Hermenault at hermenault@gspia.pitt.edu or 412-624-7396.
Pitt's Ridgway Center, within the Graduate School of Public and International Affairs, is dedicated to generating scholarship that educates the next generation of security analysts. Its purpose is to produce original and impartial analysis that informs policymakers.
—By Amanda Leff
New Pitt Award to Honor Former GSPIA Faculty Member
The Women's Studies Program (WOMNST) is accepting nominations for a new award honoring the late Iris Marion Young, a former Pitt faculty member considered by many to have been one of the most important political philosophers of the past 25 years.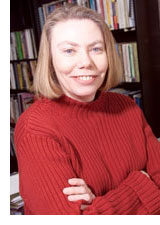 The nomination deadline for the Iris Marion Young Award for Political Engagement is Jan. 15.
Young (1949-2006) taught political theory at the Graduate School of Public and International Affairs (GSPIA) for nine years. She maintained close ties to the Pitt community after leaving in 2000 to accept a political science professorship at the University of Chicago. Widely known for her work on theories of justice, democracy, and feminism, she also was a regular on picket lines and in the trenches of grassroots political activity, fighting for women's human rights, debt relief for Africa, and workers' rights. Young's 1990 book, Justice and the Politics of Difference (Princeton University Press), propelled her into the international limelight and became a staple in classrooms worldwide. Young died at age 57, following a battle with cancer.
Nominations are open to any current or recent Pitt faculty or staff member, Pitt student, or Pitt alumnus who has worked to promote social justice and democracy. Because Young's vision considered gender equity an important component of social justice, nominations of people who have demonstrated a commitment to equality of gender and sexual orientation are especially welcome. Nominees will be contacted, and those wishing to be considered for the award will be asked to provide information about their work to the Young Award Committee. The recipient will be honored at a reception on March 6, 2008.
To nominate an individual, send an e-mail to wstudies@pitt.edu. Include your name and contact information, the nominee's name and contact information, and a few sentences explaining why you are nominating that person. Nominations also may be mailed to the University of Pittsburgh, Women's Studies Program, 2208 Posvar Hall, 230 S. Boquet St., Pittsburgh, PA 15260.
For more information, call WOMNST at 412-624-6485 or visit www.pitt.edu/~wstudies.
—By Sharon S. Blake
U.S. Education Department Gives $486,495 to Pitt's Upward Bound
The University of Pittsburgh has received $486,495 from the U.S. Department of Education to support the Upward Bound Program, which helps high school students prepare for higher education. The initial year of funding began Dec. 1 and continues through Nov. 30, 2008, with funding continuing in the same amount for three additional years, provided the program achieves its objectives.
Housed in the Academic Resource Center in Pitt's School of Arts and Sciences Undergraduate Studies area, the Upward Bound Program will target low-income students in selected Pittsburgh Public Schools who need academic support and who are the first generation in their families to pursue a college education. Pitt's project will support 112 participants this year.
"We are proud to partner with Upward Bound in helping to prepare local high school students for success in college," said Judith McConnaha, senior director of undergraduate studies in Arts and Sciences. "We see this collaboration as a vital investment in the future of the city and the region, and we look forward to welcoming our 2008 participants."
A national program, Upward Bound participants receive instruction in literature, composition, mathematics, and science on college campuses after school, on Saturdays, and during the summer.
There are 774 Upward Bound programs throughout the United States.
—By Patricia Lomando White
Other Stories From This Issue
There are no stories for the issue at this time.
On the Freedom Road

Follow a group of Pitt students on the Returning to the Roots of Civil Rights bus tour, a nine-day, 2,300-mile journey crisscrossing five states.
Day 1: The Awakening
Day 2: Deep Impressions
Day 3: Music, Montgomery, and More
Day 4: Looking Back, Looking Forward
Day 5: Learning to Remember
Day 6: The Mountaintop
Day 7: Slavery and Beyond
Day 8: Lessons to Bring Home
Day 9: Final Lessons