Issue Date:
September 29, 2008
Pitt Studio Arts Faculty to Exhibit Work Oct. 1-Nov. 21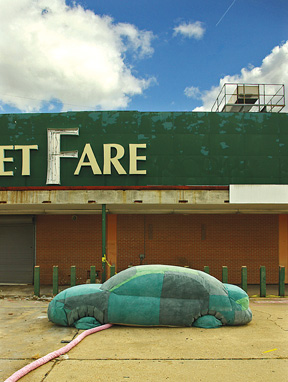 Sculpture by Derry Sean
Pitt's Department of Studio Arts will present its 2008 Faculty Exhibition Oct. 1 through Nov. 21 in the University Art Gallery, Frick Fine Arts Building. An opening reception will be held there from 4 to 6 p.m. Oct. 1.
The exhibition offers the unique and diverse perspectives of 14 Pitt faculty artists whose work has earned regional, national, and international recognition. Their art also has been a major part of the Pittsburgh art scene, included in exhibitions at the Carnegie Museum of Art and the Mattress Factory, among other city venues. Two of the exhibiting artists are Guggenheim Foundation Fellows, and two have been honored as "Artist of the Year" with exhibitions at the Pittsburgh Center for the Arts.
Nine faculty members will offer Noon Gallery Talks in the University Art Gallery. The schedule follows:
Oct. 8—Lenore Thomas and Barbara Weissberger;
Oct. 22—Kenneth Batista and Michael Morrill;
Nov. 05—Sean Derry, Anna Divinsky, and JoAnna Commandaros; and
Nov. 19—Julie Stunden and Ann Hoffman.
More information is available at 412-648-2436 and www.studioarts.pitt.edu.
Pitt's Allegheny Observatory Open House Set for Oct. 3
Explore the heavens and a historic scientific landmark during a 7 to 10 p.m. Oct. 3 open house at Pitt's Allegheny Observatory. The free event will allow groups to enter every half hour; reservations and tickets are required.
During the open house, visitors can freely roam the observatory and peer into the night sky through the 30-inch Thaw Refractor telescope—a 47-foot telescope normally reserved for research. In addition, members of the Amateur Astronomers Association of Pittsburgh will set up telescopes on the observatory lawn for the public. If the night is clear, guests can catch a close-up of Jupiter through the 13-inch Fitz-Clark Refractor telescope.
Constructed in 1861, the Fitz-Clark was the primary telescope for the first Allegheny Observatory and the third-largest telescope in the world when it was built. It enabled a number of early breakthroughs in astronomy, including visual proof that Saturn's rings comprise orbiting particulate.
As one of the world's major centers for astronomical research, the observatory houses one of the oldest and largest collections of photographic plates of star fields; the collection began in 1914 and now boasts more than 110,000 images. Unlike regular observatory tours, the open house allows people to browse through these plates and take self-guided tours of the observatory's research rooms.
The observatory is located at 159 Riverview Ave., Riverview Park, North Side. Reservations are limited to six people per group and can be made by calling the observatory at 412-321-2400 between 9 a.m. and 5 p.m. For more information, visit the observatory's Web site at www.pitt.edu/~aobsvtry.
—Morgan Kelly

Pitt's Katz School Unveils State-of-the-Art Financial Lab
Pitt's Joseph M. Katz Graduate School of Business has added a key tool to its experience-based learning curriculum: a new state-of-the-art financial laboratory. A ribbon-cutting ceremony for the financial analysis lab, hosted by Pitt Provost and Senior Vice Chancellor James V. Maher and John T. Delaney, dean of the Katz School and the College of Business Administration (CBA), will be held at 11:30 a.m. Oct. 3 on the second floor of Mervis Hall. An interactive demonstration of the room's capabilities will follow the ceremony.
The $2.3 million, 3,000-square-foot lab features a financial trading simulator, stock tickers, tote display boards, 58 computer stations, live news feeds, and classroom space. It provides students with real-time stock market data and access to faculty who are seasoned in global financial markets.
Courses, geared toward both CBA upperclassmen and Katz graduate students, will be tailored to give students a serious glimpse into the world of financial markets.
—Amanda Leff
Other Stories From This Issue
There are no stories for the issue at this time.
On the Freedom Road

Follow a group of Pitt students on the Returning to the Roots of Civil Rights bus tour, a nine-day, 2,300-mile journey crisscrossing five states.
Day 1: The Awakening
Day 2: Deep Impressions
Day 3: Music, Montgomery, and More
Day 4: Looking Back, Looking Forward
Day 5: Learning to Remember
Day 6: The Mountaintop
Day 7: Slavery and Beyond
Day 8: Lessons to Bring Home
Day 9: Final Lessons