Issue Date:
October 13, 2008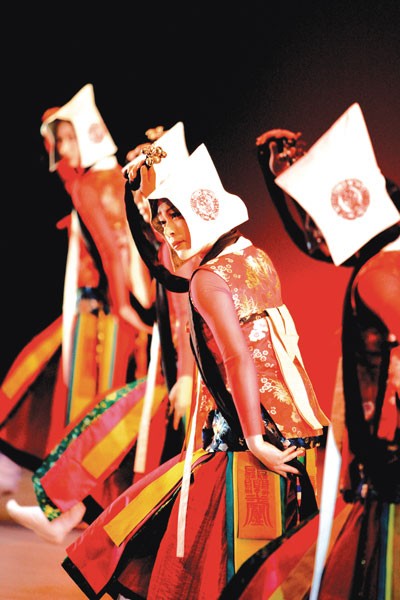 Pitt's Korean Heritage Room Committee to Sponsor NOW Dance Performance
The University of Pittsburgh's Korean Heritage Room Committee will host the NOW Dance Company in "Traditions and Its Changes," a performance of traditional and contemporary Korean dance and music, at 3 p.m. Oct. 19 in Synod Hall, 125 N. Craig St., Oakland.
The event will benefit the Korean Heritage Room's building fund, which is raising money to add a Korean heritage classroom to the 27 already existing Nationality Rooms in Pitt's Cathedral of Learning.
The performance is being organized and sponsored by The Korea Society, a private, nonprofit organization dedicated to the promotion of greater awareness and cooperation between the United States and Korea. Additional sponsors are the Korean Association of Greater Pittsburgh and the Pittsburgh Korean School.
NOW Dance Company is a professional dance company with a repertoire of more than 40 works. Founded in 1992, it has toured Estonia, Finland, Germany, Latvia, Lithuania, Turkey, Russia, and the United States.
Tickets are $10 for students and seniors and $15 general admission. They are available through ProArtsTickets at www.proartstickets.org or 412-394-3353.
—Patricia Lomando White
Pitt's 2008 Drue Heinz Winner, Judge to Give Readings Oct. 15
The 2008 Drue Heinz Literature Prize winner Anthony Varallo and judge Scott Turow will give evening readings at 7:30 p.m. Oct. 15 in the Frick Fine Arts Auditorium. The event is part of the Pittsburgh Contemporary Writers Series' 2008-09 season.
Awarded for his short story collection, Out Loud (University of Pittsburgh Press, 2008), Varallo is the 28th winner of the Drue Heinz Literature Prize, one of the nation's most prestigious awards for books of short fiction. The honor includes a cash prize of $15,000 and publication of the winning manuscript by the University of Pittsburgh Press. Previous winners have included Kirk Nessett, Todd James Pierce, Stewart O'Nan, and Jane McCafferty.
Scott Turow is the author of the novels Limitations (Picador, 2006), Ordinary Heroes (Farrar, Straus, and Giroux, 2005), Reversible Errors (Farrar, Straus, and Giroux, 2002), Personal Injuries (Farrar, Straus, and Giroux, 1999), and The Laws of Our Fathers (Farrar, Straus, and Giroux, 1996).
Turow's books have been translated into more than 25 languages, sold more than 25 million copies worldwide, and been adapted into one full-length film as well as two television miniseries.
The 2008-09 Pittsburgh Contemporary Writers Series season is cosponsored by Pitt's University Center for International Studies, Asian Studies Center, China Council Confucious Institute, Cultural Studies Program, Women's Studies Program, and Book Center and by the Carnegie Mellon University Creative Writing Program.
All events in the Writers Series are free and open to the public. For more information, contact Jeff Oaks at oaks@pitt.edu or visit www.umc.pitt.edu/news/documents/morningreport/2008/08/wsschedule.pdf.
—Anthony M. Moore
Entries Due for Pitt Challenge To "Green" Old Buildings
Project concepts for the 2008 Energy Efficient Building Technologies Challenge are due Oct. 17. The cash-prize design challenge for undergraduate students in Southwestern Pennsylvania is sponsored by Pitt's Mascaro Center for Sustainable Innovation. Its goal is to encourage participants to create a technique for "greening" old buildings that carries a low-price tag and a quick payoff, a significant issue in older cities such as Pittsburgh.
Contestants must create a product or system that reduces electricity consumption and would pay for itself in subsequent savings within one year.
Projects also will be judged for originality, possibility of successful implementation, and the level to which they allow people to maintain their quality of life.
The winning team receives $5,000; second-place receives $2,500; and third-place, $1,000. All winners will be invited to present their projects at the 2009 Pittsburgh Engineering Sustainability conference hosted by the Mascaro Center. Teams of two-to-five students from any university or college in Allegheny, Butler, Washington, and Westmoreland counties are eligible to participate. Students are encouraged to form multidisciplinary and cross-institutional teams. Five finalists will be chosen Oct. 31, and each will receive a $2,500 grant for supplies, equipment, travel, and other project expenses.
Support for the design challenge also comes from the Heinz Endowments. Complete rules and deadlines are available on the Mascaro Center's Website, www.mascarocenter.pitt.edu.
—Morgan Kelly
Pitt's European Union Center of Excellence Receives Redesignation
Pitt's European Union Center of Excellence has been redesignated. In recognition of the award, the Delegation of the European Commission in Washington, D.C., recently presented grants totaling 3.42 million euros ($4.65 million) to 11 EU Centers at U.S. universities. The grants will fund center activities from 2008 to 2011.
Pitt's EUCE, directed by Pitt Professor Alberta Sbragia, the Mark A. Nordenberg University Chair and Jean Monnet Chair ad personam, was established in 1998—the year the EU Center program was launched and the University won a national competition to host an EU center.
The network of EU Centers of Excellence in the United States promotes the study of the EU, its institutions and policies, and EU-U.S. relations through teaching programs, scholarly research, and outreach activities in their local and regional communities.
—Amanda Leff
Duke Sociologist to Lecture On Race Matters in Today's Political America
Duke University sociologist Eduardo Bonilla-Silva will deliver a lecture on racism, discrimination, colorblindness, and race matters in today's political America from noon to 1:30 p.m., Oct. 16, at Pitt's Center on Race and Social Problems (CRSP), in the School of Social Work Conference Center, 2017 Cathedral of Learning.
The talk, part of the Buchanan Ingersoll & Rooney Fall 2008 Speaker Series at CRSP, is free and open to the public. Registration is not required, and lunch will be provided. For more information, call 412-624-7382.
Bonilla-Silva gained visibility in the social sciences with his 1997 article in the journal American Sociological Review, "Rethinking Racism: Toward a Structural Interpretation," in which he challenged social analysts to look at racial matters from a structural rather than a prejudicial perspective.
He is the author of a number of books, including White Supremacy and Racism in the Post-Civil Rights Era (Lynne Rienner Publishers, 2001), Racism Without Racists: Color-Blind Racism and the Persistence of Racial Inequality in the United States (Rowman and Littlefield, 2003), and, with Ashley Doane, White Out: The Continuing Significance of Racism (Routledge, 2003). His research has appeared in such journals as Sociological Inquiry, Racial and Ethnic Studies, and Race and Society, among others. He lectures throughout the United States and abroad on racial and ethnic issues.
Prior to his position as a sociology professor at Duke, Bonilla-Silva taught at the University of Michigan and Texas A & M University.
—Sharon S. Blake
Other Stories From This Issue
There are no stories for the issue at this time.
On the Freedom Road

Follow a group of Pitt students on the Returning to the Roots of Civil Rights bus tour, a nine-day, 2,300-mile journey crisscrossing five states.
Day 1: The Awakening
Day 2: Deep Impressions
Day 3: Music, Montgomery, and More
Day 4: Looking Back, Looking Forward
Day 5: Learning to Remember
Day 6: The Mountaintop
Day 7: Slavery and Beyond
Day 8: Lessons to Bring Home
Day 9: Final Lessons