Issue Date:
November 17, 2008
Poet, Novelist Jackie Kay to Read at Pitt Nov. 18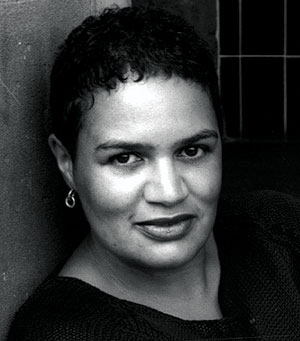 Poet and novelist Jackie Kay will deliver a literary reading at 8:30 p.m. Nov. 18 in the University of Pittsburgh's Cathedral of Learning, Room 501. The event is free and open to the public.
Kay is the author of the poetry collections The Adoption Papers (Bloodaxe Books, 1991) and Other Lovers (Bloodaxe Books, 1993), the novel Trumpet (Picador, 1998), and the short story collections Why Don't You Stop Talking (Picador, 2002) and Wish I Was Here (Picador, 2006).
Kay was born in Edinburgh, Scotland, in 1961 to a Nigerian father and a Scottish mother. As an infant, she was adopted by a Scottish couple and raised in a suburb of Glasgow. Her early childhood experiences inspired The Adoption Papers, which dramatizes her experiences through the creation of three different narrators: an adoptive mother, a birth mother, and a daughter. Kay is currently a professor of creative writing at New Castle University.
For more information, contact Marianne Novy at 412-624-6516.
 —Anthony M. Moore
Pitt Presents Lecture on Mentoring by Audrey Murrell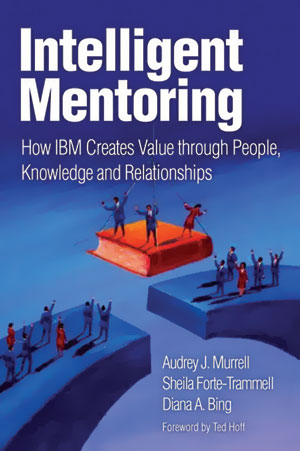 The Joseph M. Katz Graduate School of Business' Executive MBA Worldwide Program at the University of Pittsburgh will present a Pittsburgh Executive Series talk on intelligent mentoring, featuring a lecture by Pitt professor and author Audrey Murrell. The event, which will be held at 6:15 p.m. Nov. 19, Fifth Floor, Alumni Hall, is free and open to the public.
Murrell, director of the David Berg Center for Ethics and Leadership in the Katz School and professor of business administration, psychology, and public and international affairs, is a coauthor of the book Intelligent Mentoring: How IBM Creates Value Through People, Knowledge, and Relationships (IBM Press, 2008), which looks at how IBM sustains effective mentoring.
Mentoring is one of the most powerful tools at the disposal of organizations, according to Murrell. But not all mentoring programs are equally effective. Murrell's presentation, "Intelligent Mentoring," focuses on the IBM program and offers specific guidance and best practices that can be used to enhance mentoring programs.
To register or for more information, contact Linda Anderson at 412-648-1608 (office) or landerson@katz.pitt.edu.
—Amanda Leff
Nordenberg Lecture in Law, Medicine, Psychiatry Set for Nov. 20
Henry T. "Hank" Greely, Deane F. and Kate Edelman Johnson Professor of Law in Stanford University Law School, will deliver the annual Mark A. Nordenberg Lecture in Law, Medicine, and Psychiatry at noon Nov. 20 in the University of Pittsburgh Barco Law Building's Teplitz Memorial Courtroom.
Greely specializes in legal and social issues arising from advances in the biosciences and in health law and policy. His free public lecture is titled "The Social Consequences of Advances in Neuroscience: Legal Problems, Legal Perspectives."
Greely chairs the California Advisory Committee on Human Stem Cell Research and the steering committee of the Stanford University Center for Biomedical Ethics. He also directs the Stanford Center for Law and the Biosciences and the Stanford Program on Neuroethics.
He is one of the founders and executive committee members of the Neuroethics Society and is a codirector of the Law and Neuroscience Project, sponsored by the MacArthur Foundation. He also is a fellow of the American Association for the Advancement of Science.
The lecture, named after Pitt Chancellor Mark A. Nordenberg, former dean of the law school, is approved by the Pennsylvania Continuing Legal Education (CLE) Board for one hour of substantive CLE credit. For more information, call 412-648-1305 or e-mail steffy@pitt.edu or visit www.law.pitt.edu/academics/programs/cle-calendar.php.
—Patricia Lomando White
University Club Seeks Input Via Online Survey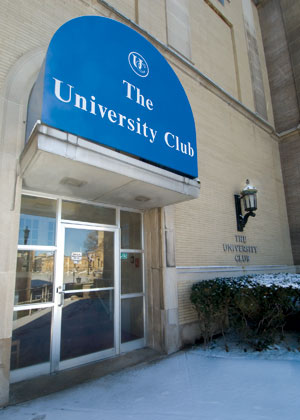 The University of Pittsburgh's University Club is seeking opinions from Pitt's staff and faculty about the types and level of services that should be offered at the club, which will open in spring 2009 following extensive renovations.
The online survey is available at www.uc.pitt.edu. Users can access the survey by using their valid University user names and passwords. The survey will be available online through Nov. 26.
Those who complete the survey will receive a coupon for a free cup of coffee at the Brioche Doree, an upscale coffee and pastry shop in the club. Also, survey participants' names will be entered into a grand prize drawing for two Pitt basketball tickets and a pregame dinner at the Campus View Club in the Petersen Events Center.
The University Club will provide members with a place to eat, relax, exercise, entertain, and socialize with members of the campus community. It will also offer banquet, conference, and meeting facilities to the entire University community and general public.
Other Stories From This Issue
There are no stories for the issue at this time.
On the Freedom Road

Follow a group of Pitt students on the Returning to the Roots of Civil Rights bus tour, a nine-day, 2,300-mile journey crisscrossing five states.
Day 1: The Awakening
Day 2: Deep Impressions
Day 3: Music, Montgomery, and More
Day 4: Looking Back, Looking Forward
Day 5: Learning to Remember
Day 6: The Mountaintop
Day 7: Slavery and Beyond
Day 8: Lessons to Bring Home
Day 9: Final Lessons