Issue Date:
September 10, 2007
Pitt Offers Wellness Incentive Program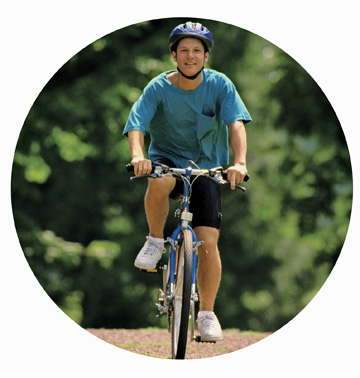 Pitt faculty and staff members enrolled in the UPMC Health Plan recently were sent a mailing announcing the University's wellness incentive program for 2007. Actively employed faculty and staff and their enrolled spouses or domestic partners are eligible to each receive a $50 gift card/certificate for completing a health-risk assessment and for reviewing their personal health records. The program is voluntary and confidential.
The Health Risk Assessment, called the My Health Questionnaire, asks a series of questions regarding health status and willingness to change to a healthier lifestyle. UPMC Health Plan, working in conjunction with Web MD, developed the assessment tool.
After completing the assessment, individuals will be given the choice of receiving a gift card from a Giant Eagle store or a University book center. For campuses without local Giant Eagles, another gift card option will be provided.
Details of the incentive program may be found on the Fitness for Life Web site, www.hr.pitt.edu/benefits.fitness. Members may also go directly to the Health Plan's Web site at www.upmchealthplan.com. The incentive program will continue through Oct. 31.
Law, Social Work Launch Cooperative Degree Program
Pitt's Schools of Social Work and Law have launched a cooperative degree program through which students may earn both the Master of Social Work (MSW) and Juris Doctor (JD) degrees. The MSW is the primary professional degree in social work; the JD is the first professional degree in law.
"In real-world situations, it is fairly common for the two fields to overlap professionally," said Lambert Maguire, associate dean for academic affairs and a professor in SSW.
"Students with training in both law and social work will be better equipped to play an effective role in making and influencing public policy, whether through positions in government or nonprofit organizations or through impact litigation," said Lu-in Wang, associate dean for academic affairs and a professor in Pitt's law school.
The MSW-JD program will emphasize such areas as child welfare, juvenile and criminal justice, and low-income housing. The program will enable students to engage in a highly integrative educational experience that will include academic courses, field placements, and research opportunities in both professions.
Potential students for the MSW-JD program would apply and be accepted to both of the schools as well as complete a joint-degree application. The program will follow a four-year curriculum in which students will register as full-time law students for five terms and full-time social work students for three.
For more information, contact MSW-JD program faculty advisors, Kevin Deasy in the law school at 412-648-5642 or Jeffrey Shook in the social work school at 412-648-9365.
—Anthony Moore

Deadline Approaching for Registering to Vote in Nov. 6 Municipal, Judicial Election
Oct. 9 at 5 p.m. is the deadline for registering to vote in the Nov. 6 municipal and judicial general election.
The following offices will be on the ballot: justices and judges for Pennsylvania state courts; Allegheny County Court of Common Pleas judges; Allegheny County offices, including chief executive, controller, treasurer, district attorney, sheriff, and some County Council members; City of Pittsburgh mayor and controller; City Council members (in odd-numbered districts); and city school directors (even-numbered districts).
Otherwise eligible voters who have not registered before, whose names or addresses have changed, or who wish to change their political party preference must submit voter registration forms to their county board of elections in order to vote. Forms are available at the Allegheny County Board of Elections, driver's license centers, state liquor stores, libraries, some banks, municipal buildings, post offices, and at Pitt's Office of Community and Governmental Relations (located at 710 Alumni Hall). The forms also may be obtained online at www.dos.state.pa.us.
Voter registration forms are valid in all Pennsylvania counties.
Applications for absentee ballots for the general election must be received by the County Board of Elections by 5 p.m. Nov. 2.
To be eligible to register to vote, an individual must be at least 18 years of age on election day, a U.S. citizen for at least one month before the election, and a resident of Pennsylvania and his or her election district for at least 30 days before the election.
Other Stories From This Issue
There are no stories for the issue at this time.
On the Freedom Road

Follow a group of Pitt students on the Returning to the Roots of Civil Rights bus tour, a nine-day, 2,300-mile journey crisscrossing five states.
Day 1: The Awakening
Day 2: Deep Impressions
Day 3: Music, Montgomery, and More
Day 4: Looking Back, Looking Forward
Day 5: Learning to Remember
Day 6: The Mountaintop
Day 7: Slavery and Beyond
Day 8: Lessons to Bring Home
Day 9: Final Lessons