Issue Date:
September 24, 2007
Seminar to Celebrate 10th
Anniversary of County's
Human Services Department

Pitt's Graduate School of Public and International Affairs (GSPIA) will join Allegheny County's Department of Human Services (DHS) in celebrating the department's 10th anniversary.
"Organizational Strategies for Community Services: Looking Back 10 Years, Looking Forward to the Next 50" is part of a series of seminars examining the design, delivery, and evaluation of performance of services for Allegheny County residents. It will include two panel discussions on the theme Continuity in Community Service Through Changing Times. The free public seminar will be held from 3:30 to 6 p.m. Sept. 28 in the Lower Lounge of the William Pitt Union. A reception will follow.
The seminar will focus on three issues that challenge DHS: designing effective services for an aging population; developing more effective practices for the transition of incarcerated residents back into constructive lives; and utilizing information technology in the design, monitoring, evaluation, and redesign of all services.
The first panel discussion, titled "Looking Back 10 Years," will feature speakers from DHS. The second, titled "Looking Forward to the Next 50," will feature GSPIA scholars whose work focuses on key issues confronting DHS.
For more information, contact Joyce Valiquette at 412-624-6614 or valiq@pitt.edu.
—Amanda Leff
Contemporary Writers Series
Will Open With Reading by
Author George Saunders
Author George Saunders will open the 2007-08 Pittsburgh Contemporary Writers Series season with a reading at 8:30 p.m. Oct. 1 in Pitt's Frick Fine Arts Auditorium.
Saunders is the author of Civil War Land in Bad Decline (Riverhead Books, 1996), Pastoralia (Riverhead Books, 2000), The Very Persistent Gappers of Frip (Villard, 2000), The Brief and Frightening Reign of Phil (Riverhead Books, 2005), In Persuasion Nation (Riverhead Books, 2006), and The Braindead Megaphone (Riverhead Books, 2007). His short fiction has appeared in such publications as The New Yorker, Harper's, and Esquire. Saunders won the National Magazine Award for fiction in 1994, 1996, 2000, and 2004. In 2006, he was awarded a $500,000 MacArthur Foundation Fellowship, commonly called a "genius grant."
Born in Amarillo, Texas, in 1958, Saunders spent most of his childhood on the south side of Chicago. In 1981, he received a Bachelor of Science degree in geophysical engineering from the Colorado School of Mines in Golden, Colo. In 1988, he received a master's degree in creative writing from Syracuse University. From 1989 to 1996, he worked for Radian International, an environmental engineering firm in Rochester, N.Y., as a technical writer and geophysical engineer. Saunders is currently an assistant professor of creative writing at Syracuse.
Pitt's Book Center, Women's Studies Program, and University of Pittsburgh Press cosponsor the Pittsburgh Contemporary Writers Series, which this season runs through April 2, 2008. All events in the series are free and open to the public.
—Anthony Moore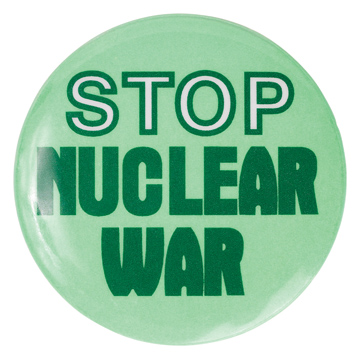 Threats of Nuclear Weapons
And Global Warming to Be
Subjects of Pitt Conference
The University's Matthew B. Ridgway Center for International Security Studies will host a conference titled "Securing Our Survival—Meeting the Threats of Nuclear Weapons and Global Warming," at 9 a.m. Oct. 12 and 13 in the Barco Law Building's Teplitz Courtroom.
The free public event will bring together internationally prominent scholars and policy analysts as well as community members.
"This conference joins two issues that could conceivably end life on this planet as we know it," said Ridgway Center Director William W. Keller. "It is gratifying to see so many schools within the University joining with community organizations to address global warming and nuclear proliferation."
Conference speakers will include Thomas Graham, former special representative of the president of the United States for arms control, nonproliferation, and disarmament; Joseph Cirincione, senior fellow and director for nuclear policy at the Center for American Progress; William Hartung, director of the Arms and Security Initiative at the New America Foundation; and Lisa Schirch, professor of peace building at Eastern Mennonite University and program director of the 3-D Security Initiative.
Activities will consist of the following six sessions of lectures and discussions: Understanding the Nuclear Threat and Climate Crisis; U.S. Nuclear Weapons Policy—Impact on Proliferation; Nuclear Disarmament: Bridging the Political Divide; The Role of Diplomacy and Conflict Prevention; Global Elimination of Nuclear Weapons; and Global Warming and Energy Solutions. A planning session will focus on local actions to confront global warming and eliminate nuclear weapons.
This conference is being sponsored by Pitt's Ridgway Center, Graduate School of Public and International Affairs, Graduate School of Public Health, University Honors College, Joseph M. Katz Graduate School of Business, School of Law, School of Arts and Sciences, and University Center for International Studies, as well as The Stanley Foundation and Physicians for Social Responsibility.
The first 300 registrants for the conference will receive tickets for a free lunch. To sign up for the conference, visit the Ridgway Center's Web site at www.ridgway.pitt.edu.
For more information, contact Patricia Hermenault at 412-624-7396 or hermenault@gspia.pitt.edu.
—Anthony Moore
Other Stories From This Issue
There are no stories for the issue at this time.
On the Freedom Road

Follow a group of Pitt students on the Returning to the Roots of Civil Rights bus tour, a nine-day, 2,300-mile journey crisscrossing five states.
Day 1: The Awakening
Day 2: Deep Impressions
Day 3: Music, Montgomery, and More
Day 4: Looking Back, Looking Forward
Day 5: Learning to Remember
Day 6: The Mountaintop
Day 7: Slavery and Beyond
Day 8: Lessons to Bring Home
Day 9: Final Lessons