Issue Date:
October 1, 2007
Pitt's Rediker to Give Presentation, Sign Copies Of His New Book Oct. 4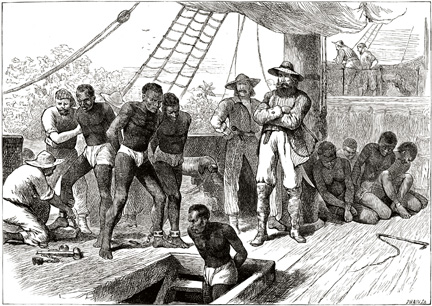 Thirty years of research in maritime archives laid the groundwork for Pitt Professor of History Marcus Rediker's new book, The Slave Ship: A Human History (Viking Penguin, 2007), to be release Oct. 4, with a presentation and book signing to be held at 6 p.m. that day in Pitt's Book Center.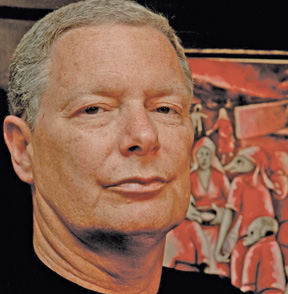 Marcus Rediker 
Advance registration is requested; to RSVP for the free Oct. 4 event or for more information, call 412-648-1453.
In The Slave Ship, Rediker said he set out to describe "what it meant to live in a wooden world." According to Rediker, what had happened on the slave ship informed what resulted on land. "It was a social and cultural process that changed people," and the repercussions from that process still resonate today, he explained.
From the book's jacket: "This is a tale of tragedy and terror, but also an epic of resilience, survival, and the creation of something entirely new, something that could only be called African American. Marcus Rediker restores the slave ship to its rightful place alongside the plantation as a formative institution of slavery, as a place where a profound and still-haunting history of race, class, and modern capitalism was made."
At Pitt since 1994, Rediker is the author of Villains of All Nations: Atlantic Pirates in the Golden Age (Beacon Press/Verso, 2004); The Many-Headed Hydra: Sailors, Slaves, Commoners, and the Hidden History of the Revolutionary Atlantic (Beacon Press/Verso, 2000); Who Built America? Working People and the Nation's Economy, Politics, Culture, and Society, Volume 1 (Pantheon Books, 1989); and Between the Devil and the Deep Blue Sea: Merchant Seamen, Pirates, and the Anglo-American Maritime World, 1700-1750 (Cambridge University Press, 1987).
Rediker's writings have been translated into French, German, Greek, Italian, Korean, Portuguese, Russian, Spanish, and Swedish. His many honors include a 2001 International Labor History Book Prize, a 1988 Merle Curti Social History Book Award, and a 1988 John Hope Franklin Book Prize. He has received fellowships from the National Endowment for the Humanities, the American Council of Learned Societies, and the John Simon Guggenheim Memorial Foundation. In addition, the Organization of American Historians named him Distinguished Lecturer for 2002 through 2008.
—Patricia Lomando White
Bellet Awards Nominations Accepted Through Oct. 31
Pitt's School of Arts and Sciences is accepting nominations for the Tina and David Bellet Arts and Sciences Excellence Awards through Oct. 31. This is the 10th anniversary of the awards.
The Bellet Awards were established in 1998 with a $200,000 donation from Arts and Sciences alumnus David Bellet (CAS '67) and his wife, Tina, to recognize outstanding and innovative undergraduate teaching in Arts and Sciences. A committee appointed by Arts and Sciences' associate dean for undergraduate studies evaluates teaching skills as evidenced by student-teaching and peer evaluations, student testimonials, and dossiers submitted by nominees. Full-time faculty members who have taught in Arts and Sciences over the past three years are eligible. Each awardee receives a $5,000 cash prize.
Faculty and students may submit nomination letters to Arts and Sciences Associate Dean for Undergraduate Studies Juan J. Manfredi, 140 Thackeray Hall, 139 University Place. Electronic submissions may be e-mailed to lynch@as.pitt.edu but must be followed by a signed paper duplicate.
For more information, contact Carol Lynch at lynch@as.pitt.edu.
—Patricia Lomando White
Pitt Researchers to Present Latest Findings, Treatments for Late-life Depression, Bereavement, and Dementia
Depression, delirium and dementia are common among older adults and are associated with decreased quality of life, disability, and premature death from both suicide and illness. To address this need for making those who care for the elderly aware of the latest research and treatment developments, the Department of Psychiatry in Pitt's School of Medicine will hold a daylong educational conference for psychiatrists, primary care physicians, geriatricians, psychologists, nurses, social workers, consulting pharmacists, and other professionals who care for older adults. The seminar, titled "Late-Life Depression, Dementia and Bereavement: Integration of Research, Teaching, and Clinical Care," will be held from 8 a.m. to 4:45 p.m. Oct. 5 in Soldiers and Sailors Memorial Hall.
Conference speakers will address recent advances in the diagnosis, treatment, and prevention of depression, Alzheimer's disease, and other dementias in late life. They also will discuss the challenges of recognizing and managing these disorders in nursing homes, rehabilitation clinics, and other community settings.
For more information and to register for the seminar, visit www.wpic.pitt.edu/oerp/confernces/MA50Brochure.htm.
—Megan Grote
Other Stories From This Issue
There are no stories for the issue at this time.
On the Freedom Road

Follow a group of Pitt students on the Returning to the Roots of Civil Rights bus tour, a nine-day, 2,300-mile journey crisscrossing five states.
Day 1: The Awakening
Day 2: Deep Impressions
Day 3: Music, Montgomery, and More
Day 4: Looking Back, Looking Forward
Day 5: Learning to Remember
Day 6: The Mountaintop
Day 7: Slavery and Beyond
Day 8: Lessons to Bring Home
Day 9: Final Lessons